Quick Facts of Kanye West
Name
Kanye Omari West
Net Worth
$250M
Date of Birth
June 8, 1977
Place of Birth
Atlanta, Georgia, USA
Residence
Chicago, Illinois/Hidden Hills, California
Nationality

American
Occupation
Rapper/singer, record producer, songwriter, entrepreneur, product endorses and fashion designer
Famous for
The College Dropout, Yeezus, Ye, Yeezy
Relatives
North West (daughter), Saint West (son), Chicago West (son), Psalm West (son)
Spouse(s)
Kim Kardashian (married: 2014)
Catchphrases
I want to be called crazy.
I am Yeezus!

Introduction
More than just associated with the Kardashians due to his marriage to Kim, Kanye in himself, is not only one of the richest, most influential hip-hop artists in the world but is also one of the most controversial due to some unfiltered comments regarding sensitive topics. Known for his unpredictable music style and the father of Yeezy, Kanye West maintains a solid net worth of $250M.
Kanye West's Life
Growing up, he already had interests in music and poetry. Being raised in an upper-middle-class family and an English professor mother, he was drawn to art and music.
He started writing poems, rhyming and rapping at third grade. When he was 13, he convinced his mother to accompany him to a recording studio for him to experience recording.
He met the producer DJ NO I.D. when he was 15 and was guided by him in his lyrics structure. He wrote eight songs for Grav, a Chicago rapper, in his debut album Down to Earth when he was just 19. He dropped out from Chicago State when he was 20 because he wanted to focus on music.
After producing tracks for now famous artists such as Jay-Z and Alicia Keys to name a few, he completed his first album in 2002 after recovering from a car accident but released it in 2004. Since then, he has been unstoppable. He ventured into a business after album releases and is known as the father of Yeezy.
He made the headlines in 2018 because of his strong statements on race, slavery, politics, and religion. He got the ire of a lot of fellow artists in Hollywood and was even questioned regarding his mental health. Regardless, he has maintained a net worth of $250M as of March 2019.
Family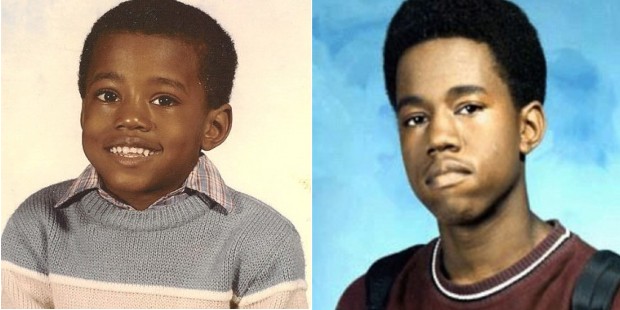 Kanye was born in Atlanta on June 8, 1977 to an upper-middle-class family. His father Ray West was a photojournalist and later in life a restaurateur while his mother Donda West had a Ph.D. degree in English and was a professor at Clark Atlanta University.
When his parents divorced, his mother took him with her to Chicago where she served as the chair of Chicago State University's English department and then moved again to China when he was 10 because of an exchange program her mother was a part of.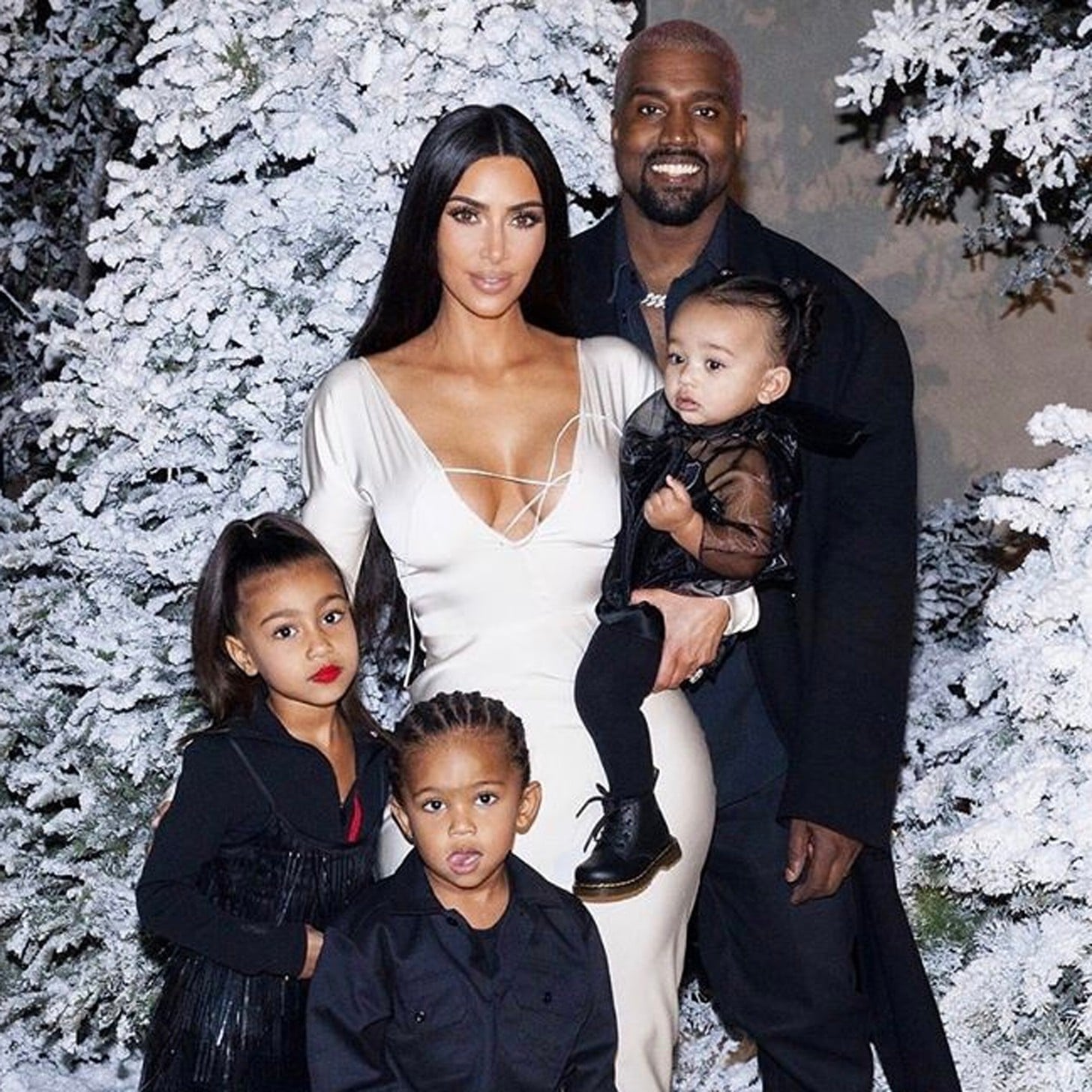 After one failed long engagement and a two-year relationship, Kanye West married Kim Kardashian in 2014. He has four children; North, Saint, Chicago, and Psalm.
His two youngest children were both born through surrogacy. By marriage, he is the son-in-law of the Kardashian matriarch Kris Jenner and the brother-in-law of fashion icons and reality stars, Kourtney, Khloe, and Rob Kardashian and Kendall and Kylie Jenner.
Career
It was tough for Kanye to fit in the hip-hop rap genre at a young age because he was relatively rich and was not raised in the hood, second, he was fairly educated and third, his rap style had a lot of soulful runs and not the general hip-hop that we would know.
But after he produced tracks for the likes of Jay-Z, he was signed under Roc-A-Fella in 2002 but worked as a producer and not as a rapper. He went to produce tracks for big names such as Alicia Keys, John Legend, Big Sean and Travis Scott, among others. He has also collaborated with big music names such as Jay-Z, Eminem, Beyonce, Ludacris and more.
In that same year, he was involved in a car accident in which he had to go for surgery because of his broken jaw. He reflected on his near-death experience and built on it to write songs based on his experience.
The album, which he titled Through the Wire, was supposed to be released after his recovery but for some reasons, it was leaked in the social media. He then upgraded his tracks and released his debut album The College Dropout in 2004. It was an instant hit and in 2014, he won a Grammys for it for the Best Rap Album of 2014. In so far as his albums are concerned, he has released ten albums and is considered as one of the most multi-awarded artists in the industry.
When his mother died in 2007, West started to become emotionally distressed. In 2018, he made controversial comments regarding his political and religious views. This confused fellow black artists especially when he aired his support for Trump and his famous comment, slavery was a choice.
In 2011, Kanye was tapped by Nike to collaborate with them with a sneaker line through the Yeezy Air. He moved to Adidas in 2013, however, where he launched his Yeezy label for shoes and clothes.
How did Kanye West make money?
Founder and Creative Content Chair of DONDA
Design collaborations with Adidas (through Yeezy), Nike (through Air Yeezy), Louis Vuitton and APC
Fatburger chain of restaurants
Album releases
Net worth from 2010-2019
2010:$47M
2011:59$M
2012:75$M
2013:$110M
2014:$130M
2015:$160M
2016:$182M
2017:$200M
2018:$222M
2019:$250M
How much does Kanye West make in a day?
According to sources, Kanye makes $27.5M annually. From this, it can be projected that he earns at least $528, 900 weekly or $105, 800 daily.
What does Net Worth Mean?
What is a Net Worth?
It is a quantitative concept which measures the value of an entity. It is applicable ranging from an individual to companies, organizations, sectors and a country as a whole. To put it simply, it is the difference between assets and liabilities. A positive net worth means assets are greater than liabilities, whereas negative net worth mean liabilities are greater than assets.
Formula:
Net Worth = Assets – Liabilities
A little more into Net Worth Concept:
Net worth conveys the financial health of any entity. Asset is anything that is owned and has a monetary value to it while liabilities is a commitment that deplete resources. Assets can be liquid or which can turn into liquid ( example: bank check ). They are non-liquid when they take time to turn into cash (like for example Home). Whereas liability is an obligation that has to be repaid ( example: home loan, car loan etc.,)
Any financial institution or 3rd party look at your assets and liabilities to understand the financial position. Positive net worth or increasing asset base indicates good financial health while negative net worth or increasing liabilities means a bad financial health condition.
It is always a good habit for any entity to maintain a reduce liabilities and increase or maintain a balanced asset base.
What does a Net Worth Mean to a person?
In simple terms, it means the value that is left after subtracting liabilities from assets. Few Examples of liabilities include car loans, student loans, home loans, credit card bills, and other mortgages etc., whereas an individual's assets are amount in the savings account, home, vehicle, bonds, stocks and other material that has value.
In other words, whatever is left after paying off all the personal debt from asset base is net worth. It is important to understand that value of net worth varies as per the market value of assets and current debt costs.
For example:
Consider a case of Ramu Johnson. His assets include a house valued at $350000, shares worth $150000 and a car worth $35000. His liabilities include a mortgage balance of
$150000 and an outstanding car loan $15000 to be paid.
Now Ramu Johnson's Net Worth = ($350000+$150000+$35000) – ($150000+$15000)
= ($535000 ) – ($165000)
= $370000
Assuming Ramu Johnson's financial position after five years as follows –
House value at $350000, Shares value at $180000, savings $ 40000 and car value $25000. While mortgage loan $120000, car loan $0 (paid off).
The Net worth after 5 years would = ($350000+$180000+$ 40000 + $25000 ) – ($120000)
= $595000 – $120000
= $475000
Here it is understood that, although the fact that the value of a house and car decrease, the net worth have increased to $475000. It is because a decline in house loan is less than the overall asset base and decrease in liabilities.
Note that, an individual's net worth can be negative if his asset base is less than liabilities.
What does net worth mean for celebrities?
Most often celebrities fall under High Net worth Individuals. And what does HNWI mean?
People with considerable net worth as called as HNWI.
Independent Charted Accounts, wealth managers and investment counsellors stay close to them making them as prime markets.
As per Securities and Exchange Commission( SEC), investors more than 1Million are considered as accredited investors to invite them to invest in unrequested securities.
Is 401k part of net worth?
As per the definition, 401K is also a part of net worth if it is calculated in terms of assets and liabilities. But, in this case, 401K have no specifics as in, therefore it cannot be measured.
What is the average American net worth?
Like any entities net worth a countries net worth can be calculated as below. It is a sum of net worth of all individuals (citizens), companies and organizations reside in America, plus countries net worth. In America, this measure is referred to as financial position.
As on quarter 1 2014, America's financial position =
Assets ( $269.6 trillion) – liabilities ($145.8 trillion ) = $123.8 trillion.
What is a good net worth by age?
| Age of Household | Median Net Worth |
| --- | --- |
| Under 35 years | $6,900 |
| 35 to 44 years | $45,740 |
| 45 to 54 years | $100,404 |
| 55 – 64 years | $164,498 |
| 65 – 69 years | $193,833 |
| 70 – 74 years | $225,390 |
| 65 – 75 Years | $202,950 |
| 75 + Years | $197,758 |
What is the net worth of the top 1%, 5%, 10%?
As in America, wealth distribution is as follows
Richest 1% of the population owned 35% of the country's total wealth
Richest 5% of the population owned 11% of the country's total wealth
Richest 10% of the population owned 12% of the country's total wealth
Houses and cars of Kanye West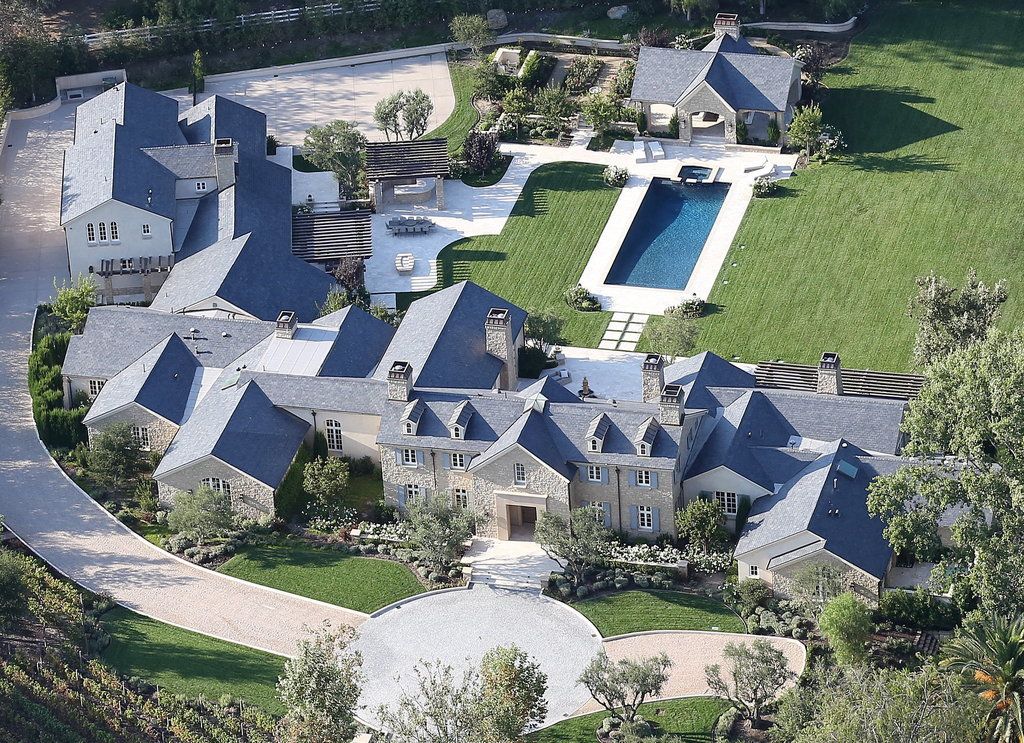 Being married to a Kardashian makes an essentially lavish life. Kanye had a six-bedroom, eight-bathroom Bel-Air mansion which he later on sold in 2017.
As of the moment, they have moved into their new house; an 8-bedroom, 10-bathroom, all-beige mansion in Hidden Hills, California. Kanye also tried to build low-cost, Star Wars themed domed residences for the greater Los Angeles area to build his 'utopian society' but the plans had been buffered last week due to permit problems and other related stuff.
As for cars, Kanye has a Porsche Panamera, a Mercedes Benz SLR Stirling Moss, and McLaren, a Lamborghini Gallardo and Aventador, an Aston Martin DB9, a Maybach 57, a 2002 Lexus, a Prombron Red Diamond, and a Bugatti Veyron.
Success lessons from Kanye West
1. Everyone has an untold story waiting to be revealed.
Kanye believes that our differences do not make one person less than the other. He said that what is common to people is that we have goals in life so it is very important to weave and respect our untold stories and make a way for us to share these to the world.
2. Never forget the people who stayed with you through it all.
Kanye says that we all have people in our lives we call our 'day-ones'. According to him, these are the people, whether it be family or friends, who never left our side through failures and successes. He said that we should cling to them and never forget them because they are the ones behind our success.
Inspirational Kanye West Quotes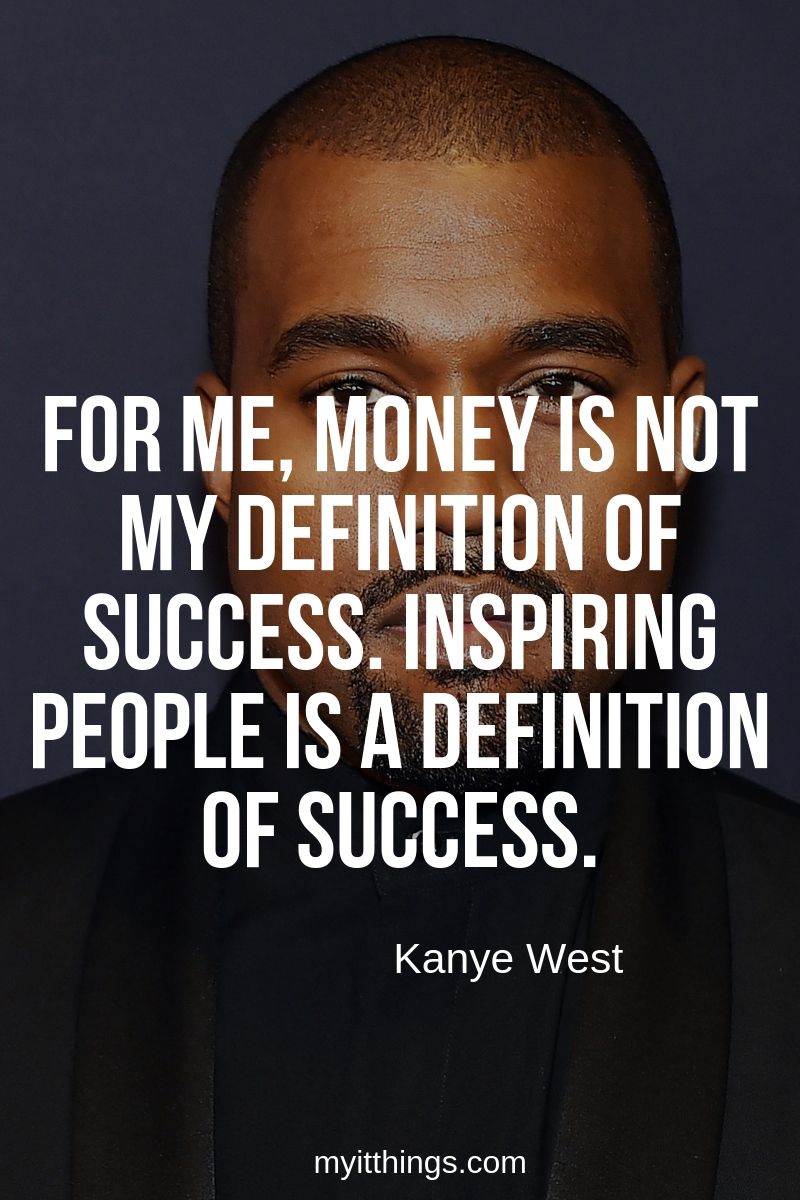 For me, money is not my definition of success. Inspiring people is a definition of success.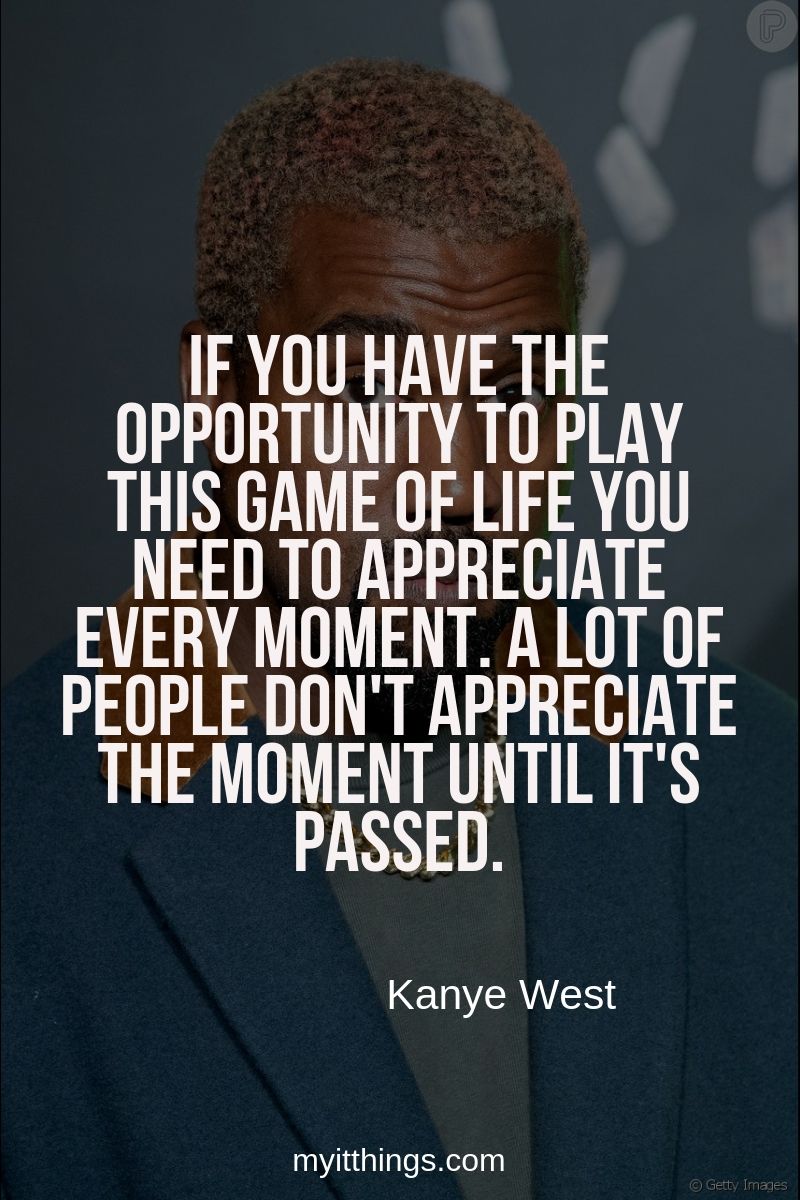 If you have the opportunity to play this game of life you need to appreciate every moment. a lot of people don't appreciate the moment until it's passed.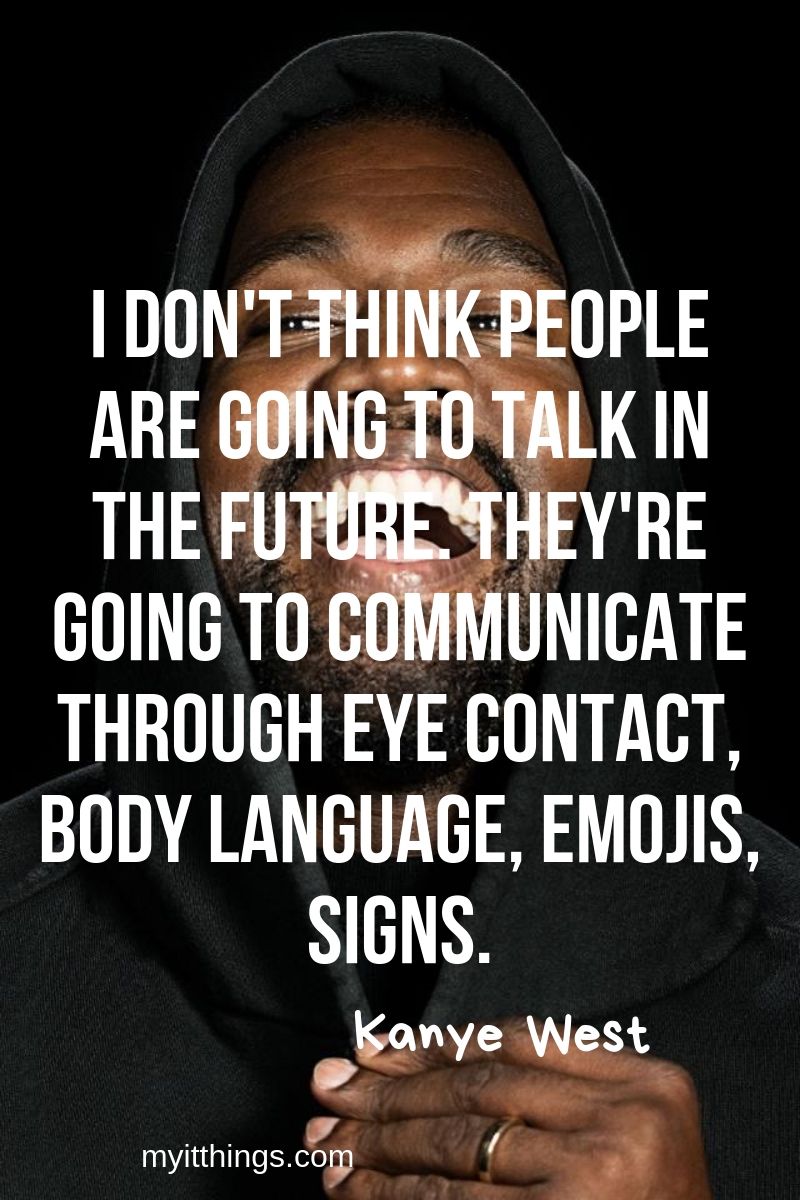 I don't think people are going to talk in the future. They're going to communicate through eye contact, body language, emojis, signs.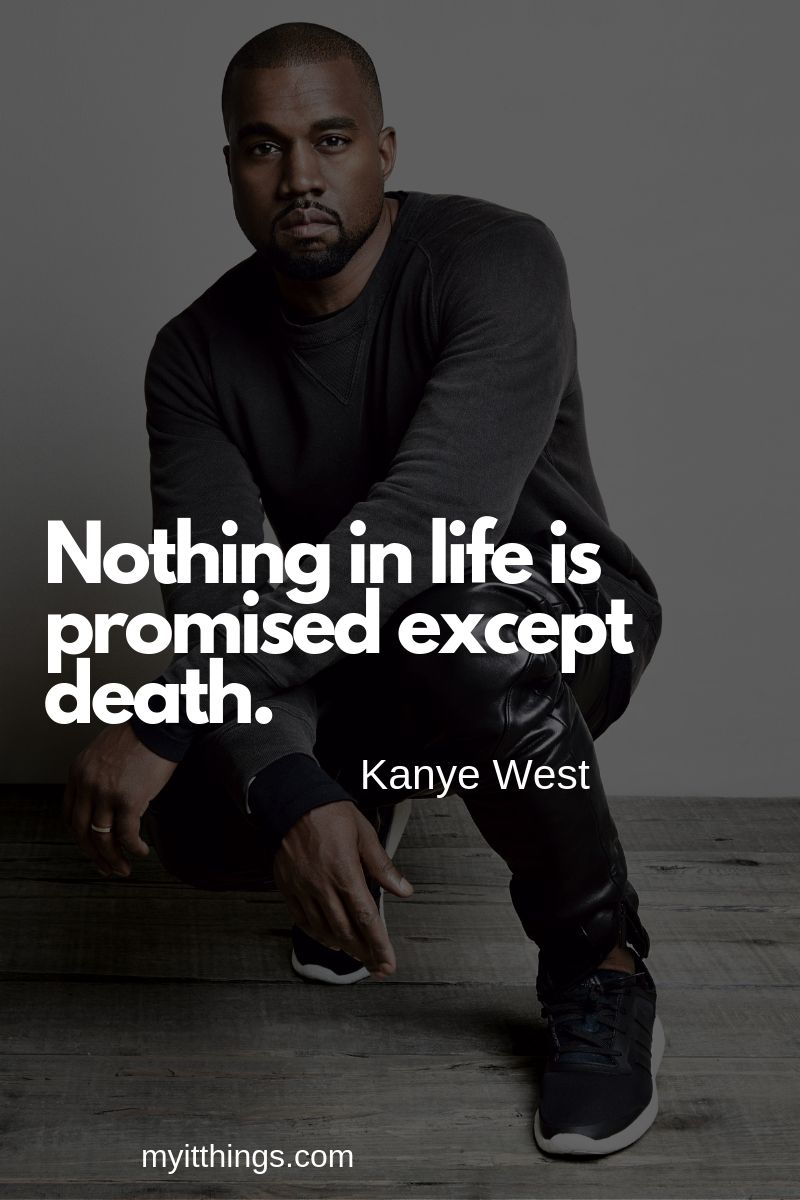 Nothing in life is promised except death.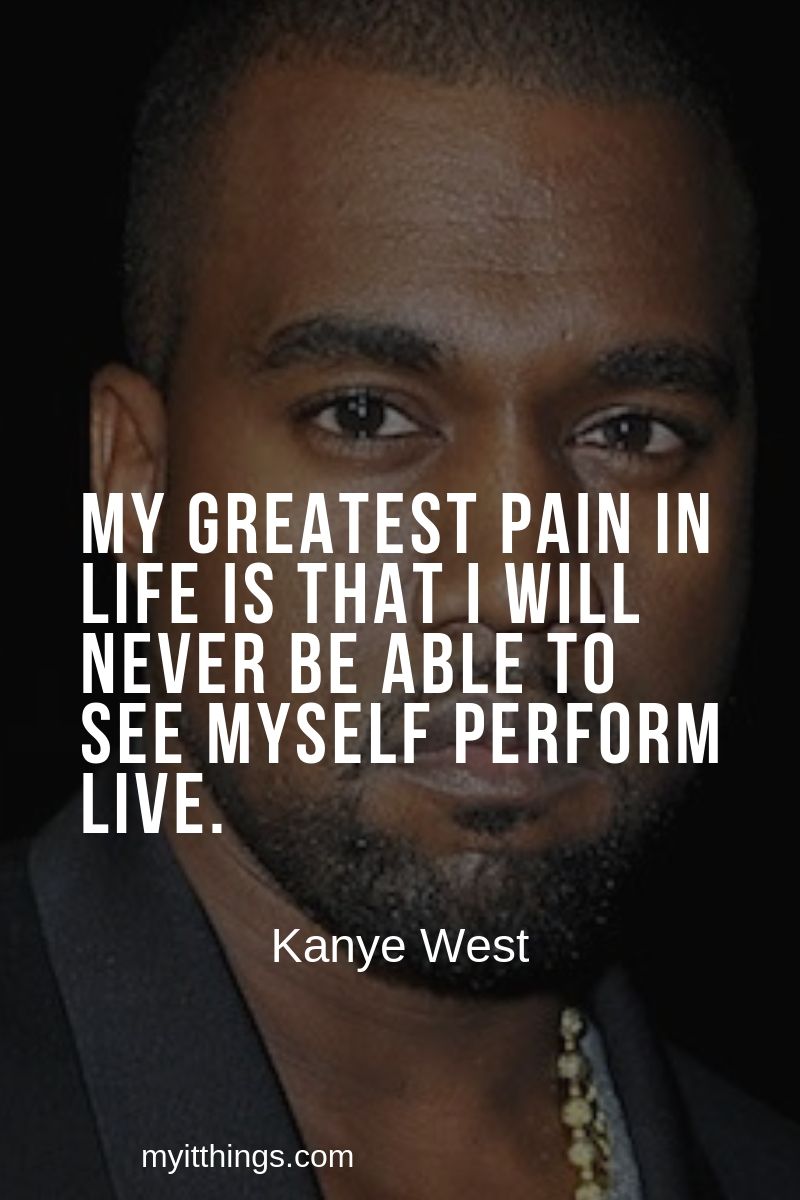 My greatest pain in life is that I will never be able to see myself perform live.
Conclusion
Love him or hate him, Kanye has made his mark in the music industry for the long haul. He has sold over 150M copies of his records worldwide and has won 7 BET Awards, 21 Grammys and 2 American Music Awards.
With these, it is not shocking that some of his albums made it to the 500 Greatest Albums of All Time and him being listed in Time's 100 Most Influential People in the World for two times (2005 and 2015). Aside from these, he is one of the richest rappers in the world and a part of one of the most famous families in the world, the Kardashians.
References: