Facts of Beyonce
Name
Beyonce Giselle Knowles-Carter
Net Worth
$470M
Date of Birth
September 4, 1981
Place of Birth
Houston, Texas, USA
Residence
Bel-Air, Los Angeles, California
Nationality
American
Occupation
R&B and pop singer, Endorser, Entrepreneur, Philanthropist
Famous For
Destiny's Child, Single Ladies, Irreplaceable, Run the World
Relatives
Solange Knowles (sister), Tina and Mathew Knowles (parents), Blue Ivy (daughter), Rumi and Sir (sons)
Spouse(s)
Jay-Z
Catchphrases
Girls run the world!
I don't really like to call myself a brand, and I don't like to think of myself as a brand.

Introduction
Beyonce, or fondly called as Queen B or Queen Bey is undoubtedly one of the most influential artists to date. With a huge following on social media sites such as Instagram and Twitter, her posts go viral after just a few seconds.
She was once a part of the pop group Destiny's Child but her solo career is just unstoppable. At present, she is one of the richest music artists in the industry with a net worth of $470M. According to Forbes, she is the 53rd richest self-made woman in the world.
Beyonce's Life
Queen B discovered her talent for singing when she was five years old at a ballet school she attended when their teacher pitched a song and she finished it in higher notes with beautiful runs.
Since then, she has been an active member of her schools' choir and started competing in song contests when she was 12, where she beat kids older than her.
She pursued music with the support of her parents. In 1995, she, along with Kelly Rowland, her childhood friend and La Tanya formed the pop group Girls' Tyme. In 1996, it was changed to Destiny's Child.
Her life as a solo artist proved to be a better move because it brought her massive success. Due to this, she has also invested in other business ventures, her own record company and engaged in various philanthropic activities.
She is married to fellow artist, Jay-Z. As a solo artist she has a net worth of $470M and as a husband and wife, they have a combined net worth of $1.45B.
Family
Queen Bey was born in Houston, Texas to a salon owner mother, Tina Beyince Knowles and a sales manager father, Mathew Knowles.
She has one sibling, Solange Knowles, who would later on follow in her footsteps as R&B singer. They are considered as the first sisters who both had albums ranked as number one in music charts.
When Beyonce became a part of the girl group Girls' Tyme (which later on became the Destiny's Child), his father resigned from his work and became the group's manager. Her parents briefly separated due to the struggles of Beyonce's girl group but reconciled after a year when the Girls Tyme was changed into Destiny's Child in 1996 and was signed under Columbia Records.
Beyonce married famous hip-hop artist Jay-Z in 2008 in a private ceremony. The two first sparked relationship rumors when Bey appeared in Jay-Z's 2002 music video for his track Bonnie and Clyde.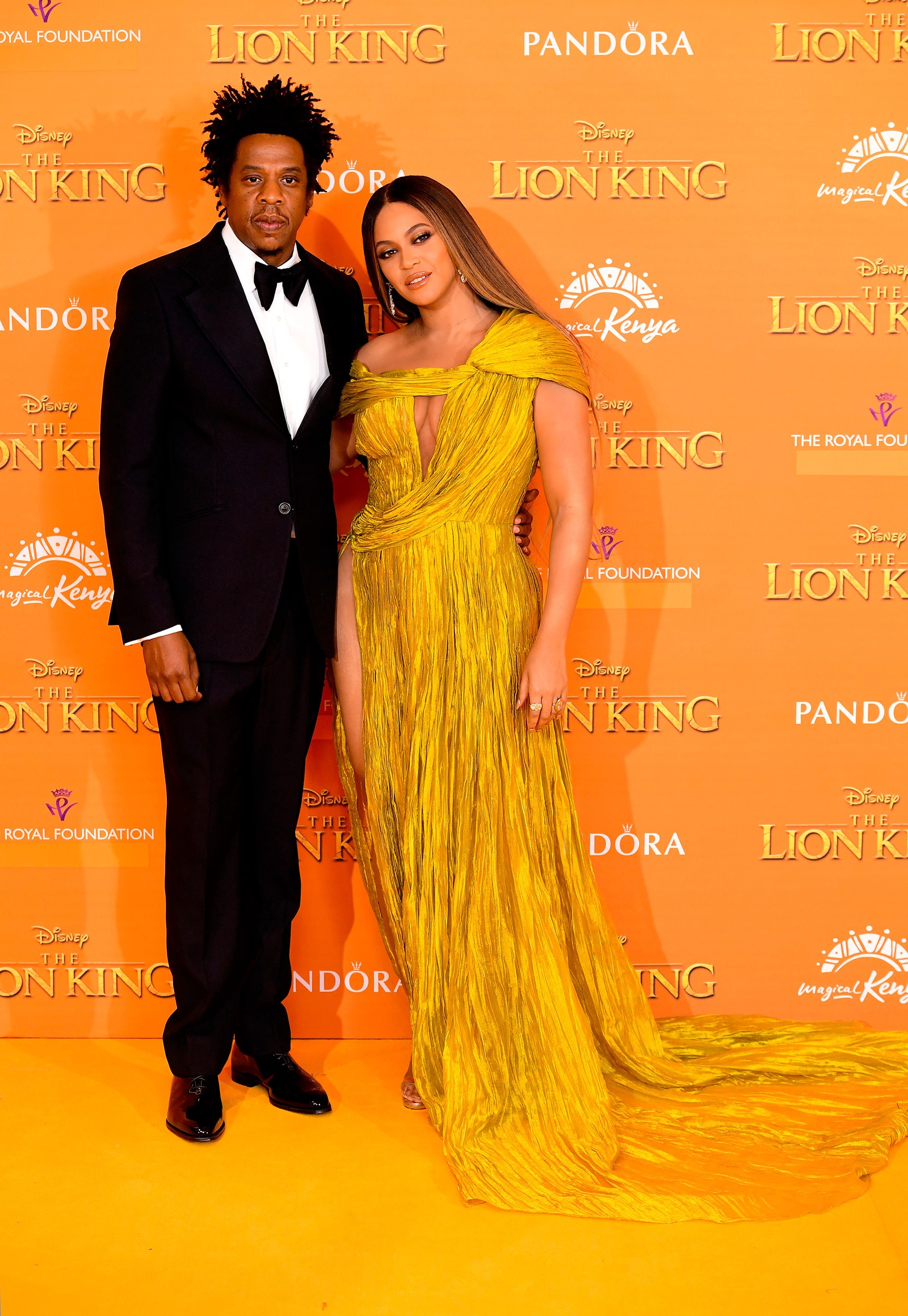 In spite of the privacy of their marriage, it was reported in 2014 that the couple almost separated because Jay-Z had an affair with a woman he met on tour. They soon worked it out and the two redeemed their stature of one of the richest and most powerful couples in the world. Beyonce and Jay-Z have three children: Blue Ivy and twins Rumi and Sir.
Career
Beyonce was 15 when her career started to take off. In 1995, she was a member of Girls' Tyme along with Kelly Rowland and La Tanya.
After one year of trying to score record deals, they regrouped in 1996 to form the Destiny's Child which became their key to fame.
As a group, they had only had three albums but all have been big worldwide hits. Their first album contained the song No, No, No which was an instant worldwide hitmaker, their second album did not disappoint with more than eight million copies sold worldwide in just a short span of time and their third album won them four Grammys.
The group later disbanded after Beyonce left and released her first solo album called Dangerously in Love in 2003. She was revered for her versatility in her second album Bday (2006) when she incorporated various music genres from the 70s and 80s.
She later on embarked on a more electropop genre following her 2008 album I Am Sasha Fierce. Apart from her music success, she also starred in the top-grossing musical film Dreamgirls, A Hip Hopera, Obsessed and Pink Panther. She also dubbed for animated films such as Epic and recently, The Lion King.
As an artist, to say that she is multi-awarded is an understatement.
She has won a total of 23 Grammys from 66 nominations including her time with Destiny's Child, and a total of 38 awards from MTV Video Music Awards, BET Awards and Soul Train Awards.
She is also the first black woman to ever win the Songwriter of the Year Award in 2002 from the American Society of Composers, Authors and Publishers. For her performance in Dreamgirls, she received eight Primetime Emmy nominations, and one Golden Globe Awards.
She has been awarded for writing articles such as Eat, Pray, Love and through these she became an honorary member of the New York Association of Black Journalists.
Beyonce is also an active philanthropist. Among her philanthropic organizations include the Survivor Foundation, which she founded with fellow Destiny's Child member and friend, Kelly Rowland, and Beyonce Cosmetology Center which provided a cosmetology training for men and women for seven months.
She has also helped other causes through her music such as modifying her song Get Me Bodied Up to support former first Lady Michelle Obama's cause to decrease child obesity in America, collaboration with other artists to raise money for Haiti after the earthquake and hurricane Katrina and Ike.
She has also collaborated for concert fundraisers to address climate change, terrorism, food availability in America, children and women empowerment and is continually funding four African-American universities in the USA.
How did Beyonce make money?
Production company (Parkwood Entertainment)
Product Endorsements (Tommy Hilfiger, Armani, Pepsi, L'Oreal, Nintendo DS, American Express, etc.)
Music streaming platform (Tidal)
Fashion and Fragrance Lines (Heat by Emporio Armani, House of Dereon, Sasha Fierce for Dereon, Ivy Park and Adidas)
Concerts and Tours (Destiny Fulfilled with Destiny's Child, Dangerously In Love, The Beyonce Experience, I Am World Tour, On the Run Tour with husband Jay-Z, I Am Mrs. Carter Show and The Formation)
Albums (Dangerously In Love, I am Sasha Fierce, 4, Bday, Lemonade and Beyonce)
Soundtrack Albums (Dreamgirls (2006), Cadillac Records (2008), The Lion King (2019))
Films (Dreamgirls, Cadillac Dreams, Pink Panther, Obsession, documentary: Homecoming on Netflix)
Vegan Meal Delivery (22 Days Nutrition)
Net worth from 2010-2019
2010: $157M
2011: $171M
2012: $184M
2013: $199M
2014: $318M
2015: $336M
2016: $419M
2017: $432M
2018: $459M
2019: $470M
How much does Beyonce make in a day?
At an average, Beyonce makes $80M a year. With this, it is projected that she makes $1.54M a week or $219,200 a day.
Houses and cars of Beyonce
Queen B slays not only through her music but also through her homes. Beyonce and husband owns a seven-bedroom, nine-bathroom mansion in New Orleans, a Tribeca loft in New York, a five-bedroom and nine-bathroom summer home in The Hamptons which is famously called as The Pond, a mansion in her hometown Houston, a Malibu home with 10 bedrooms and 14 bathrooms where she gave birth to the twins, and their residence in Bel-Air composed of a total of six structures in one big mansion.
As for cars, Queen Bey personally owns five cars. She has a personalized Mercedes Benz S-Class, Sprinter Limousine with its own washroom and sound system and McLaren, a Cadillac Escalade, and a Chrysler Pacifica.
Success lessons from Beyonce
Master the art of privacy.
Beyonce believes that success involves an element of surprise because it keeps you fresh and insightful artist. Other than that, she also says that not everything is supposed to be shared with the world. Keeping your privacy a priority is an artist, she says, makes you build quality relationships with your art, the people you love and the causes you are fighting for. At best, privacy keeps you away from the exhausting drama of social life.
Know who you are.
As a professional artist who started at 15, Beyonce says that it is important to know who you are if you intend to last long in the industry. Knowing yourself for her however, means that you need to look at yourself as more than just a brand that needs to be sold because more than an artist, you also have different personalities to recognize and respect.
Conclusion
Not only is Beyonce one of the richest, most influential and powerful artists in the world but she is also one who has used her great following to put forward causes that have great impact to humanity.
She has also managed herself well as an artist and has never been involved in any scandalous fiasco whatsoever through the years. She has one of the most stable family life in showbiz. Along with Jay-Z, they are dubbed as one of the most powerful couples in the world with a combined net worth of $1.45B. With all of these, Beyonce truly deserves an "all hail the queen."