Real name
Kylie Kristen Jenner
Net worth
$1 billion
Date of Birth
August 10, 1997
Place of Birth
Los Angeles, California
Age
22
Height
5 feet and 6 inches (1.68m)
Weight
60kg
Residence
Hidden Hills, California
Nationality
American
Occupation
Model, media personality, product ambassador/influencer, entrepreneur
Famous for
Keeping Up with the Kardashians, Life of Kylie, Kylie Cosmetics
Spouse(s)
None
Relatives
Bruce/Caitlyn Jenner (father), Kris Jenner (mother), Kendall Jenner (sister), Burt, Brandon and Brody Jenner (paternal half-brothers), Kim, Khloe, Kourtney and Rob Kardashian (maternal half-sisters), Stormi Webster (daughter)
Catchphrases
Normal is boring.
To be weird is just so dope.

Updated on
Sep 2019
Introduction
Aside from being famous at birth because of her Olympian father, famous mother and maternal half-sisters, Kylie Jenner has also made a record for herself when she became Forbes' Youngest Self-Made Billionaire in 2018 but sources say that she is just worth $300M.
Through her social media presence and large fan base, she is one of the most effective social media influencers in Instagram and Twitter. She has amassed a $1B net worth at just 22 as of 2019 particularly because of the success of her cosmetics line.
Kylie Jenner's Life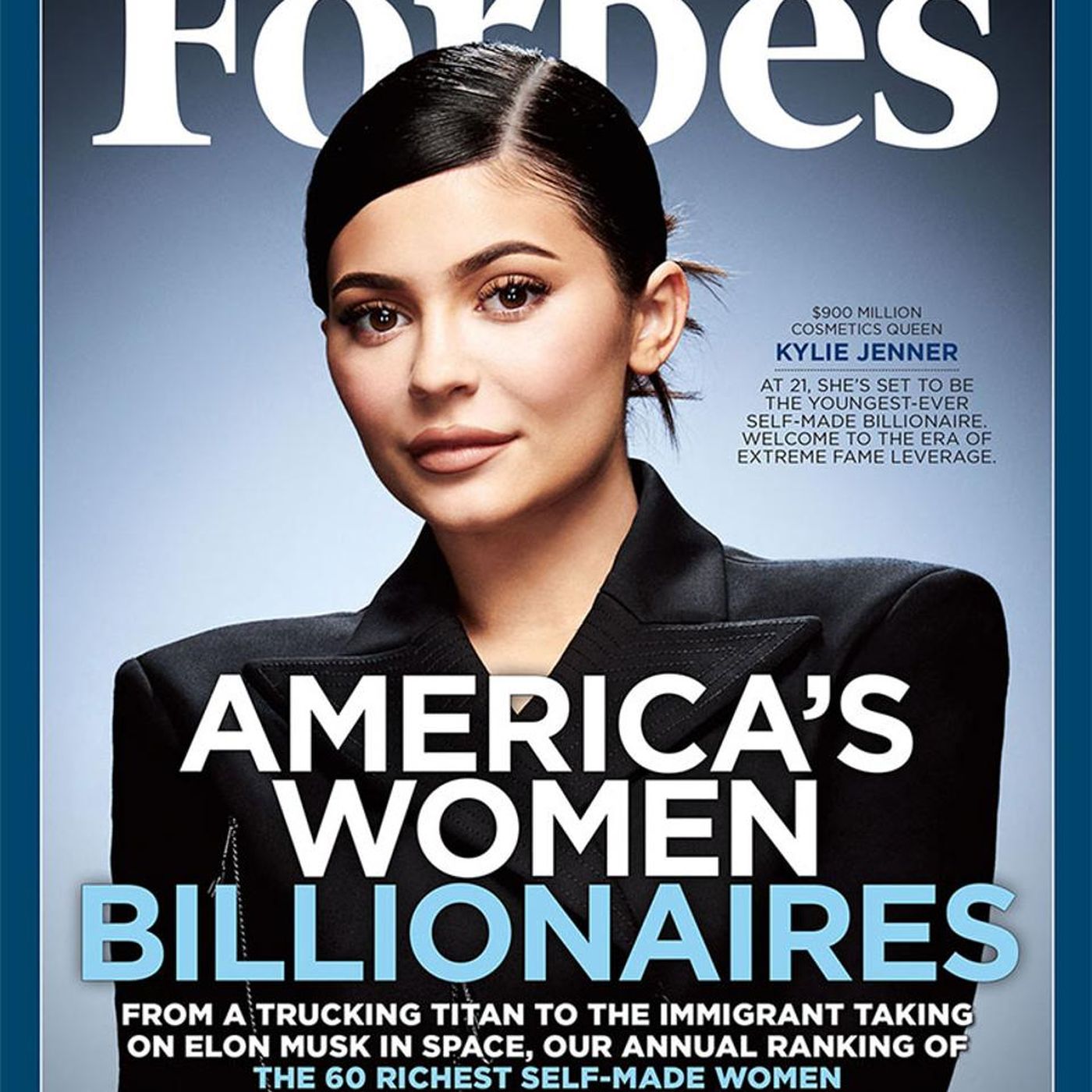 Kylie was only ten years old when her life became open to the public when she and her family appeared in the reality TV show, Keeping Up with the Kardashians.
The glitz and glamour of publicity proved to be her natural niche as she has been modelling as early 14 years old alongside her sister Kendall. She is also a very young entrepreneur especially that she started her own product lines from fashion to cosmetics at the age of 15.
At 22, she has already made a cosmetics empire for herself amounting to $1B in total. This makes her the youngest self-made billionaire according to Forbes. Although this has been disputed, the fact that she is only 22 and is already a multi-millionaire proves a lot about her influence at a very young age.
Family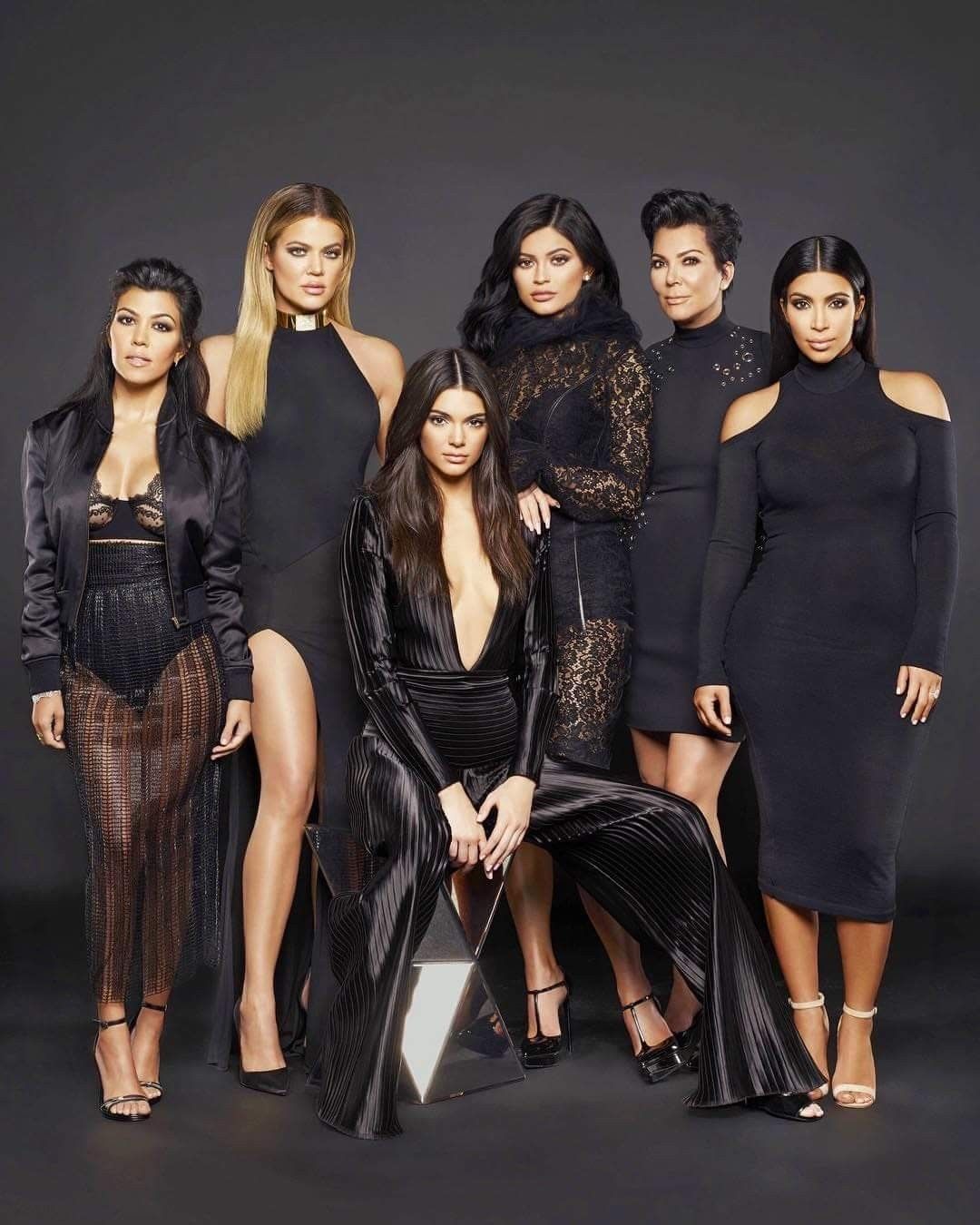 Kylie was born on August 10, 1997 to famous parents Bruce Jenner (now Caitlyn) and Kris Jenner (former Kardashian). She has an elder sister, Kendall, who is also a model and entrepreneur. From this marriage, she officially became a part of the ultra-famous and super rich Kardashian-Jenner clan.
She has three half-brothers from her father's first marriage: Burt, Brandon and Brody. She also has half-siblings from her mother's first marriage to rich and famous lawyer Robert Kardashian; Kourtney, Kim, Khloe and Rob.
While she is not yet married, she has been into controversial relationships. She was first involved with Tyga, a hip-hop rapper, who had a son with her future sister-in-law through Rob, Black Chyna. For three years, they had been on and off but eventually ended their relationship in 2017 due to cheating allegations. Since then, she had been in a relationship with another famous rapper, Travis Scott.
She shocked the world when rumors of her pregnancy surfaced the net in 2017, less than a year after she and Travis got together. She gave birth to Stormi in 2018.
Career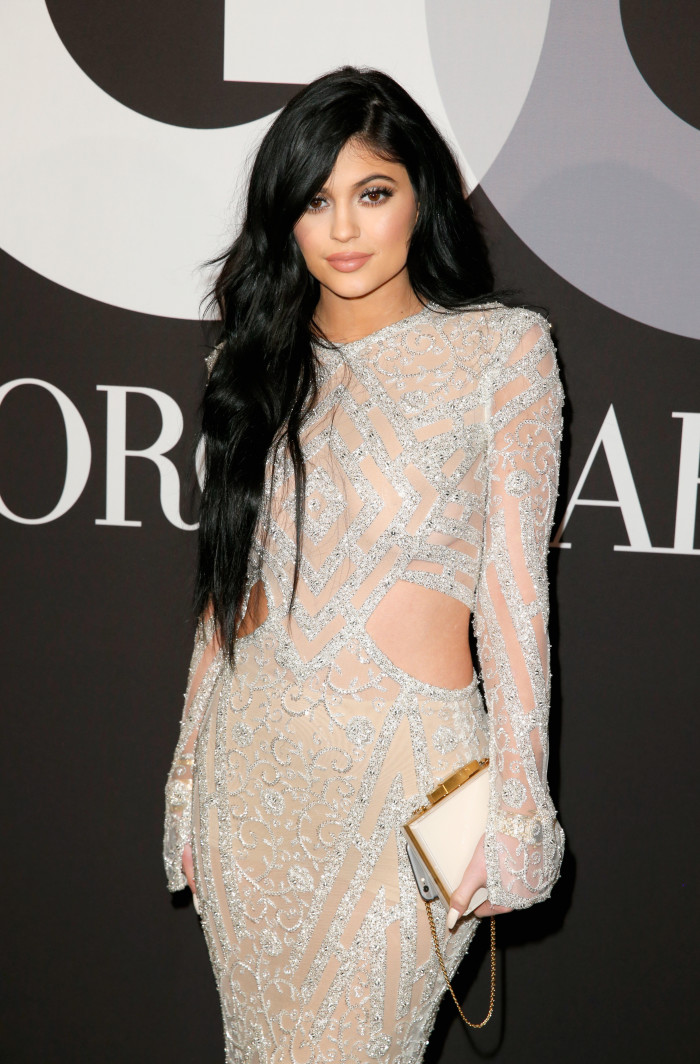 Being in one of the longest running reality TV shows produced by her family at just 10 years old paved the way for her to gain more popularity and to land as an established name in the industry.
She started very early in modelling and entrepreneurship when she and sister Kendall launched and modelled their own clothing line Kendall and Kylie when she was only 14.
When she was 15, she released her own cosmetics line, the Kylie Lip Kits. In the years 2014-2015, she was hailed as the most influential teen by the Time Magazine. She later changed her brand name the following year into Kylie Cosmetics which, as we all know, has given her a multi-million cosmetics empire at just 21.
In 2017, she produced her own spinoff of Keeping Up with the Kardashians and titled it the Life of Kylie and appeared in various episodes of reality series, Kourtney and Khloe take The Hamptons, Million Dollar Closets, Deal with It and Ridiculousness. In that same year, she made it to Forbes 100. She is considered as one of the youngest entrepreneurs to ever make that list. In 2018, she was applauded by the New York Post as the most influential celebrity fashion endorser.
With a total of 129M followers on Instagram alone, she has made various product endorsements and is looked up to as one of the most bankable social media influencers to date, along with Kendall and her Kardashian half-sisters. She has been nominated four times for three consecutive years for Teen Choice Awards in various categories but only won once, on her first nomination in 2013.
How did Kylie Jenner make money?
TV appearances (Keeping Up with the Kardashians, Kingin' with Tyga, Kourtney and Khloe take The Hamptons, Life of Kylie, Million Dollar Closets, Deal with It and Ridiculousness)
Product lines (Kylie Cosmetics, Kendall and Kylie by PacSun, Nicole Nail Polish by OPI, Glamhouse, Madden Girl, TopShop, ULTA and Puma)
Product endorsements (Puma, Fashion Nova, Sugar Bear hair vitamins)
Social media following (Instagram and YouTube)
Own Android and iPhone mobile app (The Kylie Jenner App)
Modelling (Vogue)
Music video appearances (Recognize by PartyNextDoor, Blue Ocean by Jaden Smith, Stimulated and Doped Up by Tyga, Stop Trying to be God by Travis Scott)
Net worth from 2010-2019
2010: $65M
2011: $87M
2012: $100M
2013: $185M
2014: $310M
2015: $495M
2016: $640M
2017: $775M
2018: $900M
2019: $1B
How much does Kylie Jenner make in a day?
In 2018, sources have estimated that Kylie Jenner earns an annual average of $154M. This figure projects that she earns $13M per month or $457,000 a day.
What does Net Worth Mean?
What is a Net Worth?
It is a quantitative concept which measures the value of an entity. It is applicable ranging from an individual to companies, organizations, sectors and a country as a whole. To put it simply, it is the difference between assets and liabilities. A positive net worth means assets are greater than liabilities, whereas negative net worth mean liabilities are greater than assets.
Formula:
Net Worth = Assets – Liabilities
A little more into Net Worth Concept:
Net worth conveys the financial health of any entity. Asset is anything that is owned and has a monetary value to it while liabilities is a commitment that deplete resources. Assets can be liquid or which can turn into liquid ( example: bank check ). They are non-liquid when they take time to turn into cash (like for example Home). Whereas liability is an obligation that has to be repaid ( example: home loan, car loan etc.,)
Any financial institution or 3rd party look at your assets and liabilities to understand the financial position. Positive net worth or increasing asset base indicates good financial health while negative net worth or increasing liabilities means a bad financial health condition.
It is always a good habit for any entity to maintain a reduce liabilities and increase or maintain a balanced asset base.
What does a Net Worth Mean to a person?
In simple terms, it means the value that is left after subtracting liabilities from assets. Few Examples of liabilities include car loans, student loans, home loans, credit card bills, and other mortgages etc., whereas an individual's assets are amount in the savings account, home, vehicle, bonds, stocks and other material that has value.
In other words, whatever is left after paying off all the personal debt from asset base is net worth. It is important to understand that value of net worth varies as per the market value of assets and current debt costs.
For example:
Consider a case of Ramu Johnson. His assets include a house valued at $350000, shares worth $150000 and a car worth $35000. His liabilities include a mortgage balance of
$150000 and an outstanding car loan $15000 to be paid.
Now Ramu Johnson's Net Worth = ($350000+$150000+$35000) – ($150000+$15000)
= ($535000 ) – ($165000)
= $370000
Assuming Ramu Johnson's financial position after five years as follows –
House value at $350000, Shares value at $180000, savings $ 40000 and car value $25000. While mortgage loan $120000, car loan $0 (paid off).
The Net worth after 5 years would = ($350000+$180000+$ 40000 + $25000 ) – ($120000)
= $595000 – $120000
= $475000
Here it is understood that, although the fact that the value of a house and car decrease, the net worth have increased to $475000. It is because a decline in house loan is less than the overall asset base and decrease in liabilities.
Note that, an individual's net worth can be negative if his asset base is less than liabilities.
What does net worth mean for celebrities?
Most often celebrities fall under High Net worth Individuals. And what does HNWI mean?
People with considerable net worth as called as HNWI.
Independent Charted Accounts, wealth managers and investment counsellors stay close to them making them as prime markets.
As per Securities and Exchange Commission( SEC), investors more than 1Million are considered as accredited investors to invite them to invest in unrequested securities.
Is 401k part of net worth?
As per the definition, 401K is also a part of net worth if it is calculated in terms of assets and liabilities. But, in this case, 401K have no specifics as in, therefore it cannot be measured.
What is the average American net worth?
Like any entities net worth a countries net worth can be calculated as below. It is a sum of net worth of all individuals (citizens), companies and organizations reside in America, plus countries net worth. In America, this measure is referred to as financial position.
As on quarter 1 2014, America's financial position =
Assets ( $269.6 trillion) – liabilities ($145.8 trillion ) = $123.8 trillion.
What is a good net worth by age?
| Age of Household | Median Net Worth |
| --- | --- |
| Under 35 years | $6,900 |
| 35 to 44 years | $45,740 |
| 45 to 54 years | $100,404 |
| 55 – 64 years | $164,498 |
| 65 – 69 years | $193,833 |
| 70 – 74 years | $225,390 |
| 65 – 75 Years | $202,950 |
| 75 + Years | $197,758 |
What is the net worth of the top 1%, 5%, 10%?
As in America, wealth distribution is as follows
Richest 1% of the population owned 35% of the country's total wealth
Richest 5% of the population owned 11% of the country's total wealth
Richest 10% of the population owned 12% of the country's total wealth
Houses and cars of Kylie Jenner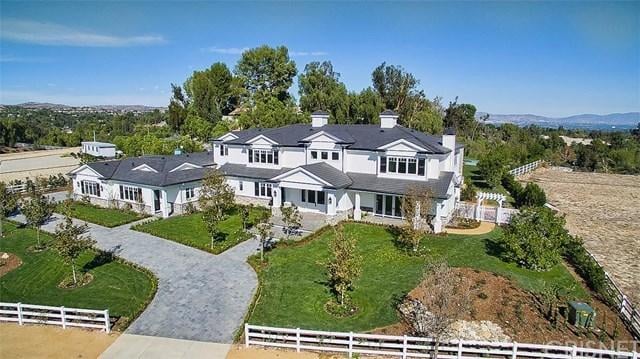 With a $900M expanding cosmetics empire, it is unquestionable that Kylie invests in real estate. She purchased her first own house when she was 17. It was a four-bedroom, five-bathroom mini-mansion located near her mother and sisters' houses in Calabasas, California.
When she was 18, she bought three houses in Hidden Hills as birthday gifts to herself: a six-bedroom, seven-bathroom mansion which she sold in 2018, another and a five-bedroom, six-bathroom home which she turned into a home office and the seven-bedroom, ten-bathroom mansion she lived in from 2016-2017.
Although she still lives in her third and biggest mansion in Hidden Hills, she and Travis Scott bought an eight-bedroom, ten-bathroom Beverly Hills mansion in 2018 when their daughter Stormi was born.
Kylie is also known to be very fascinated with cars and she has a collection to emphasize that. She has a Lamborghini Aventador, two Ferrari Spiders, an Aperta, a LaFerrari and a Italia, a Rolls-Royce Vintage, Wraith and Ghost, a Range Rover, a Jeep Wrangler, a Mercedes Benz G-Class and Maybach, a Land Rover, Mercedes G-Wagon, and a Bentley Coupe.
Success lessons from Kylie Jenner
1. Your dreams should not be about having everything.
When asked about what it feels like to have everything, Kylie said that having everything feels like not having anything. She says that happiness is never found in material things but on loves that you fight for and things that you cannot buy like loyalty and friendship.
2. Always ask yourself about what matters.
When asked about her principles in work, she said, I always ask myself if the things I will do will matter to me in the long-run. If I figure that these are things that shall only matter in a week or month, I easily let them go. But if I think that this is something I can build with for the long haul, then I invest everything I can give and make sure that I never give up on it easily.
Conclusion
Since 2018, Kylie slowed down a bit about what is released in Keeping Up with the Kardashians regarding her life. She has devoted most of her life in being a full-time mother to Stormi and in expanding her Kylie cosmetics.
While controversies will always follow her famous bloodline, she and Kendall have been the best family members to handle them as they have never been involved in a very big and humiliating fiascos ever. With her rumored $900M cosmetics empire, stable relationship with Travis Scott and adorable daughter Stormi, a lot of things are still in store for her.
References: