Net worth
$35 million
Full name
Kourtney Mary Kardashian
Date of Birth
April 18, 1979
Place of Birth
Los Angeles, California
Age
40
Height
5 ft (1.55m)
Weight
48kg
Residence
Calabasas, California
Nationality
American
Occupation
Social media personality, reality TV star, entrepreneur
Famous for
Keeping Up with the Kardashians, Kourtney and Kim Take Miami, Kourtney and Kim Take New York, Kourtney and Khloe Take The Hamptons
Spouse(s)
None
Relatives
Robert Kardashian (father); Kris Jenner (mother); Kim, Khloe and Rob Kardashian (siblings); Kendall and Kylie Jenner (half-sisters); Mason and Reign Disick (sons); Penelope Disick (daughter)

Catchphrases
I've been applying makeup long enough to feel good doing it on my own
Never wear white after labor day!
Updated on
Sep 2019
Introduction

Kourtney is the eldest among the Kardashian-Jenner brood. Her rise to fame is attributed to her family's successful reality TV show, Keeping Up with the Kardashians which started in 2007. Since then, she has appeared in all the spinoffs of the show. Like Khloe, she became all the more famous due to her on again, off again romance. As of 2019, she is said to be worth $35M, thanks to her business ventures and strong social media presence.
Kourtney Kardashian's Life
One underreported fact about Kourtney's life is that she graduated in Theatre Arts at the University of Arizona and was even classmates with NBA coach Luke Walton and actress Nicole Richie. Prior to that, she, Kim and Khloe attended an all-girls Catholic school in high school.
Being born in a rich and famous family was something that she did not take for granted. Aside from her family's rise to fame through the reality TV show Keeping Up with the Kardashians, she also ventured in various product lines mainly fitness products and clothing lines. She has been involved in two very publicized on and off relationships with Scott Disick, the father of her three kids, and Younes Bendjima, a supermodel that is fourteen years younger than her. Nonetheless, she has a solid $35M net worth as of 2019.
Family
Kourtney is the eldest daughter of Robert Kardashian, a lawyer who became famous in 1994 when he won the OJ Simpson murder case and Kris Jenner, a former flight stewardess turned celebrity and business mogul. She has three siblings from her parents' marriage: fellow reality TV stars Kim, Khloe and Rob. When her parents divorced in 1996, her mother married former Olympic gold medalist Bruce Jenner (who is now Caitlyn). From this marriage, she gained two maternal half-sisters, Kendall and Kylie Jenner.
She was never married but she has three children with reality TV star and businessman, Scott Disick. They started their relationship in 2006 and had their first child Mason in 2009.
In 2010, Kourtney broke up with Scott due to his alcohol problem. After his release from rehab in 2011, they reconciled and had their second child Penelope in 2012.
They broke up again 2013 due to recurring alcohol problem but reconciled again in 2014 and had their third child Reign. They broke up for good in 2015 but agreed to be friends for their children and engaged in co-parenting.
Scott is regularly seen in KUWTK until now because as Kris Jenner said, Scott is family no matter what.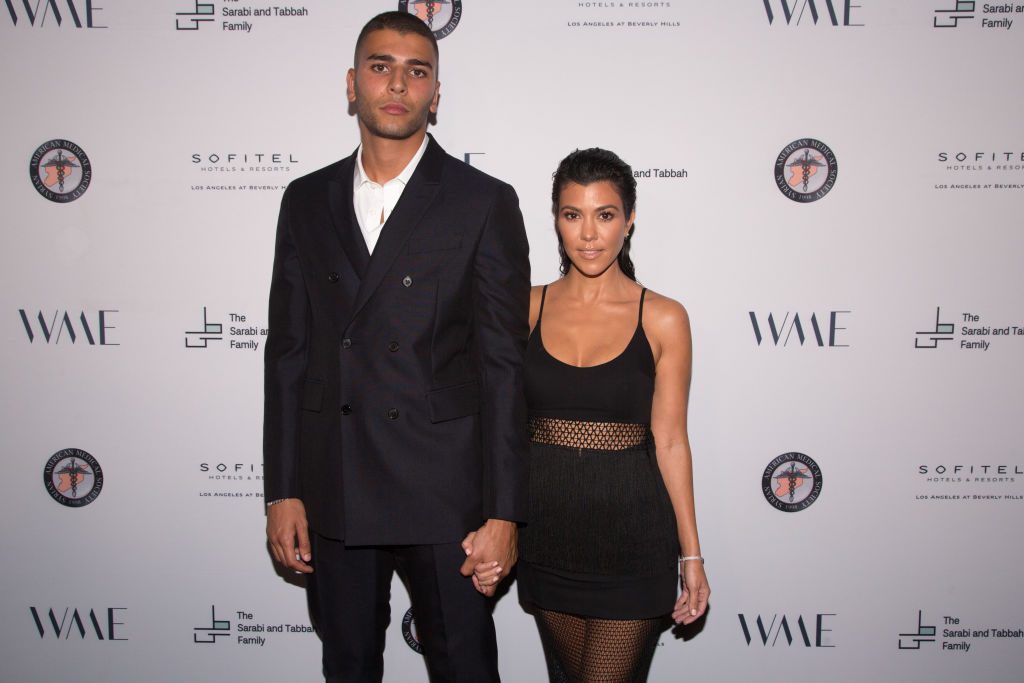 Kourtney began dating Younes Bendjima in 2016 who was at that time 23 years old while she was 37. They broke up in 2018 because of cheating allegations but has just recently reconciled this week and are now back together.
Career
After Kim's leaked sextape with Ray-J in 2006, Kourtney and the rest of the Kardashian-Jenner clan rose to fame (and wealth the year after when E! Entertainment signed them for a reality TV show called Keeping Up with the Kardashians.
The show unexpectedly became an instant hit that Kourtney was given her own spinoff series: Kourtney and Kim Take Miami, Kourtney and Kim Take New York and Kourtney and Khloe Take The Hamptons. She also appeared in the spinoff series Khloe and Lamar and a mainstay in KUWTK since 2007.
More than a reality TV star, Kourtney is now more invested in her business ventures. Her first product line was DASH, a clothing boutique which she opened with her sisters Kim and Khloe.
In 2010, she partnered with her mother and they opened a chain of boutiques called Smooch with branches in LA, Miami, New York and a pop-up store at The Hamptons.
In the same year, she and her sisters Kim, Khloe, Kendall and Kylie launched their clothing line with Bebe, opened another clothing line called K-Dash, launched tanning products called Kardashian Glamour Tan, became the product ambassador of the 20-piece jewelry of LA-based jewelry company called Virgin, Saints and Angels and released their book titled Kardashian Konfidential. Smooch expanded in 2011 with children's apparel branded as Crib Rock Couture.
In 2011, Kourtney appeared in a few episodes of the TV series One Life to Live. Later that year, she, Khloe and Kim were involved in a lawsuit filed by a fitness company. They collectively paid $5M for the case. In late 2017, Kourtney launched her solo jewelry collection featuring 32-pieces of jewelry from PrettyLittleThing. In March of this year, Kourtney released her own website called Poosh which features anything from fitness, fashion, trimming products and jewelry. She is also a social media influencer on Instagram, YouTube and Twitter where she earns $75,000-$300,000 per post.
How did Kourtney Kardashian make money?
TV appearances (KUWTK, Kourtney and Kim Take Miami, Kourtney and Kim Take New York, Kourtney and Khloe Take The Hamptons, One Life to Live)
Social media following and posting (Instagram, YouTube and Twitter; website Poosh)
Stores and boutiques (DASH, Smooch and Crib Rock Couture)
Product lines (K-Dash, Bebe, PrettyLittleThing, Kardashian Glamour Tan)
Product endorsements (Coca-Cola, Virgins, Saints and Angels)
Book (Kardashian Konfidential)
Mobile app (Kourtney Kardashian App)
Net worth from 2010-2019
2010: $6M
2011: $9M
2012: $11M
2013: $13M
2014: $16M
2015: $18M
2016: $20M
2017: $26M
2018: $30M
2019: $35M
How much does Kourtney Kardashian make in a day?
Kourtney is projected to be earning an average of $10M annually. With this figure, Kourtney is earning $27,400 daily or $192,000 weekly.
What does Net Worth Mean?
What is a Net Worth?
It is a quantitative concept which measures the value of an entity. It is applicable ranging from an individual to companies, organizations, sectors and a country as a whole. To put it simply, it is the difference between assets and liabilities. A positive net worth means assets are greater than liabilities, whereas negative net worth mean liabilities are greater than assets.
Formula:
Net Worth = Assets – Liabilities
A little more into Net Worth Concept:
Net worth conveys the financial health of any entity. Asset is anything that is owned and has a monetary value to it while liabilities is a commitment that deplete resources. Assets can be liquid or which can turn into liquid ( example: bank check ). They are non-liquid when they take time to turn into cash (like for example Home). Whereas liability is an obligation that has to be repaid ( example: home loan, car loan etc.,)
Any financial institution or 3rd party look at your assets and liabilities to understand the financial position. Positive net worth or increasing asset base indicates good financial health while negative net worth or increasing liabilities means a bad financial health condition.
It is always a good habit for any entity to maintain a reduce liabilities and increase or maintain a balanced asset base.
What does a Net Worth Mean to a person?
In simple terms, it means the value that is left after subtracting liabilities from assets. Few Examples of liabilities include car loans, student loans, home loans, credit card bills, and other mortgages etc., whereas an individual's assets are amount in the savings account, home, vehicle, bonds, stocks and other material that has value.
In other words, whatever is left after paying off all the personal debt from asset base is net worth. It is important to understand that value of net worth varies as per the market value of assets and current debt costs.
For example:
Consider a case of Ramu Johnson. His assets include a house valued at $350000, shares worth $150000 and a car worth $35000. His liabilities include a mortgage balance of
$150000 and an outstanding car loan $15000 to be paid.
Now Ramu Johnson's Net Worth = ($350000+$150000+$35000) – ($150000+$15000)
= ($535000 ) – ($165000)
= $370000
Assuming Ramu Johnson's financial position after five years as follows –
House value at $350000, Shares value at $180000, savings $ 40000 and car value $25000. While mortgage loan $120000, car loan $0 (paid off).
The Net worth after 5 years would = ($350000+$180000+$ 40000 + $25000 ) – ($120000)
= $595000 – $120000
= $475000
Here it is understood that, although the fact that the value of a house and car decrease, the net worth have increased to $475000. It is because a decline in house loan is less than the overall asset base and decrease in liabilities.
Note that, an individual's net worth can be negative if his asset base is less than liabilities.
What does net worth mean for celebrities?
Most often celebrities fall under High Net worth Individuals. And what does HNWI mean?
People with considerable net worth as called as HNWI.
Independent Charted Accounts, wealth managers and investment counsellors stay close to them making them as prime markets.
As per Securities and Exchange Commission( SEC), investors more than 1Million are considered as accredited investors to invite them to invest in unrequested securities.
Is 401k part of net worth?
As per the definition, 401K is also a part of net worth if it is calculated in terms of assets and liabilities. But, in this case, 401K have no specifics as in, therefore it cannot be measured.
What is the average American net worth?
Like any entities net worth a countries net worth can be calculated as below. It is a sum of net worth of all individuals (citizens), companies and organizations reside in America, plus countries net worth. In America, this measure is referred to as financial position.
As on quarter 1 2014, America's financial position =
Assets ( $269.6 trillion) – liabilities ($145.8 trillion ) = $123.8 trillion.
What is a good net worth by age?
| Age of Household | Median Net Worth |
| --- | --- |
| Under 35 years | $6,900 |
| 35 to 44 years | $45,740 |
| 45 to 54 years | $100,404 |
| 55 – 64 years | $164,498 |
| 65 – 69 years | $193,833 |
| 70 – 74 years | $225,390 |
| 65 – 75 Years | $202,950 |
| 75 + Years | $197,758 |
What is the net worth of the top 1%, 5%, 10%?
As in America, wealth distribution is as follows
Richest 1% of the population owned 35% of the country's total wealth
Richest 5% of the population owned 11% of the country's total wealth
Richest 10% of the population owned 12% of the country's total wealth
Houses and cars of Kourtney Kardashian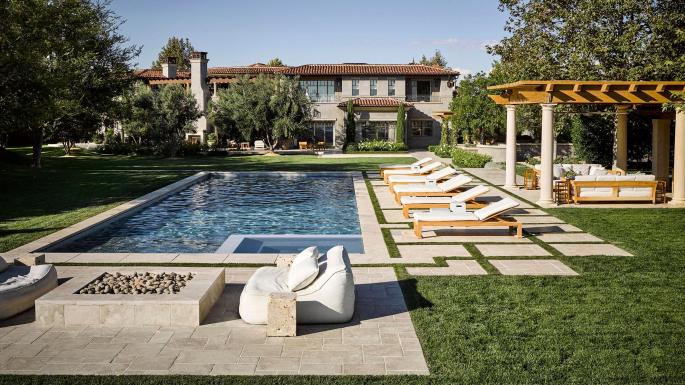 Unlike her sisters, Kourtney is not into lavish real estate and car collections. In terms of real-estate, Kourtney and Khloe are so close that they are even neighbors. Kourtney owns a six-bedroom, seven-bathroom Tuscan-style mansion in Calabasas, California. They also previously owned a two adjacent three-bedroom and three-bathroom townhouses in the Oaks which they both sold in 2014 when Reign was on the way.
As for cars, to date, she owns an Aston Martin DB11, a Mercedes Benz S-Class and a Ferrari Italia.
Success lessons from Kourtney Kardashian
Let the little things change you.
Kourtney says that her personal transformation happened when she became a mother. She said that all her business ventures back then where made only due to the insistence of her mother and sisters but when she became a mom, she wanted her kids to have a secured future. She says, "it is amazing how the little things change you, from pictures of parties to a camera roll with your children's faces, I love the change."
You can make your own rules and it is okay.
When she moved to Dallas for college, she lived with her aunt the entire summer because her aunt said that she should know how to behave like a real Southern belle. Kourtney said that she learned a lot that year but it was not the way she is so she took that opportunity to mix Southern fashion with her own sense of style and she felt more confident than ever. She says, fashion is about confidence so never be afraid to make your own rules.
Conclusion
Aside from being a TV star and entrepreneur, Kourtney is also an active benefactor of the LA Children's Hospital. She also supports the victims of the Armenian Genocide along with sisters Kim and Khloe. In between taping for KUWTK and business meetings, Kourtney is known to be a hands-on mother to her three children. As for a Scott and Kourtney reunion, all of us knows that in the Kardashian-Jenner world, anything is possible.
References: