Quick Facts of Lil Wayne
Name
Dwayne Michael Carter Jr.
"Lil Wayne"
"Mr. Carter"
"Weezy F. Baby"
Net Worth
$120 Million
Date of Birth
September 27, 1982
Place of Birth
New Orleans, Louisiana
Residence
Hollygrove, New Orleans, Louisiana
Nationality

American
Occupation
Actor
Rapper
Musician
Composer
Songwriter
Entrepreneur
Businessperson
Record Producer
CEO
Famous For
12 highly successful rap albums
Being CEO of Young Money Entertainment
Various Rap Feuds
Genres
Hip-Hop
Labels
Young Money
Republic
Universal (current)
Cash Money (former)
Associated Acts
Cash Money Millionaires
Hot Boys
The B.G.'z
Sqad Up
2 Chainz
Birdman
DJ Drama
DJ Khaled
Drake
Future
The Game
Jeezy
Mack Maine
Nicki Minaj
Rick Ross
T.I.
T-Pain
Spouses
Toya Johnson (2004-2006; mother of Reginae)
Sarah Vivan (unmarried; mother of Dwayne III)
Lauren London (unmarried; mother of Cameron)
Nivea (2002-2003, 2009-2010; ex-fiancé and mother of Neal)
Children
4
Introduction
Lil Wayne is an American rapper turned music executive and producer who currently has a net worth of $120 million. He's a New Orleans rapper who's reached stardom that few musicians have enjoyed.
Wayne began his career as the 15-year-old ward of the Cash Money Records rap group known as "Hot Boys". He started his solo career with the release of his "Tha Block Is Hot" debut album that reached #3 on the Billboard Charts and went double platinum.
Lil Wayne's Life
Wayne was born on September 27, 1982 as Dwayne Michael Carter Jr. He grew up in the 17th Ward of New Orleans or the impoverished portion of the area known as the Hollygrove neighborhood.
He enrolled in Lafayette Elementary School's gifted program and Eleanor McMain Secondary School's drama club. He attended McMain for 2 years before moving to Marion Abramson Senior High.
He wrote his first rap song when he was 8 years old. He was an honors student in McMain Magnet School but dropped out at 14 years old to focus on his rap career.
Family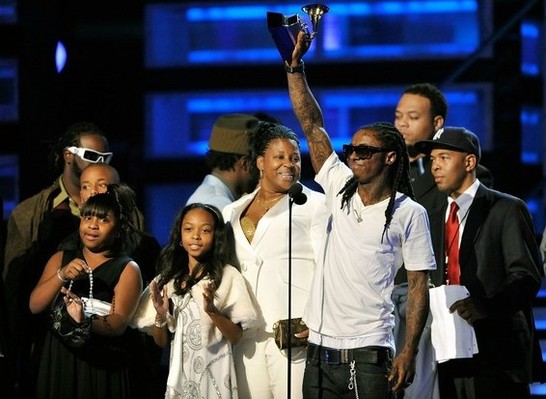 Wayne's mother, who was a cook named Jacida "Cita" Carter, gave birth to him when she was 19 years of age.
His parents divorced as his young age of 2 before his father, Dwayne Carter, left his family forever. Birdman, his record producer, served as his father figure even though his biological father is still living.
He also has a deceased stepfather named Reginald "Rabbit" McDonald, whom he considers as his real dad and was murdered before Wayne's rise to stardom. He has four children (Reginae, Dwayne III, Cameron, and Neal).
Career
Lil Wayne met Bryan Williams or Birdman the owner of "Cash Money Records" in Summer 1991. He recorded freestyle raps on Birdman's answering machine, which piqued the record producer's interest in the young man.
Wayne recorded his first collaboration with Rapper B.G. known as "True Story" when he was 11 and B.G. was 13. While under contract with Birdman's Cash Money label, he released Tha Block Is Hot (1999), Lights Out (2000), 500 Degreez (2002) and Tha Carter (2004).
It was during Tha Carter and Tha Carter II (2005) that Wayne's lyrical style became more thorough with his sense of self. He then became president of Cash Money in 2005 and founded an imprint of the label named "Young Money Entertainment". After the release of Tha Carter III (2008), he was nominated for 8 Grammys, the most of any artist in 2008, taking home 4 of the 8. He went on to release 6 more albums across the decade, the latest of which is Tha Carter V (2018).
How Does Lil Wayne Make Money?
Lil Wayne mostly makes money from his music and artistry. He sells a huge amount of rap albums. For example, when he released Tha Carter V (2018) after lengthy delays, it still sold 480,000 units in the first week and became certified platinum soon after. The rapper turned music mogul has sold over 110 million records all over the world, which includes 37 million digital tracks and 15 million albums in the U.S alone.
He also makes money as the CEO of Young Money Entertainment for good measure. He even makes money from endorsement deals, his clothing line, guest appearances in various shows, his own memoir, and his own documentary. This makes him one of the best-selling artists of all time. Not just rap artist but artist.
Most of Lil Wayne's fortune comes from all the successful rap albums and songs he has released in his musical career, such as the following.
Tha Block Is Hot (1999)
Lights Out (2000)
500 Degreez (2002)
Tha Carter (2004)
Tha Carter II (2005)
Tha Carter III (2008)
Rebirth (2010)
I Am Not a Human Being (2010)
Tha Carter IV (2011)
I Am Not a Human Being II (2013)
Free Weezy Album (2015)
Tha Carter V (2018)
He has also been paid for various film and television roles or cameos, which include the following.
"Baller Blockin'" as Iceberg Shorty (2000)
"MTV Cribs" as Himself (2004)
"The L-Bow Room" as Himself (2004)
"The Late Late Show with Craig Kilborn" as Himself (2004)
"Saturday Night Live" as Himself/Musical Guest (2004; 2008; 2010)
"The Tonight Show with Jay Leno" as Himself (2005)
"Wild n' Out" as Himself/Musical Guest (2005)
"Who's Your Caddy" as Himself (2007)
"The Boondocks" as Jericho's son (Voice; 2007)
"Hurricane Season" as Lamont (2009)
"The Late Show with David Letterman" as Himself (2009)
"Freaknik: The Movie" as Trap Jesus (Voice; 2010)
"America's Best Dance Crew" as Himself (2011)
"The World According to Paris" as Himself (2011)
"Loiter Squad" as Himself (2012)
"Skip and Shannon: Undisputed" as Himself/Musical Guest (2016-present)
"Growing Up Hip-Hop: Atlanta" as Himself (2017)
Lil Wayne has also earned a lot of publicity and "cash money" from collaborating with dozens of musicians such as the following.
Birdman
Ludacris
Chris Brown
Akon
T.I.
Keri Hilson
T-Pain
As the CEO of Young Money Entertainment, he nets a salary from that role as well due to its links to notable artists such as:
He made his first endorsement deal with Pepsi's Mountain Dew. He also launched his own clothing line called "Trukfit".
He also made money from his memoir "Gone Til' November: A Journal of Rikers Island" released in October 11, 2016.
He even made his own documentary—Tha Carter—that was featured in the 2009 Sundance Film Festival.
Net Worth From 2010 – 2019
In 2012, Lil Wayne's net worth was $95 million.
From 2013 to 2014, Lil Wayne's net worth was $135 million.
In 2015, Lil Wayne's net worth was $140 million.
From 2016 to 2018, Lil Wayne's net worth was $150 million.
In 2019, Lil Wayne's net worth is $120 million.
Since 2007, Lil Wayne has earned a total of $208 million in career earnings. There are no listed net worth archives for 2010 and 2011 even though he earned $20 million and $15 million for those years respectively.
His net worth was rising up until 2019, where it dipped from $150 million to $120 million. Otherwise, he has successfully raised his net worth by $55 million from 2012 to 2018, only for it to go down to $25 million in 2019.
How Much Does Lil Wayne Make In A Day?
In his highest grossing year of 2012, he made $27 million or $73,973 a day. In his lowest grossing year of 2007, he made $12 million or a $32,877 day.
From 2012 to 2018 or for 6 years, he raised his net worth by $55 million or $9 million a year or $24,657 a day.
In 2019 or the 7th year, this dropped to $25 million or $3.6 million a year or $9,863 a day.
What does Net Worth Mean?
What is a Net Worth?
It is a quantitative concept which measures the value of an entity. It is applicable ranging from an individual to companies, organizations, sectors and a country as a whole. To put it simply, it is the difference between assets and liabilities. A positive net worth means assets are greater than liabilities, whereas negative net worth mean liabilities are greater than assets.
Formula:
Net Worth = Assets – Liabilities
A little more into Net Worth Concept:
Net worth conveys the financial health of any entity. Asset is anything that is owned and has a monetary value to it while liabilities is a commitment that deplete resources. Assets can be liquid or which can turn into liquid ( example: bank check ). They are non-liquid when they take time to turn into cash (like for example Home). Whereas liability is an obligation that has to be repaid ( example: home loan, car loan etc.,)
Any financial institution or 3rd party look at your assets and liabilities to understand the financial position. Positive net worth or increasing asset base indicates good financial health while negative net worth or increasing liabilities means a bad financial health condition.
It is always a good habit for any entity to maintain a reduce liabilities and increase or maintain a balanced asset base.
What does a Net Worth Mean to a person?
In simple terms, it means the value that is left after subtracting liabilities from assets. Few Examples of liabilities include car loans, student loans, home loans, credit card bills, and other mortgages etc., whereas an individual's assets are amount in the savings account, home, vehicle, bonds, stocks and other material that has value.
In other words, whatever is left after paying off all the personal debt from asset base is net worth. It is important to understand that value of net worth varies as per the market value of assets and current debt costs.
For example:
Consider a case of Ramu Johnson. His assets include a house valued at $350000, shares worth $150000 and a car worth $35000. His liabilities include a mortgage balance of
$150000 and an outstanding car loan $15000 to be paid.
Now Ramu Johnson's Net Worth = ($350000+$150000+$35000) – ($150000+$15000)
= ($535000 ) – ($165000)
= $370000
Assuming Ramu Johnson's financial position after five years as follows –
House value at $350000, Shares value at $180000, savings $ 40000 and car value $25000. While mortgage loan $120000, car loan $0 (paid off).
The Net worth after 5 years would = ($350000+$180000+$ 40000 + $25000 ) – ($120000)
= $595000 – $120000
= $475000
Here it is understood that, although the fact that the value of a house and car decrease, the net worth have increased to $475000. It is because a decline in house loan is less than the overall asset base and decrease in liabilities.
Note that, an individual's net worth can be negative if his asset base is less than liabilities.
What does net worth mean for celebrities?
Most often celebrities fall under High Net worth Individuals. And what does HNWI mean?
People with considerable net worth as called as HNWI.
Independent Charted Accounts, wealth managers and investment counsellors stay close to them making them as prime markets.
As per Securities and Exchange Commission( SEC), investors more than 1Million are considered as accredited investors to invite them to invest in unrequested securities.
Is 401k part of net worth?
As per the definition, 401K is also a part of net worth if it is calculated in terms of assets and liabilities. But, in this case, 401K have no specifics as in, therefore it cannot be measured.
What is the average American net worth?
Like any entities net worth a countries net worth can be calculated as below. It is a sum of net worth of all individuals (citizens), companies and organizations reside in America, plus countries net worth. In America, this measure is referred to as financial position.
As on quarter 1 2014, America's financial position =
Assets ( $269.6 trillion) – liabilities ($145.8 trillion ) = $123.8 trillion.
What is a good net worth by age?
| Age of Household | Median Net Worth |
| --- | --- |
| Under 35 years | $6,900 |
| 35 to 44 years | $45,740 |
| 45 to 54 years | $100,404 |
| 55 – 64 years | $164,498 |
| 65 – 69 years | $193,833 |
| 70 – 74 years | $225,390 |
| 65 – 75 Years | $202,950 |
| 75 + Years | $197,758 |
What is the net worth of the top 1%, 5%, 10%?
As in America, wealth distribution is as follows
Richest 1% of the population owned 35% of the country's total wealth
Richest 5% of the population owned 11% of the country's total wealth
Richest 10% of the population owned 12% of the country's total wealth
Houses And Cars Of Lil Wayne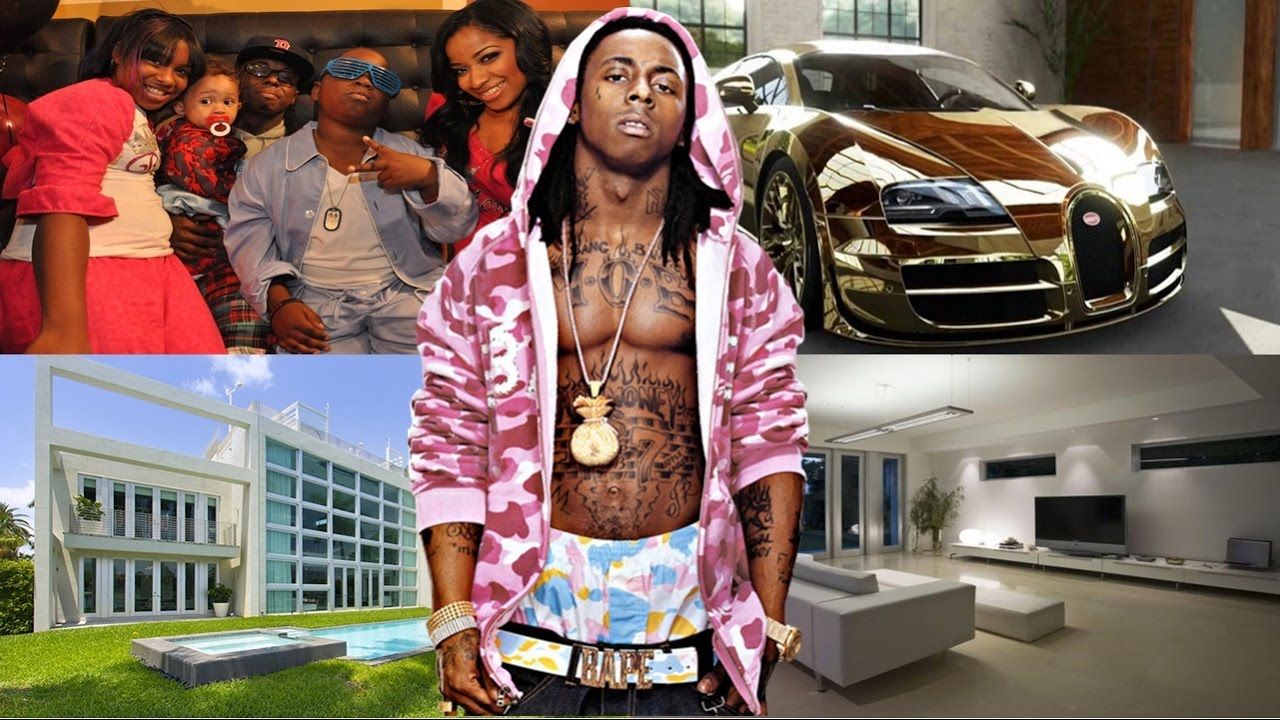 Lil Wayne owns a $13 million, 15,100-square-foot mansion in Miami. He handed over $7.72 million in back taxes to the U.S. government for this mansion that was built back in 2004. It has a glass elevator, 9 bedrooms, 2 partial baths, and 9 full bathrooms as well as a 2-storey master suit, private sky terrace, and a 3-bedroom guesthouse. He also owns a 10,000-square-foot New Orleans house that he bought back in 2006 but is currently for sale.
The mansion comes with 5 bedrooms, 7 bathrooms, and a spacious fully stainless kitchen and dining space. He also bought a $1.7 million, 10,084-square-foot home in Kenner, Jefferson Parish, Louisiana. It comes with a swimming pool, jetted tub, living room staircase, 5 bedrooms, and 5 bathrooms. Lil Wayne even owns a Rolls Royce Phantom Drophead Coupe, a Bugatti Veyron, and a Campagna T-Rex 14R as his three-car collection.
2 Success Lessons From Lil Wayne
1. Take Risks
Lil Wayne's success has been fraught with peril and continuous controversy. The main success lesson you can get from him as you go about your own personal career or entrepreneurial efforts is growth and taking risk.
He was able to weather the storms of controversy from having a feud with Birdman (the rapper who helped get him into the business) to his arrests and incarceration to his lawsuits to his health issues because he knows how to evolve and endure.
2. What Doesn't Kill You Makes You Stronger
He has had feuds with Jay-Z, Pusha T, Young Buck, and Juvenile for good measure. His success isn't a fluke like Buster Douglas beating Mike Tyson only to lose to Evander Holyfield.
Rather, he built upon his lucky break so that his career is able to soar despite all the problems he has faced and the issues he has to deal with. He's a fighter who just gets better after every experience so he's able to make the most of his luck and talents despite numerous setbacks. What doesn't kill him makes him stronger.
5 Motivational Lil Wayne Quotes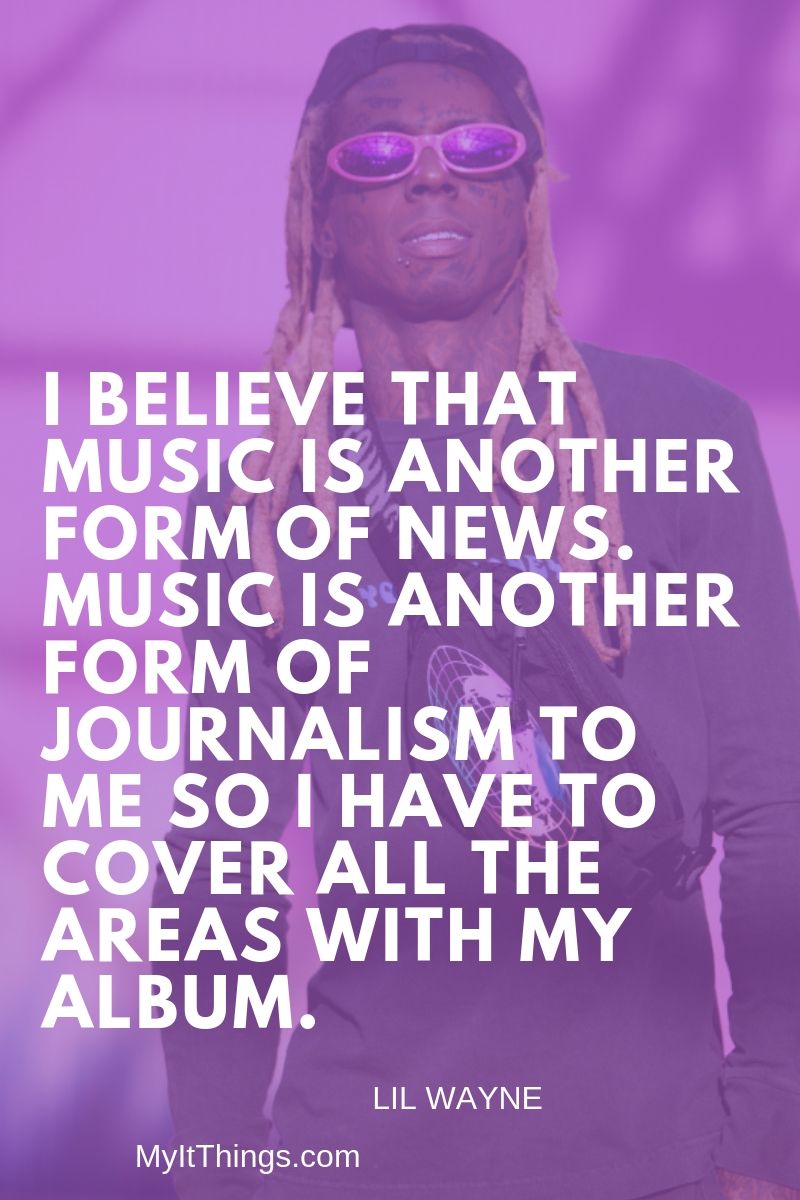 I believe that music is another form of news. Music is another form of journalism to me so I have to cover all the areas with my album.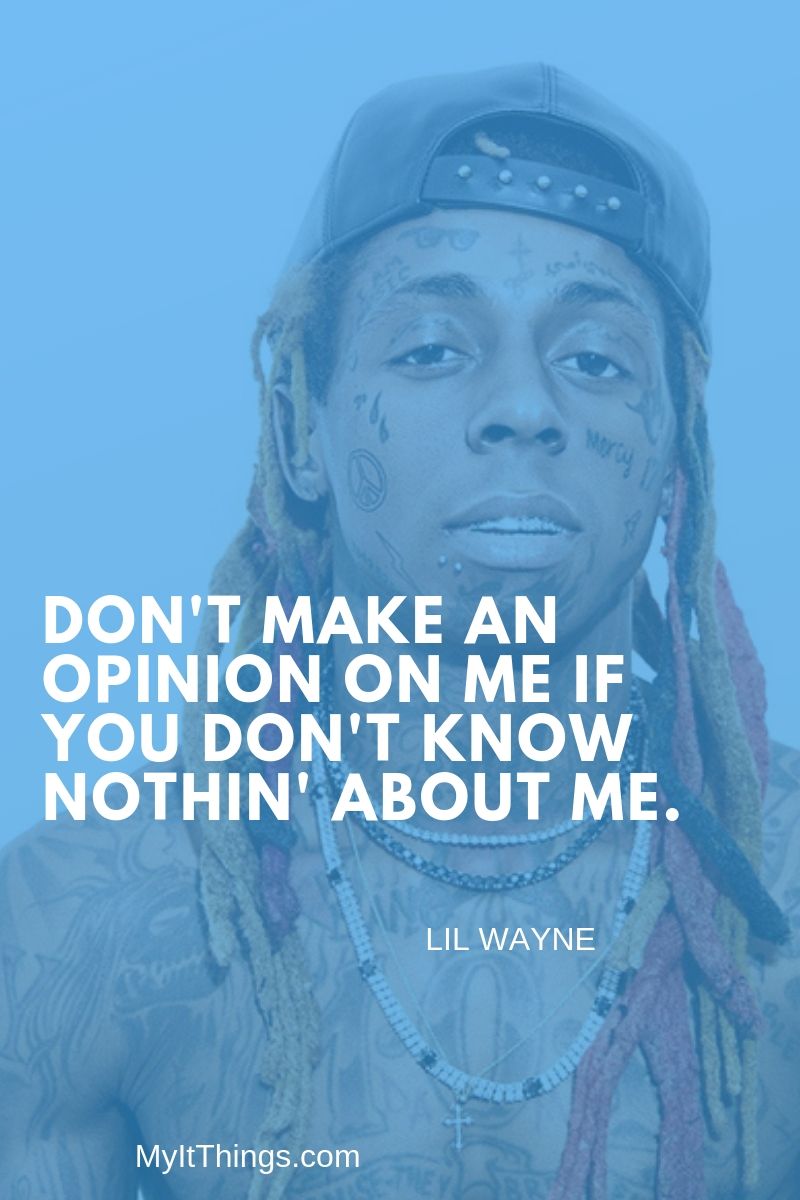 Don't make an opinion on me if you don't know nothin' about me.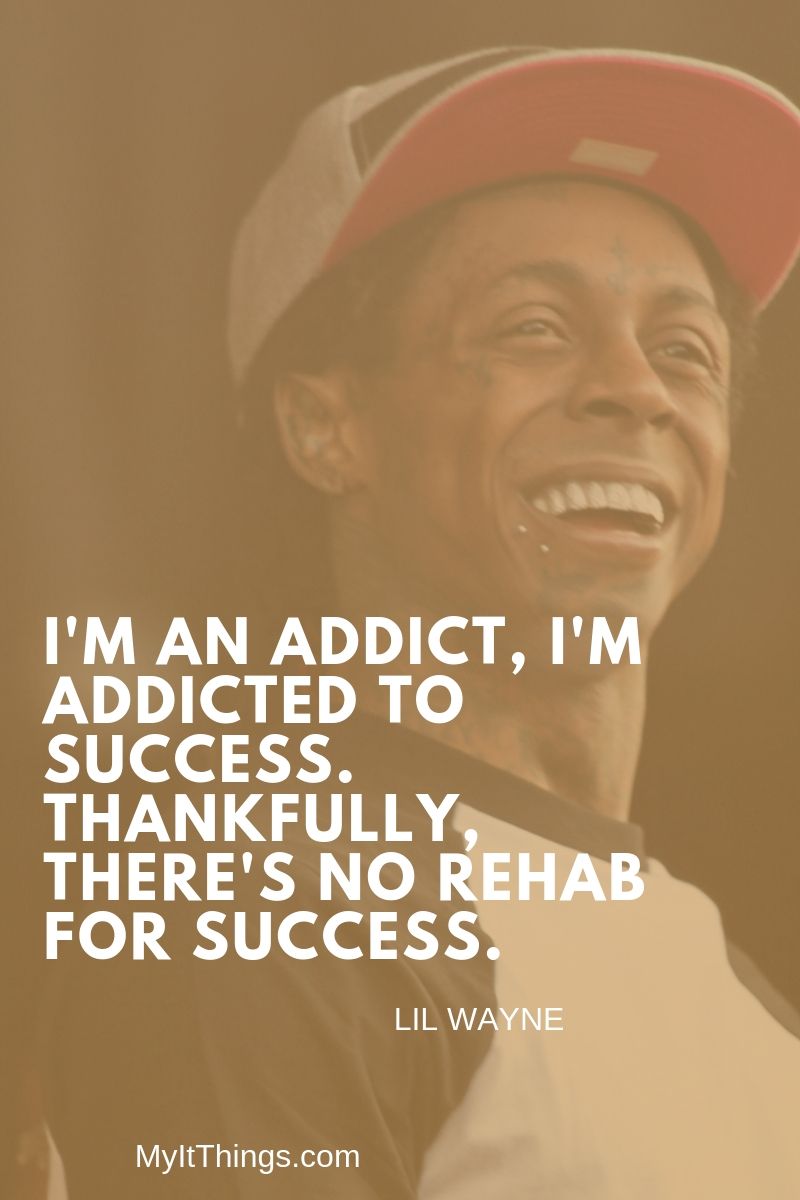 I'm an addict, I'm addicted to success. Thankfully, there's no rehab for success.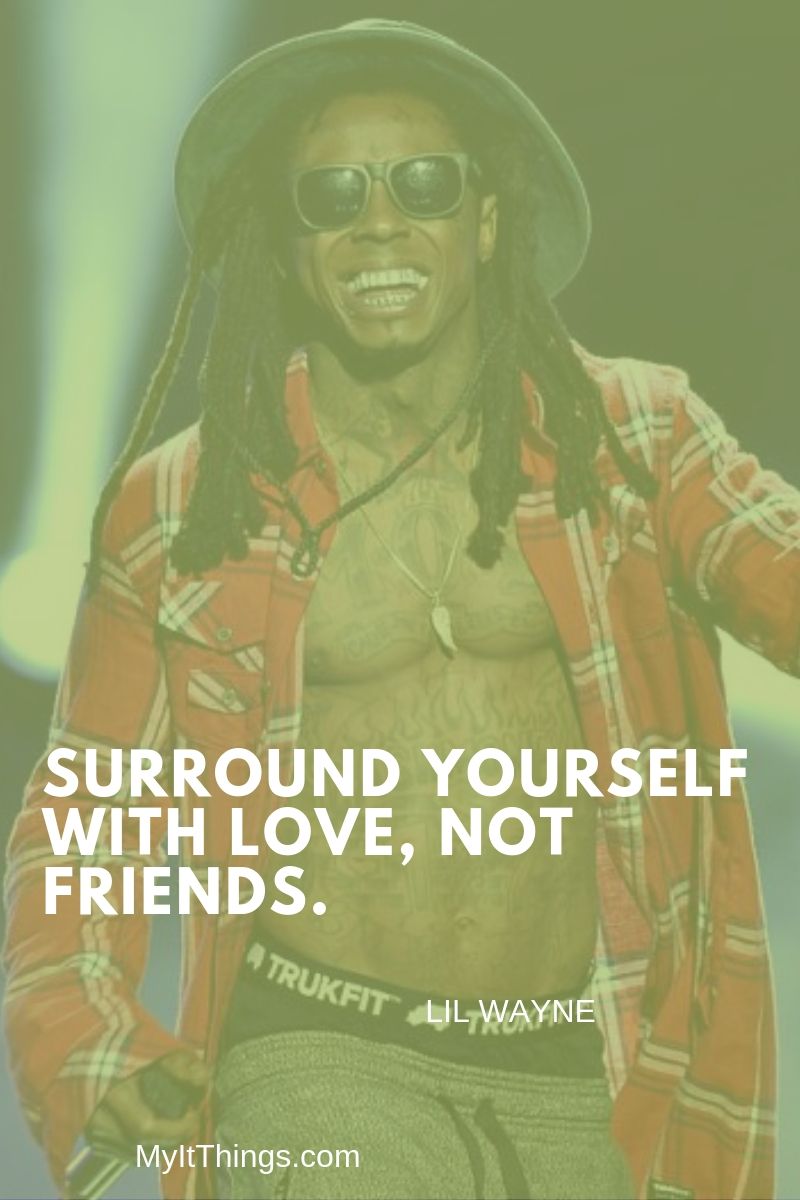 Surround yourself with love, not friends.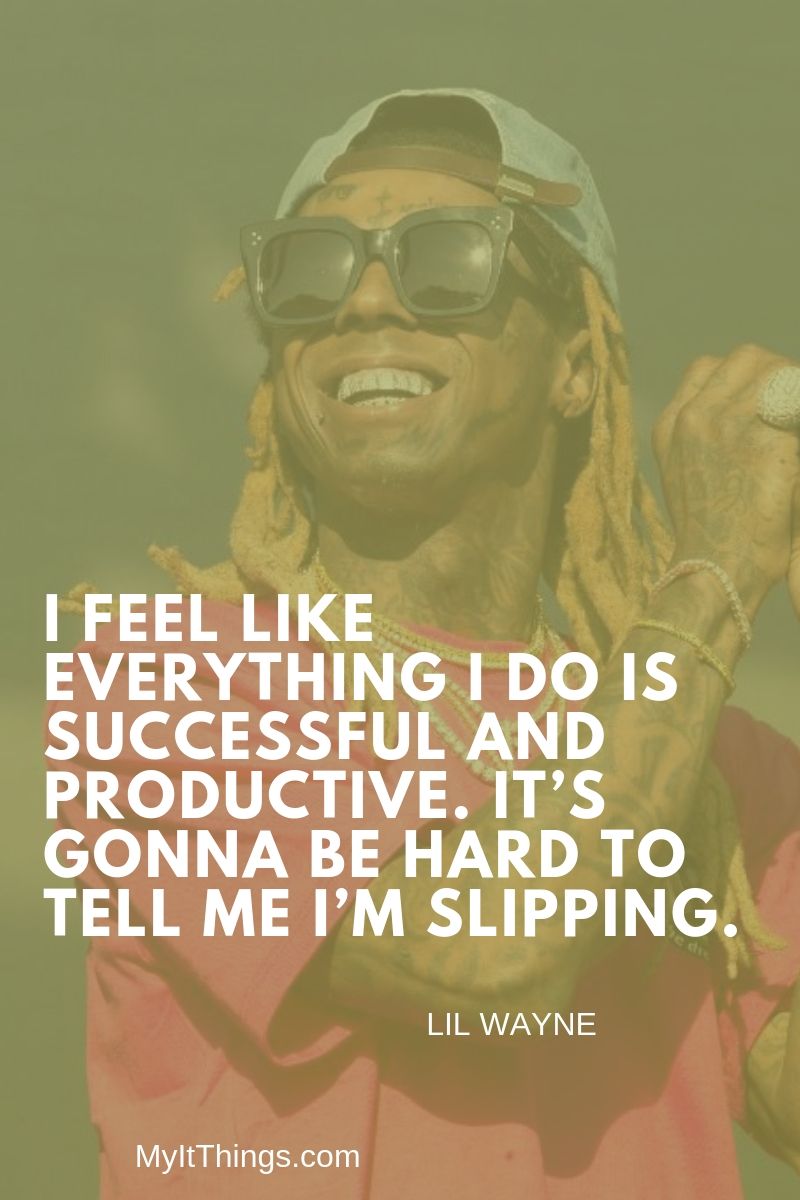 I feel like everything I do is successful and productive. It's gonna be hard to tell me I'm slipping.
References: