Quick Facts of Dave Chapelle
Name
David Khari Webber "Dave" Chappelle
Net Worth
$50 Million
Date of Birth
August 24, 1973
Place of Birth
Washington, D.C.
Residence
Yellow Springs, Ohio
Nationality

American
Occupation
Actor
Artist
Producer
Comedian
Screenwriter
Famous For
Standup Comedy
Chappelle's Show
Genres
Satire
Blue Comedy
Black Comedy
Surreal Humor
Sketch Comedy
Observational Comedy
Spouses
Elaine Mendoza Erfe (2001-present)
Children
Ibrahim Chappelle
Sonal Chappelle
Sulayman Chappelle
Introduction
Who doesn't know the famous comedian's comedian known as Dave Chappelle? The American standup comedian turned actor, producer, and screenwriter might not be as big of a renaissance man as his other comedian contemporaries.
However, as he honed his craft, he'd gotten sweet multi-million-dollar deals with TV channels and film companies who wish to ride his popularity and showcase to the world his talents.
Dave Chappelle's Life
Dave grew up in Silver Spring, Maryland. He also attended Woodlin Elementary. His politically active parents were professors in universities and had famous house visitors like Johnny Hartman and Pete Seeger.
Hartman predicted that Dave will be a comedian. Dave's comic inspirations were Richard Pryor and Eddie Murphy. In 1991, he graduated from the Duke Ellington School of the Arts under their theater arts course.
Family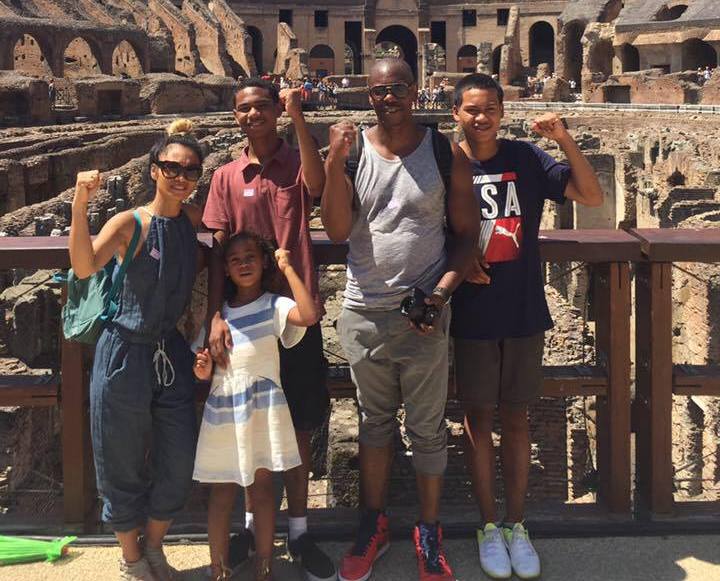 William David Chappelle III, Dave's father, worked as a statistician before becoming an Antioch College professor in Yellow Springs. Yvonne K. Chappelle Seon (nee Reed), Dave's mother, was a professor at the University of Maryland, Prince George's Community College, and Howard University. She also worked for Patrice Lumumba, the Congo Prime Minister. Dave's great-grandfather, Bishop William D. Chappelle, was the Allen University President.
Career
Dave went to New York to pursue standup comedy full-time. He performed on Amateur Night at the Apollo Theater, but was booed off the stage. He kept working and improving his craft though, allowing him to do better as he performed comedy in the New York club circuit. When he made his film debut in "Robin Hood: Men in Tights", he was only 19 years of age.
However, he really got his big break through "Chappelle's Show" in 2003 on Comedy Central. The show was so successful that he was offered $55 million to continue it for 2 more years, but he turned down the offer and went to Africa for some soul searching. Regardless, he recently came back, hosted Saturday Night Live, and is about to reach a net worth equal to the money he turned down all those years ago.
How Does Dave Chappelle Make Money?
Dave Chappelle makes money by being a highly sought after comedian, actor, and producer of his own specials. Throughout his career, he was able to land multi-million-dollar deals with television channels and even streaming services like Netflix for the right to show his comedy acts, shows, skits, and standup.
He has also gotten paid by acting or starring in various films and shows as well. For "Chappelle's Show", he signed a $50 million contract but turned down the $55 million one in 2006. For "Undercover Brother", he earned $1 million. For Blue Steak, it was $692,905. For Crank Yankers, it was $1.4 million.
Here is a list of Dave Chappelle's money sources.
Dave does standup tours all across the country and television specials such as the following.
HBO Comedy Half Hour: Dave Chappelle (1998)
Dave Chappelle: Killin' Them Softly (2000)
Dave Chappelle: For What It's Worth (2004)
Dave Chappelle: The Bird Revelation (2016)
The Age of Spin: Dave Chappelle Live at the Hollywood Palladium (2017)
Deep in the Heart of Texas: Dave Chappelle Live at Austin City Limits (2017)
Dave Chappelle: Equanimity (2017)
Dave Chappelle: The Bird Revelation (2017)
Dave has also starred or had a role in a number of films and television shows, which include the following.
"Robin Hood: Men in Tights" as Ahchoo (1993)
"Undercover Blues" as Ozzie (1993)
"Home Improvement" as Dave (1995)
"The Nutty Professor" as Reggie Warrington (1996)
"Half Baked" as Thurgood Jenkins (1998)
"The Real Blonde" as Zee (1997)
"The Larry Sanders Show" as Himself (1998)
"Dr. Katz, Professional Therapist" as Dave (Voice; 1997)
"Bowl of Pork" as Black Forrest Gump (Short Film; 1997)
"Screwed" as Rusty Hayes (2000)
"Undercover Brother" as Conspiracy Brother (2002)
"Crank Yankers" as Francis, Shavin (2002-2007)
"Chappelle's Show" as Himself (2003-2006)
"Saturday Night Live" as Himself (Host; 2016)
"A Star is Born" as Noodles (2018)
Dave has also done commercials for Right Guard Xtreme Sports Television and Pepsi. According to sources, it's estimated that he earns an average of $200,000 for various brands and promotions.
Net Worth From 2010 – 2019
From 2010 to 2013, Dave Chappelle's net worth was $30 million.
From 2014 to 2015, Dave Chappelle's net worth was $10 million.
In 2016, Dave Chappelle's net worth was $16 million.
From 2017 to 2018, Dave Chappelle's net worth was $42 million.
In 2019, Dave Chappelle's net worth is $50 million.
Dave's net worth went down from $30 million in 2013 to $10 million in 2014.
His net worth then rose to $16 million in 2016 and skyrocketed to $42 million in 2017 because of his highly successful string of comedy tours and specials in that year.
How Much Does Dave Chappelle Make In A Day?
Back in 2004, he inked a $50 million deal with Comedy Central to continue Chappelle's Show for 2 more seasons. So he was making $25 million annually at the time he was making $68,463 a day for 2 years.
In 2015, he earned $7.5 million or $20,548 a day. In 2016, he earned $16 million or $43,836 a day. In 2017, he made $60 million due to his contract with Netflix to make comedy specials. So at that time, he was making per $164,384 day.
Across 9 years, he had lost $20 million but gained $40 million, so that means he had made an average of $10 annually from 2016-2019, which means he made an average of $27,397 a day for 4 years.
What does Net Worth Mean?
What is a Net Worth?
It is a quantitative concept which measures the value of an entity. It is applicable ranging from an individual to companies, organizations, sectors and a country as a whole. To put it simply, it is the difference between assets and liabilities. A positive net worth means assets are greater than liabilities, whereas negative net worth mean liabilities are greater than assets.
Formula:
Net Worth = Assets – Liabilities
A little more into Net Worth Concept:
Net worth conveys the financial health of any entity. Asset is anything that is owned and has a monetary value to it while liabilities is a commitment that deplete resources. Assets can be liquid or which can turn into liquid ( example: bank check ). They are non-liquid when they take time to turn into cash (like for example Home). Whereas liability is an obligation that has to be repaid ( example: home loan, car loan etc.,)
Any financial institution or 3rd party look at your assets and liabilities to understand the financial position. Positive net worth or increasing asset base indicates good financial health while negative net worth or increasing liabilities means a bad financial health condition.
It is always a good habit for any entity to maintain a reduce liabilities and increase or maintain a balanced asset base.
What does a Net Worth Mean to a person?
In simple terms, it means the value that is left after subtracting liabilities from assets. Few Examples of liabilities include car loans, student loans, home loans, credit card bills, and other mortgages etc., whereas an individual's assets are amount in the savings account, home, vehicle, bonds, stocks and other material that has value.
In other words, whatever is left after paying off all the personal debt from asset base is net worth. It is important to understand that value of net worth varies as per the market value of assets and current debt costs.
For example:
Consider a case of Ramu Johnson. His assets include a house valued at $350000, shares worth $150000 and a car worth $35000. His liabilities include a mortgage balance of
$150000 and an outstanding car loan $15000 to be paid.
Now Ramu Johnson's Net Worth = ($350000+$150000+$35000) – ($150000+$15000)
= ($535000 ) – ($165000)
= $370000
Assuming Ramu Johnson's financial position after five years as follows –
House value at $350000, Shares value at $180000, savings $ 40000 and car value $25000. While mortgage loan $120000, car loan $0 (paid off).
The Net worth after 5 years would = ($350000+$180000+$ 40000 + $25000 ) – ($120000)
= $595000 – $120000
= $475000
Here it is understood that, although the fact that the value of a house and car decrease, the net worth have increased to $475000. It is because a decline in house loan is less than the overall asset base and decrease in liabilities.
Note that, an individual's net worth can be negative if his asset base is less than liabilities.
What does net worth mean for celebrities?
Most often celebrities fall under High Net worth Individuals. And what does HNWI mean?
People with considerable net worth as called as HNWI.
Independent Charted Accounts, wealth managers and investment counsellors stay close to them making them as prime markets.
As per Securities and Exchange Commission( SEC), investors more than 1Million are considered as accredited investors to invite them to invest in unrequested securities.
Is 401k part of net worth?
As per the definition, 401K is also a part of net worth if it is calculated in terms of assets and liabilities. But, in this case, 401K have no specifics as in, therefore it cannot be measured.
What is the average American net worth?
Like any entities net worth a countries net worth can be calculated as below. It is a sum of net worth of all individuals (citizens), companies and organizations reside in America, plus countries net worth. In America, this measure is referred to as financial position.
As on quarter 1 2014, America's financial position =
Assets ( $269.6 trillion) – liabilities ($145.8 trillion ) = $123.8 trillion.
What is a good net worth by age?
| Age of Household | Median Net Worth |
| --- | --- |
| Under 35 years | $6,900 |
| 35 to 44 years | $45,740 |
| 45 to 54 years | $100,404 |
| 55 – 64 years | $164,498 |
| 65 – 69 years | $193,833 |
| 70 – 74 years | $225,390 |
| 65 – 75 Years | $202,950 |
| 75 + Years | $197,758 |
What is the net worth of the top 1%, 5%, 10%?
As in America, wealth distribution is as follows
Richest 1% of the population owned 35% of the country's total wealth
Richest 5% of the population owned 11% of the country's total wealth
Richest 10% of the population owned 12% of the country's total wealth
Houses And Cars Of Dave Chappelle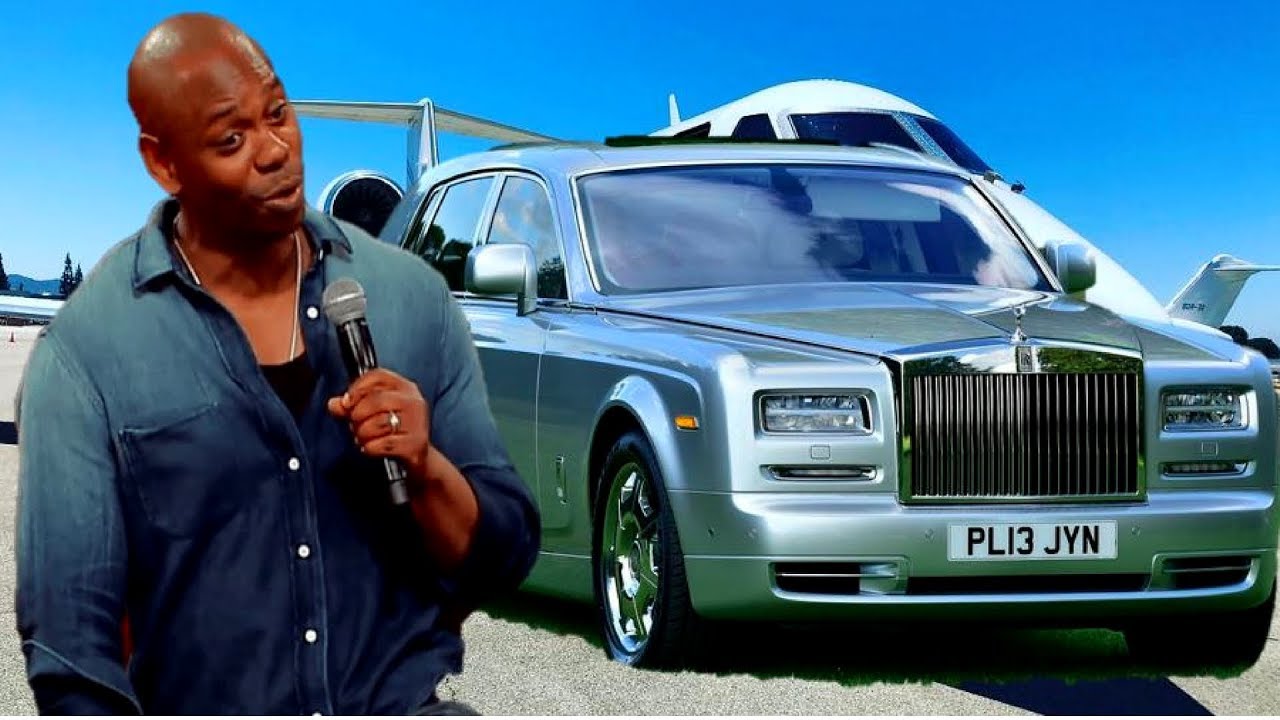 Dave lives in a 65-acre lot in Yellow Springs, Ohio priced between $200,000 to $600,000. He also owns other homes in the area that are mostly 2,500 square feet and above in size. As for cars, he owns a $72,520-$120,440 Lexus LS460 and a $44,825 Rolls Royce Phantom Drophead Coupe. He also owns a white Porsce valued between $46,475 to over $200,000.
3 Success Lessons From Dave Chappelle
1. To yourself be true.
Even up until this day, people keep asking Dave Chappelle why he turned his back on "Chappele's Show" and millions of dollars in cash just to go back to South Africa on some sort of pilgrimage and sabbatical for the sake of self-realization.
2. Know your worth.
The same Dave Chappelle that brought us timeless comedic skits as "I'm Rick James, bitch!" and "Does Wayne Brady have to choke a bitch?" is also the same Dave that realized Comedy Central was turning him into another cog in their money machine that keeps on turning and turning with or without him.
3. Know what you want.
Talent finds a way to shine through so if you want to be a success, you might as well do it on your own terms. His net worth might have stagnated for a little while but now he's back and making huge bucks all the same without losing his smile.
5 Famous Dave Chappelle Quotes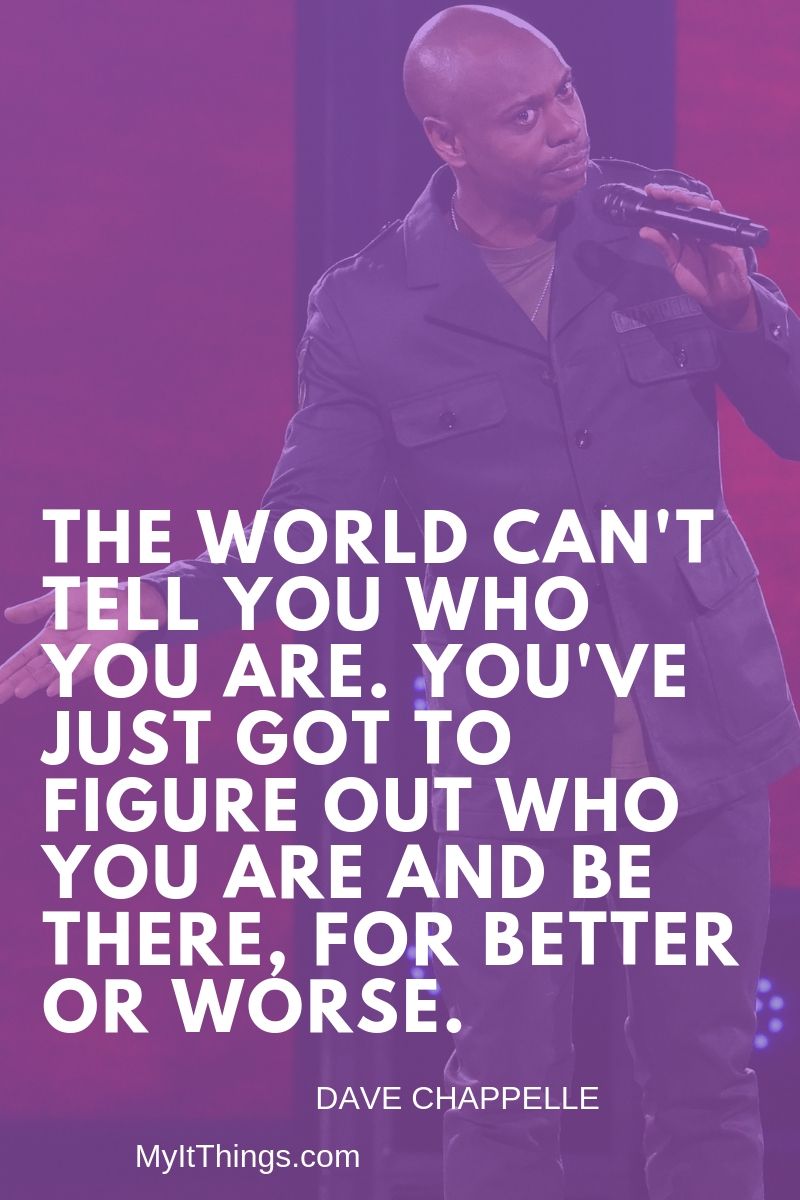 The world can't tell you who you are. You've just got to figure out who you are and be there, for better or worse.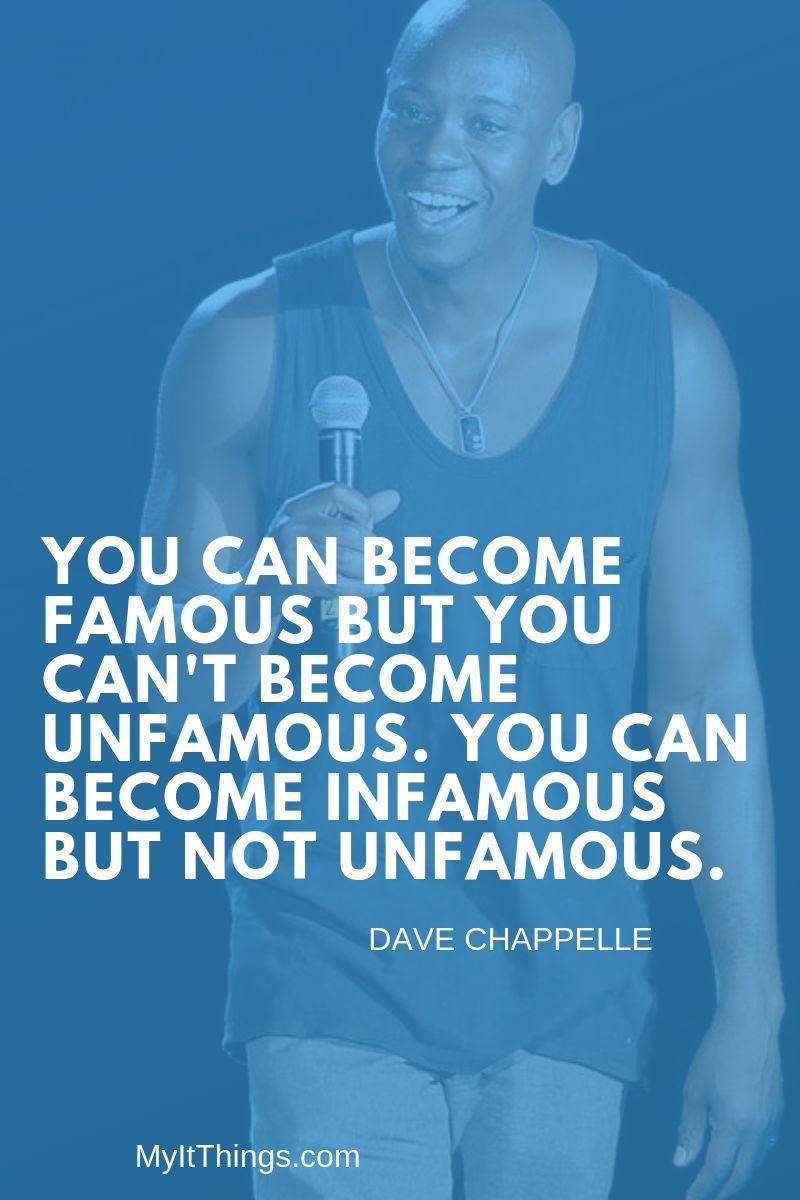 You can become famous but you can't become unfamous. You can become infamous but not unfamous.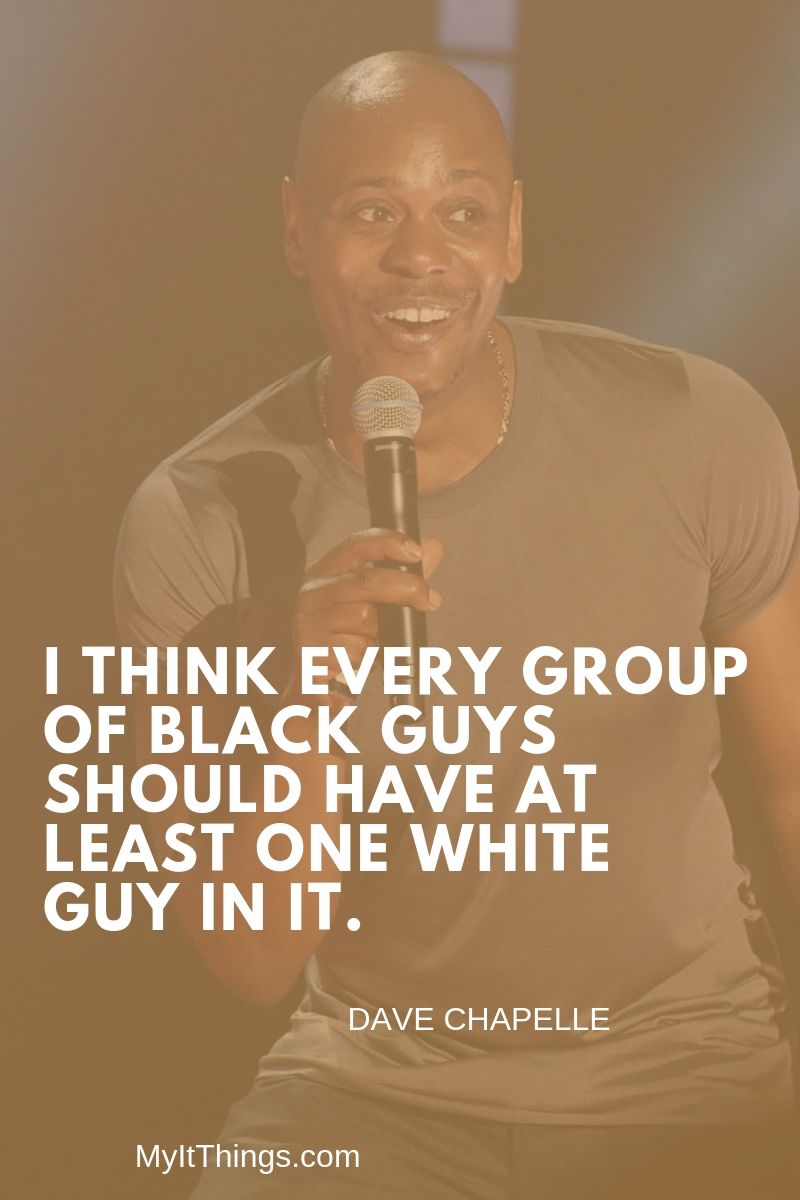 I think every group of black guys should have at least one white guy in it.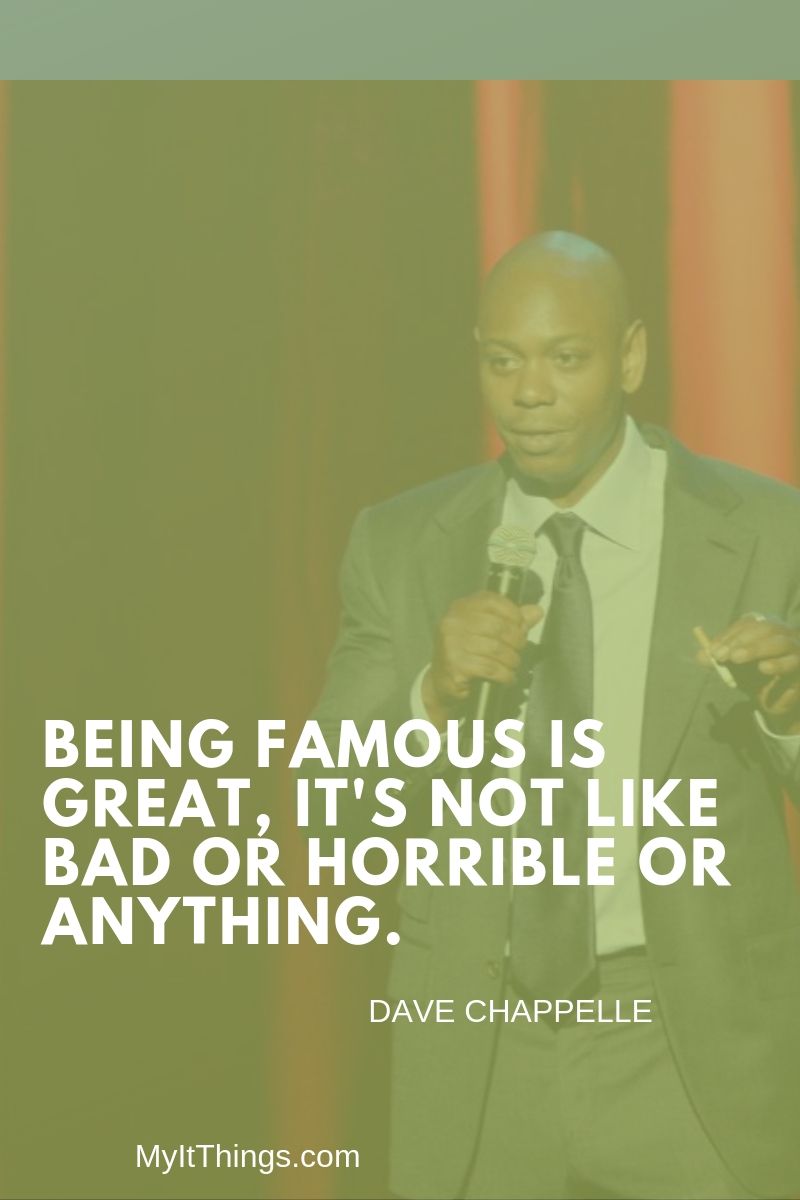 Being famous is great, it's not like bad or horrible or anything.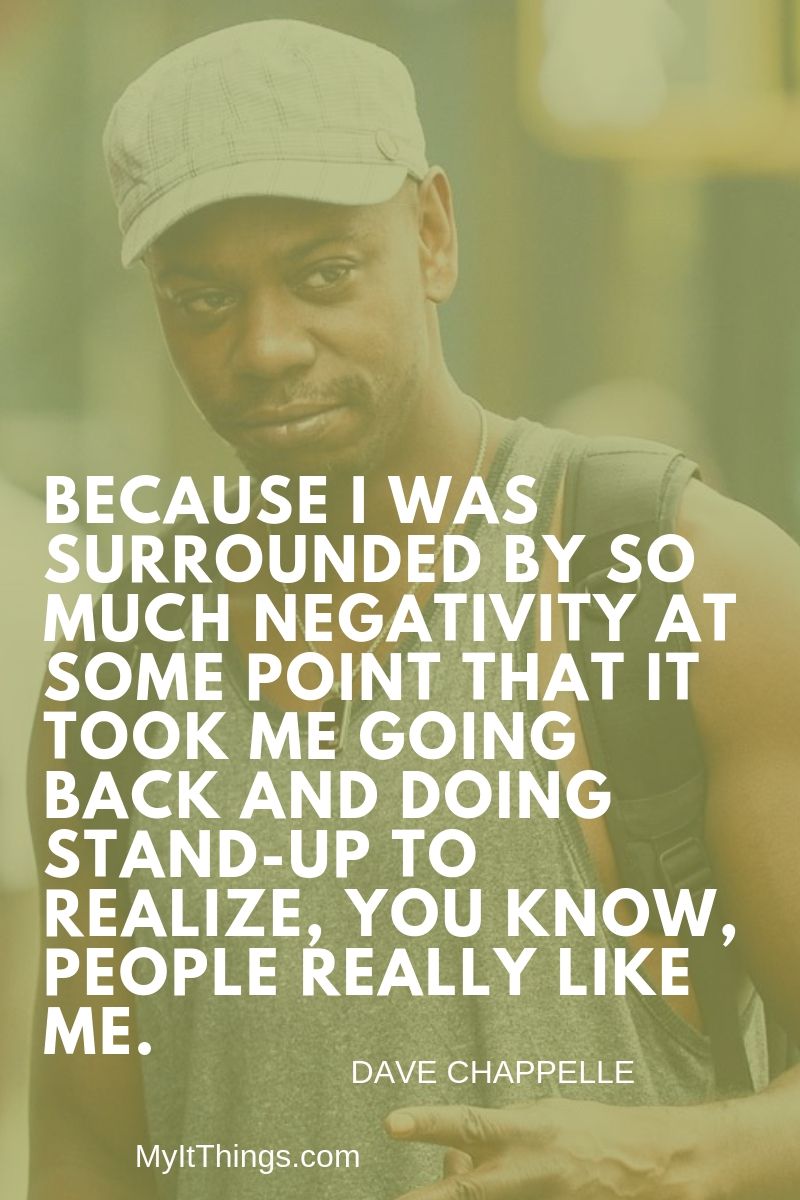 Because I was surrounded by so much negativity at some point that it took me going back and doing stand-up to realize, you know, people really like me.
References: