Jimmy Swaggart Wikis
| | |
| --- | --- |
| Net worth | $10 million |
| Name | Jimmy Lee Swaggart |
| Date of Birth: | March 15, 1935 (84 years) |
| Profession | Pastor, Author, Singer |
| Nationality | American |
| Website | jsm.org |
Introduction
Jimmy is an 84-year-old televangelist, well known for his telecast The Jimmy Swaggart Telecast. He was born in Louisiana and worked several jobs before fully venturing into music and evangelism in the early 1950s.
He played and sang alongside his father for their local church from where he met his wife.
His ministry started through radio and later moved on to television after he was ordained in 1961. Swaggart is also recognized as the founder of the Family Worship Center. The church was later absorbed as a constituent church of the Assemblies of God.
Jimmy was at the center of a sexual misconduct case. He later admitted to the transgression which led him to be defrocked and him losing his ministerial license.
In 1991, Donnie took over from his father as the head of Jimmy Swaggart Ministries. This was due to Jimmy being caught in the company of a prostitute by the California police. He, however, returned to his role as head of the ministry following a time of counseling and healing.
He then went on to establish the Jimmy Swaggart Ministries through which he runs his telecasts and several radio stations under the umbrella of Sonlife Radio.
Currently, he is more active on television, and part of his hour-long telecast includes Bible studies and sermons.
Personal Life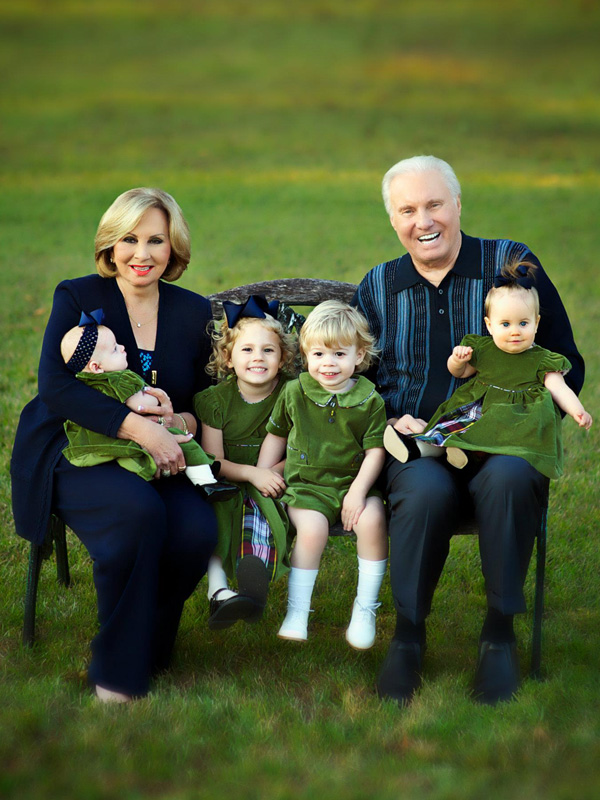 Jimmy met his wife Frances when he was 17, and his wife was 15. The couple has a son Donnie who was born in 1954.
They also have eight great-grandchildren from Donnie's three children. Both Donnie and his son Gabriel work as televangelists.
Jimmy is cousins with rock legend Jerry Lee Lewis and country singer Mickey Gilley.
Jimmy Swaggart's Net Worth: $10 million
Jimmy has a net worth of $10 million, mostly owing to his over 60-year career as a televangelist. His program is shown on multiple television stations across the world, which contributes to his accumulated wealth.
He is also an accomplished author having written over 50 books. Through his ministry, Jimmy has a weekly magazine called the Televangelist.
He is the owner of Sonlife Broadcasting Network, a free to air 24-hour television network. Most of the content features sermons, bible study, and music. Frances also has her program that airs on the network.
The Jimmy Swaggart Bible College also contributes to Jimmy's wealth. Although not accredited, the college enjoys a decent number of admissions and offers certificate and degree programs all related to evangelism.
Jimmy still runs the church he founded, Family Worship Center. The church enjoys a massive following with sermons being broadcast across different networks the world over.
Apart from his books, Jimmy has also produced study guides and commentaries on the Bible. These are available for sale through his ministry and Christian bookshops across the country.
Conclusion
Jimmy is still active as a televangelist and appears on many Christian networks. He also provides talks to colleges and audiences in his hometown.