Quick Facts of 50 Cent
Name
Curtis James Jackson III
Net Worth
$30M
Date of Birth
July 6, 1975
Place of Birth
Queens, New York City, USA
Residence
Farmington, Connecticut
Nationality

American
Occupation
Rapping, Acting, Business
Famous For
Get Rich or Die Tryin', How to Rob, South Side, Grew Up
Relatives
Marquise Jackson (son); Sire Jakcson (son)
Spouse(s)
None
Catchphrases
Get the strap!
I Ain't Got It
Introduction
50 Cent, known for his confrontational style in rapping, was considered as one of the richest rappers in the world from 2005 until 2018.
However, due to various lawsuits filed against him in 2016 and 2017, his net worth dropped from $150M to $30M at present. Venturing in businesses, rapping and acting, he has won 3 BET Awards, 1 American Music Awards, 1 Grammy and 1 BRIT Awards for acting.
50 Cent's Life
Growing up in a violent environment has deeply affected 50 Cent's music. He was exposed to drug dealing at an early age as it was his mother's primary occupation.
When he was eight years old, his mother was murdered and since then, it was his grandmother who raised him along with other eight cousins. At twelve, he was already considered as a drug kingpin in South Jamaica, dealing drugs and selling guns because he did not want to see his grandmother suffering just to keep them all alive.
He dropped out of high school to his grandmother's disappointment. At fifteen, he was already in and out of jail. In between drug dealing and detainment, he was hooked with the music of rapper Rakim and Run-DMC.
He worked on his lyrics and rhyme and was already motivated to join the rap industry. The birth of his eldest son according to him, was his turning point. He wanted to give him a better life and so he stopped selling drugs and focused on his music.
He started as a rapper in New York's underground hip-hop industry for many years before his shot to fame. He chose the name 50 Cent after the 1980s notorious thief from Brooklyn Kelvin Martin who called himself 50 Cent. He used 50 Cent to symbolize change and rebirth.
50 Cent's Family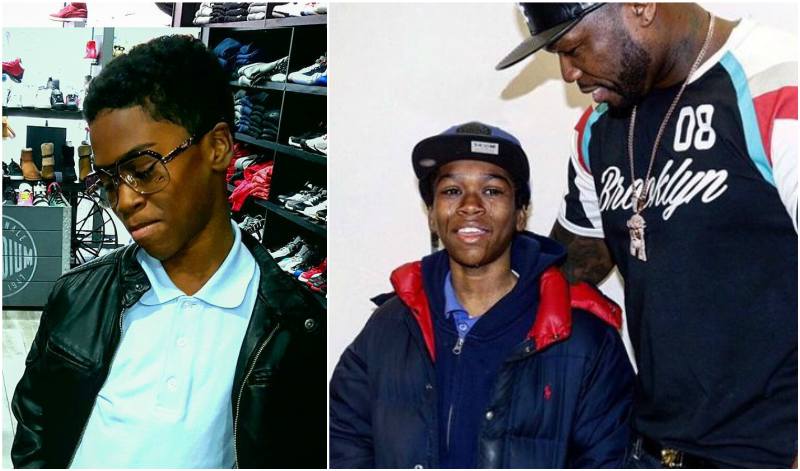 50 Cent was born Curtis James Jackson III to Sabrina Jackson. His mother was only 15 years old at the time. He never met his biological father. He grew up in what he calls as a chaotic environment of drugs, crime and violence, in a neighbourhood called South Jamaica in Queens, New York. His family was struggling financially so his mother resorted dealt drugs for them to survive.
He was never married although he has two children. In his relationship with Shaniqua Tompkins, he had his eldest son named Marquise in 1996. His relationship with Daphne Joy produced Sire Jackson.
50 Cent generally did not have good relationships with his children's mother. Although he established a relationship with his sons when they were younger, telling the media that he did not want to be like his father, it did not fare well for them particularly for his eldest son.
Career
After his release from the boot camp he was sent to instead of being imprisoned for nine years, 50 Cent channelled all his energy into music.
He met a man named Jam Master Jay from Run-DMC who taught him how to structure his lyrics and how to make catchy choruses and composing styles. He would write and practice in his home's basement. For a couple of years, he would compete in underground hip-hop rap duels in New York. In 1998, 50 Cent got his first feature with Onyx's album Shut 'Em Down.
In 1999, he signed under Columbia Records and recorded an album called Power of the Dollar that was shelved for a year before it was released.
In 2000, he was shot nine times in a shooting incident. After his recovery in 2001, he went back to music and recorded low-budget songs with friends Lloyd Banks and Tony Yayo. Later on, they called themselves the G-Unit. As a group, they were tapped by Dr. Dre and Eminem, among others. Impressed by his song Guess Who's Back, Eminem signed him under his label Shady Records. In the same year, he was also signed by Dr. Dre under his label Aftermath Entertainment.
His rise to fame happened in 2003 with his debut album Get Rich or Die Tryin' which became an instant hit selling 9 million units in just four weeks. His album contained personal narratives about his life and the appeal of his lyrics made his music crossover into the pop genre.
He had four albums before engaging into business and acting. He produced and performed in the drama series Power. After this, he was casted in films such as Escape Plan, Spy, a Den of Thieves and Southpaw.
In 2015, he was caught in various lawsuits including a sex tape leakage and breach of contract with a headphone company. He was prompted to file for bankruptcy in 2016.
How did 50 Cent make money?
Rapping and acting
Producing albums and drama series
Voicing over in video games
Entrepreneurship such as Vitaminwater and SMS Audio
Net worth from 2010-2019
2010: $32M
2011: $39M
2012: $46M
2013: $65M
2014: $88M
2015: $155
2016: $130
2017: $142
2018: $150M
2019: $30M
How much does 50 Cent make in a day?
According to Forbes list, 50 Cent earned $8M from 2018 to the first quarter of 2019. Basing from this, 50 Cent is making roughly $22,000 a day.
What does Net Worth Mean?
What is a Net Worth?
It is a quantitative concept which measures the value of an entity. It is applicable ranging from an individual to companies, organizations, sectors and a country as a whole. To put it simply, it is the difference between assets and liabilities. A positive net worth means assets are greater than liabilities, whereas negative net worth mean liabilities are greater than assets.
Formula:
Net Worth = Assets – Liabilities
A little more into Net Worth Concept:
Net worth conveys the financial health of any entity. Asset is anything that is owned and has a monetary value to it while liabilities is a commitment that deplete resources. Assets can be liquid or which can turn into liquid ( example: bank check ). They are non-liquid when they take time to turn into cash (like for example Home). Whereas liability is an obligation that has to be repaid ( example: home loan, car loan etc.,)
Any financial institution or 3rd party look at your assets and liabilities to understand the financial position. Positive net worth or increasing asset base indicates good financial health while negative net worth or increasing liabilities means a bad financial health condition.
It is always a good habit for any entity to maintain a reduce liabilities and increase or maintain a balanced asset base.
What does a Net Worth Mean to a person?
In simple terms, it means the value that is left after subtracting liabilities from assets. Few Examples of liabilities include car loans, student loans, home loans, credit card bills, and other mortgages etc., whereas an individual's assets are amount in the savings account, home, vehicle, bonds, stocks and other material that has value.
In other words, whatever is left after paying off all the personal debt from asset base is net worth. It is important to understand that value of net worth varies as per the market value of assets and current debt costs.
For example:
Consider a case of Ramu Johnson. His assets include a house valued at $350000, shares worth $150000 and a car worth $35000. His liabilities include a mortgage balance of
$150000 and an outstanding car loan $15000 to be paid.
Now Ramu Johnson's Net Worth = ($350000+$150000+$35000) – ($150000+$15000)
= ($535000 ) – ($165000)
= $370000
Assuming Ramu Johnson's financial position after five years as follows –
House value at $350000, Shares value at $180000, savings $ 40000 and car value $25000. While mortgage loan $120000, car loan $0 (paid off).
The Net worth after 5 years would = ($350000+$180000+$ 40000 + $25000 ) – ($120000)
= $595000 – $120000
= $475000
Here it is understood that, although the fact that the value of a house and car decrease, the net worth have increased to $475000. It is because a decline in house loan is less than the overall asset base and decrease in liabilities.
Note that, an individual's net worth can be negative if his asset base is less than liabilities.
What does net worth mean for celebrities?
Most often celebrities fall under High Net worth Individuals. And what does HNWI mean?
People with considerable net worth as called as HNWI.
Independent Charted Accounts, wealth managers and investment counsellors stay close to them making them as prime markets.
As per Securities and Exchange Commission( SEC), investors more than 1Million are considered as accredited investors to invite them to invest in unrequested securities.
Is 401k part of net worth?
As per the definition, 401K is also a part of net worth if it is calculated in terms of assets and liabilities. But, in this case, 401K have no specifics as in, therefore it cannot be measured.
What is the average American net worth?
Like any entities net worth a countries net worth can be calculated as below. It is a sum of net worth of all individuals (citizens), companies and organizations reside in America, plus countries net worth. In America, this measure is referred to as financial position.
As on quarter 1 2014, America's financial position =
Assets ( $269.6 trillion) – liabilities ($145.8 trillion ) = $123.8 trillion.
What is a good net worth by age?
| Age of Household | Median Net Worth |
| --- | --- |
| Under 35 years | $6,900 |
| 35 to 44 years | $45,740 |
| 45 to 54 years | $100,404 |
| 55 – 64 years | $164,498 |
| 65 – 69 years | $193,833 |
| 70 – 74 years | $225,390 |
| 65 – 75 Years | $202,950 |
| 75 + Years | $197,758 |
What is the net worth of the top 1%, 5%, 10%?
As in America, wealth distribution is as follows
Richest 1% of the population owned 35% of the country's total wealth
Richest 5% of the population owned 11% of the country's total wealth
Richest 10% of the population owned 12% of the country's total wealth
Houses and cars of 50 Cent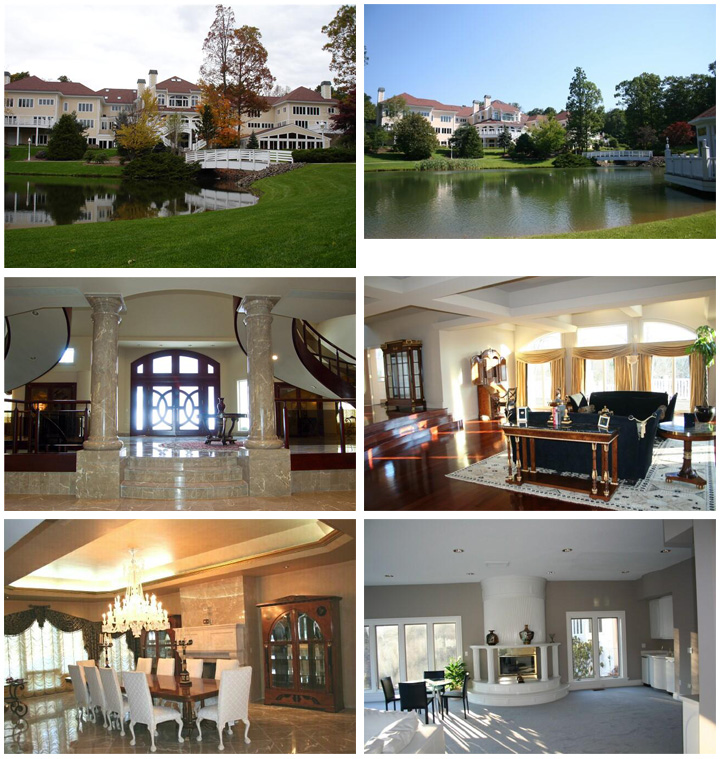 50 Cent has truly lived a lavish life. He bought a 21-room and 25-bathroom mansion from Mike Tyson in 2003. It is located in Farmington, Connecticut. He listed the house for sale in 2007 but was only sold in April of this year for 84% the less the original price.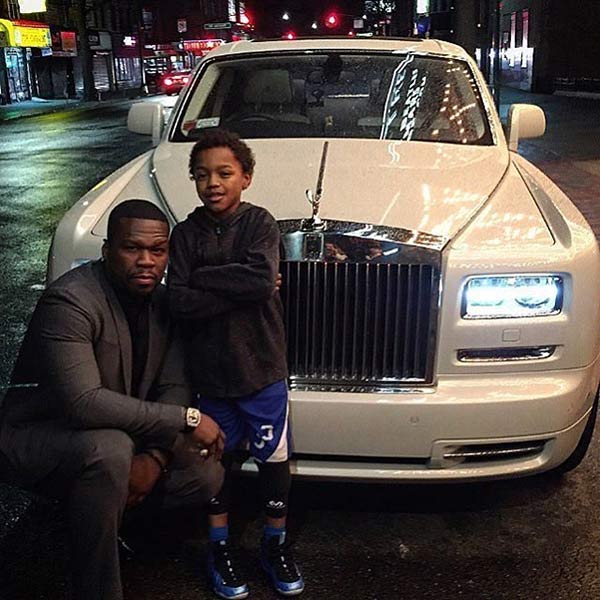 He owns equally lavish cars such as a Rolls-Royce Phantom, a Ferrari F50 and Ferrari Fiorano, a Bentley Mulsanne, Pontiac G8 and a Lamborghini Murcielago.
2 Success lessons from 50 Cent
1. Obstacles are essential to greatness.
In an interview with Newsweek in 2013, Jackson was asked about the meaning of his tattoos Cold World and Chaos. He said that he had them tattooed to always remind him of the neighborhood he grew up with. He said, "it reminds me of all the obstacles I faced. They are important, obstacles are important because the obstacles you overcome will determine the greatness you will have."
2. Put in the hustle.
50 Cent strongly believes in hard work. Reflecting from his impoverished childhood, he said, "Sleep is for broke people, and I do not sleep."
5 famous 50 Cent quotes on success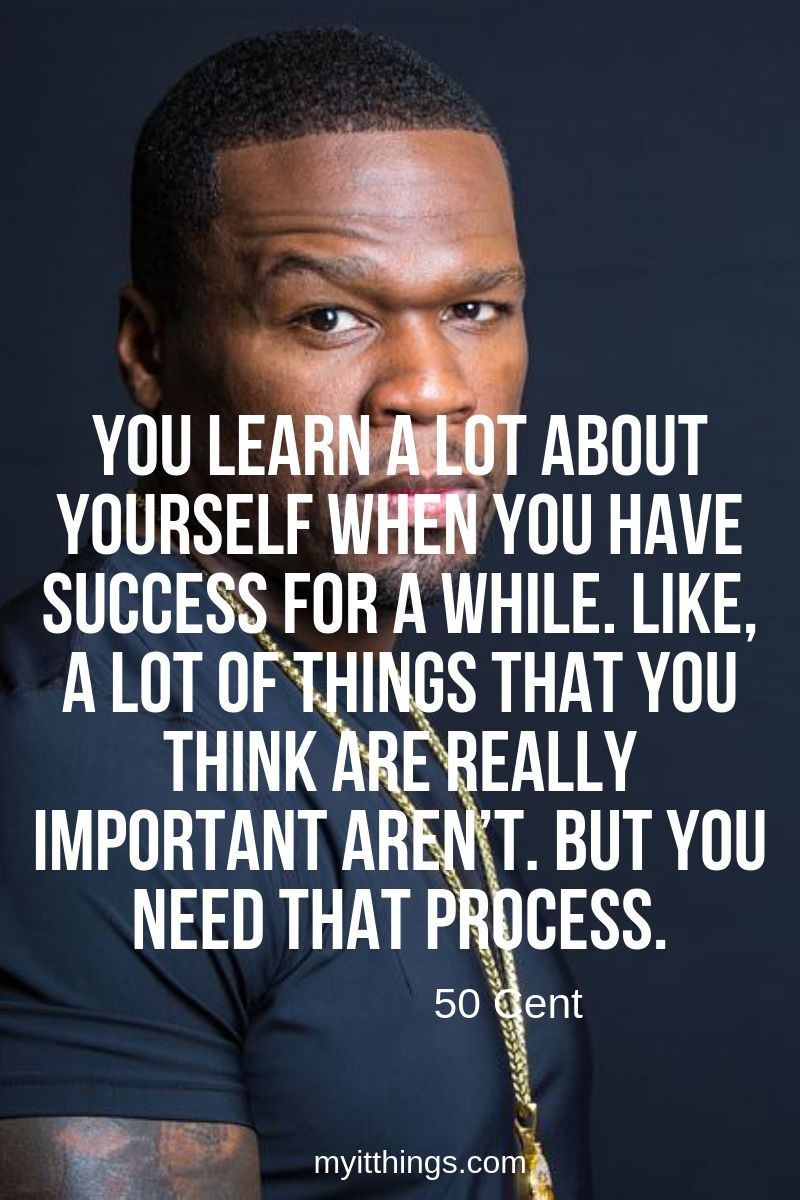 You learn a lot about yourself when you have success for a while. Like, a lot of things that you think are really important aren't. But you need that process. ~50 Cent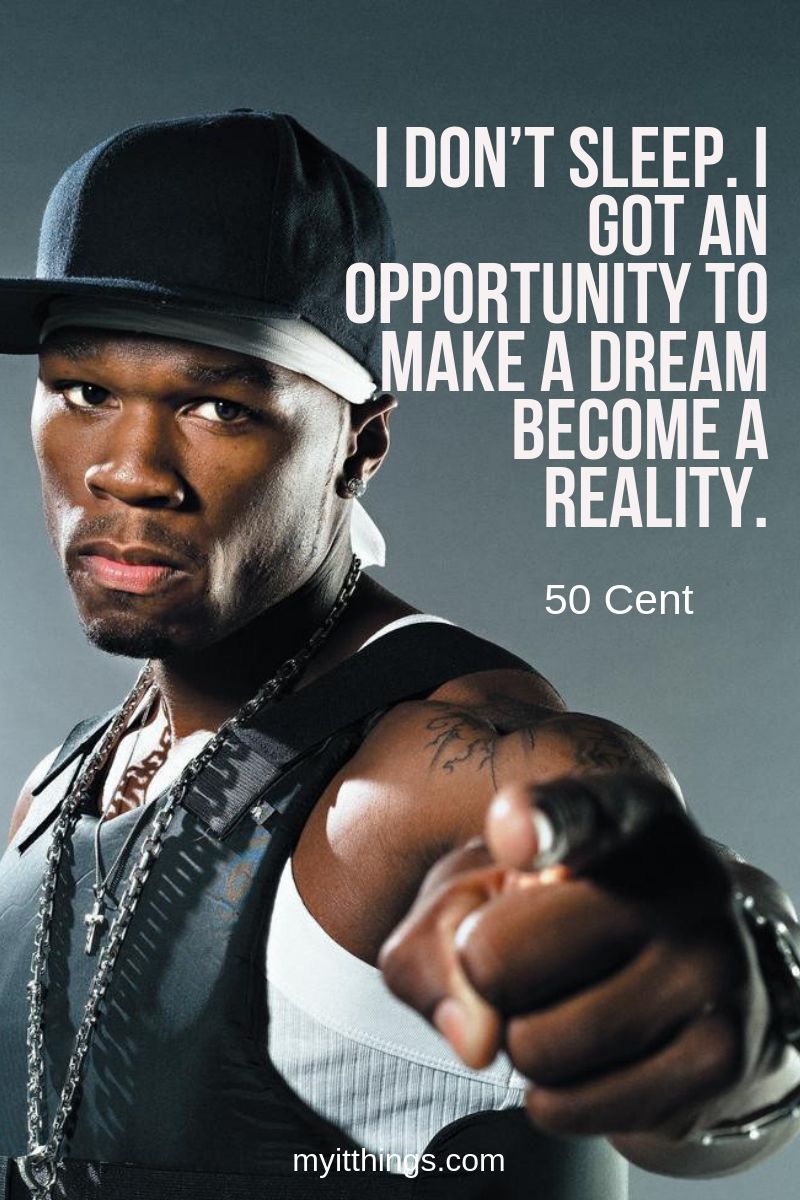 I don't sleep. I got an opportunity to make a dream become a reality. ~50 Cent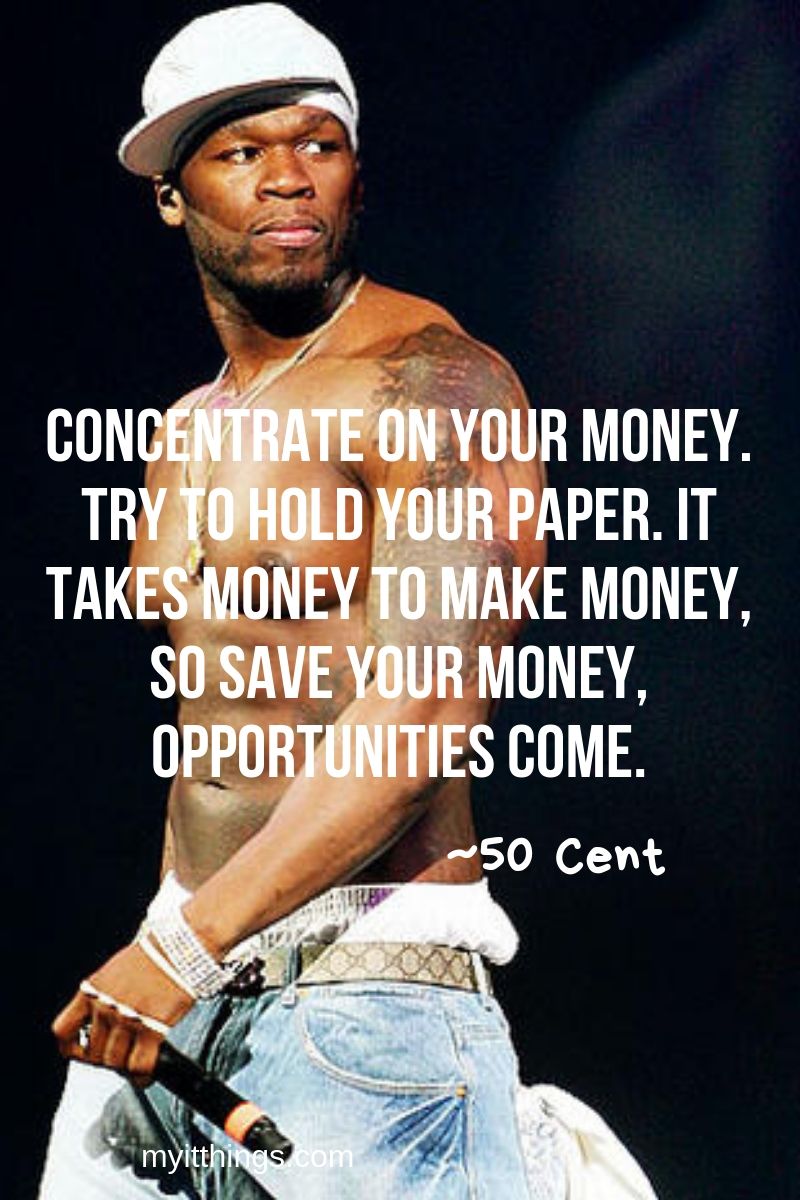 Concentrate on your money. try to hold your paper. It takes money to make money, so save your money, opportunities come. ~50 Cent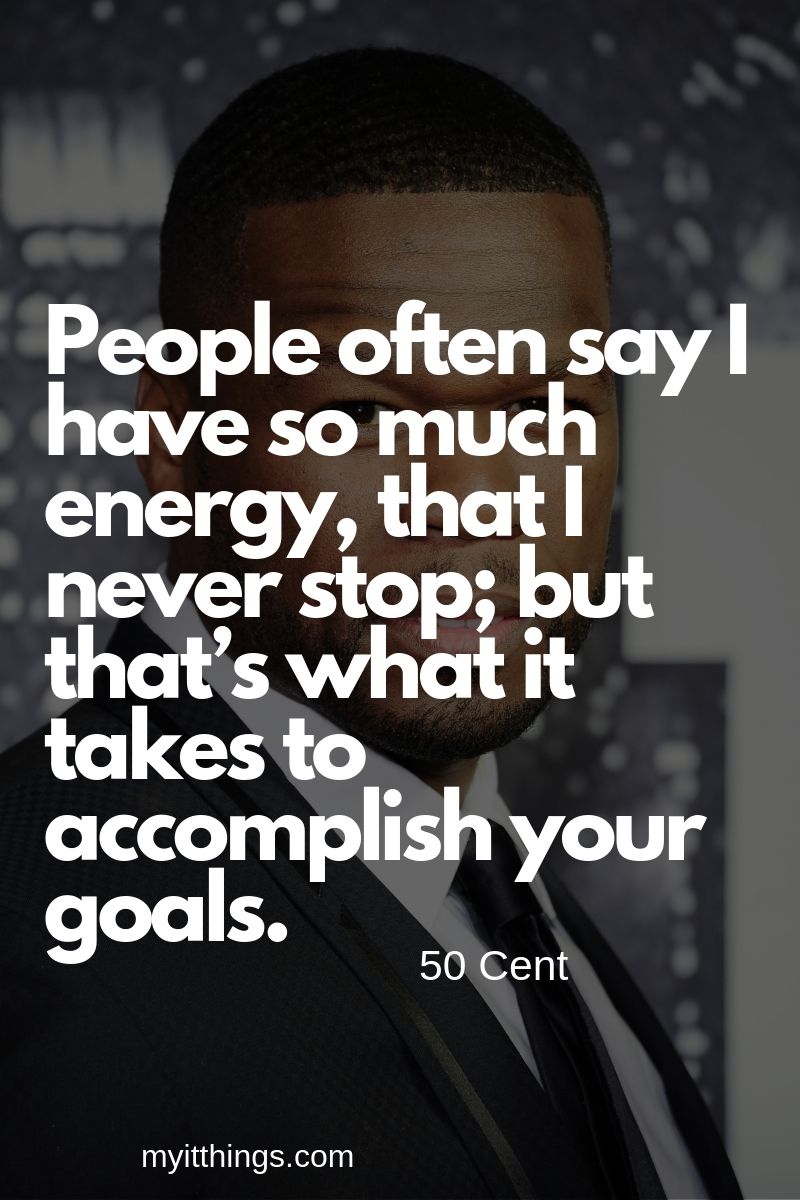 People often say I have so much energy, that I never stop; but that's what it takes to accomplish your goals. ~50 Cent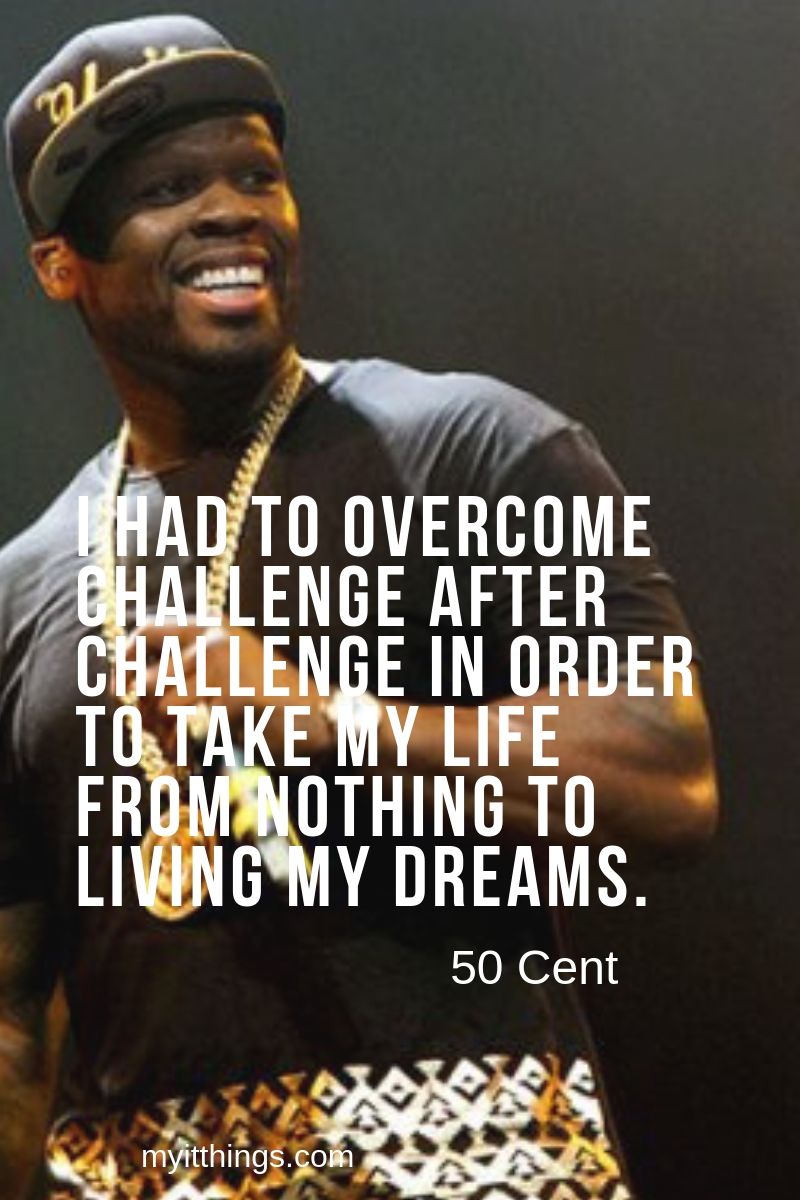 I had to overcome challenge after challenge in order to take my life from nothing to living my dreams. ~50 Cent
Conclusion
At present, 50 Cent is having a lowkey presence in the business as he sorts out the lawsuits filed against him. But with his strong personality and solid mindset, we all know that he will be back in no time.