Quick Facts of Dr Dre
Name
Andre Romelle Young
Net Worth
$850M
Date of Birth
February 18, 1965
Place of Birth
Compton, California
Residence
Brentwood, Los Angeles, California
Nationality

American
Occupation
Rapper, Producer, Entrepreneur
Famous For
N.W.A., The Chronic, Straight Outta Compton
Relatives
Curtis Young(aka Hood Surgeon) (son), Warren G (step-brother), La Tanya Danielle Young (daughter), Andre Young Jr. (son), Marcel Young (son), Truice Young (son), Truly Young (daughter)
Spouse(s)
Nicole Threatt (married: 1996)
Catchphrases
Everything about my life is music.
I was a millionaire before I could legally buy alcohol.
Introduction
Dr. Dre is considered as the second richest hip-hop artist in the world as of 2019 with a net worth of $850M. He is best known for his top charted album called Straight Outta Compton featuring him and other hip-hop artists like Eazy-E and Ice Cube, among others.
He has won two MTV Music Awards (1995 and 2000), two Grammys (1994 and 2001) as a performer and four as producer, one BET Hustler of the Year Award (2014) and was given a spot in the Rock and Roll Hall of Fame in 2016.
How did Dr Dre make money?
Hip-hop album releases
As producer and owner of record labels such as Aftermath Entertainment
Entrepreneurship through his own headphones line called Beats by Dr Dre
Net worth from 2010-2019
2010: $172M
2011: $250M
2012: $260M
2013: $353M
2014: $550M
2015: $700M
2016: $710M
2017: $740M
2018: $760M
2019: $840M
How much does Dr. Dre make in a day?
Forbes listed Dr. Dre's earnings in 2018 at $56M. This includes his produced albums and royalty fees from Apple for Beats. From this figure, Dr. Dre is said to be making an average of $153,425 a day.
What does Net Worth Mean?
What is a Net Worth?
It is a quantitative concept which measures the value of an entity. It is applicable ranging from an individual to companies, organizations, sectors and a country as a whole. To put it simply, it is the difference between assets and liabilities. A positive net worth means assets are greater than liabilities, whereas negative net worth mean liabilities are greater than assets.
Formula:
Net Worth = Assets – Liabilities
A little more into Net Worth Concept:
Net worth conveys the financial health of any entity. Asset is anything that is owned and has a monetary value to it while liabilities is a commitment that deplete resources. Assets can be liquid or which can turn into liquid ( example: bank check ). They are non-liquid when they take time to turn into cash (like for example Home). Whereas liability is an obligation that has to be repaid ( example: home loan, car loan etc.,)
Any financial institution or 3rd party look at your assets and liabilities to understand the financial position. Positive net worth or increasing asset base indicates good financial health while negative net worth or increasing liabilities means a bad financial health condition.
It is always a good habit for any entity to maintain a reduce liabilities and increase or maintain a balanced asset base.
What does a Net Worth Mean to a person?
In simple terms, it means the value that is left after subtracting liabilities from assets. Few Examples of liabilities include car loans, student loans, home loans, credit card bills, and other mortgages etc., whereas an individual's assets are amount in the savings account, home, vehicle, bonds, stocks and other material that has value.
In other words, whatever is left after paying off all the personal debt from asset base is net worth. It is important to understand that value of net worth varies as per the market value of assets and current debt costs.
For example:
Consider a case of Ramu Johnson. His assets include a house valued at $350000, shares worth $150000 and a car worth $35000. His liabilities include a mortgage balance of
$150000 and an outstanding car loan $15000 to be paid.
Now Ramu Johnson's Net Worth = ($350000+$150000+$35000) – ($150000+$15000)
= ($535000 ) – ($165000)
= $370000
Assuming Ramu Johnson's financial position after five years as follows –
House value at $350000, Shares value at $180000, savings $ 40000 and car value $25000. While mortgage loan $120000, car loan $0 (paid off).
The Net worth after 5 years would = ($350000+$180000+$ 40000 + $25000 ) – ($120000)
= $595000 – $120000
= $475000
Here it is understood that, although the fact that the value of a house and car decrease, the net worth have increased to $475000. It is because a decline in house loan is less than the overall asset base and decrease in liabilities.
Note that, an individual's net worth can be negative if his asset base is less than liabilities.
What does net worth mean for celebrities?
Most often celebrities fall under High Net worth Individuals. And what does HNWI mean?
People with considerable net worth as called as HNWI.
Independent Charted Accounts, wealth managers and investment counsellors stay close to them making them as prime markets.
As per Securities and Exchange Commission( SEC), investors more than 1Million are considered as accredited investors to invite them to invest in unrequested securities.
Is 401k part of net worth?
As per the definition, 401K is also a part of net worth if it is calculated in terms of assets and liabilities. But, in this case, 401K have no specifics as in, therefore it cannot be measured.
What is the average American net worth?
Like any entities net worth a countries net worth can be calculated as below. It is a sum of net worth of all individuals (citizens), companies and organizations reside in America, plus countries net worth. In America, this measure is referred to as financial position.
As on quarter 1 2014, America's financial position =
Assets ( $269.6 trillion) – liabilities ($145.8 trillion ) = $123.8 trillion.
What is a good net worth by age?
| Age of Household | Median Net Worth |
| --- | --- |
| Under 35 years | $6,900 |
| 35 to 44 years | $45,740 |
| 45 to 54 years | $100,404 |
| 55 – 64 years | $164,498 |
| 65 – 69 years | $193,833 |
| 70 – 74 years | $225,390 |
| 65 – 75 Years | $202,950 |
| 75 + Years | $197,758 |
What is the net worth of the top 1%, 5%, 10%?
As in America, wealth distribution is as follows
Richest 1% of the population owned 35% of the country's total wealth
Richest 5% of the population owned 11% of the country's total wealth
Richest 10% of the population owned 12% of the country's total wealth
Dr. Dre's Life
Growing up in poverty, Dr. Dre built his multimillionaire status on passion and commitment to music. His music was confrontational with lyrics alluding to gang violence and crime in the hood.
With his jumpstart in the mid-1980s after producing the N.W.A. with his friends, he has been unstoppable. Along with fellow hip-hop artist friends such as DJ Yella, Ice Cube, MC Ren and Easy-E, they topped the music charts in 1988 with their album Straight Outta Compton.
After going solo in the early 1990s, he ventured into business. He started it through his record label Aftermath Entertainment.
In 2014, Dr. Dre was declared a billionaire after he sold his headphone line branded as Beats to Apple for $3M.
However, in 2015 up to 2017, he was caught up in lawsuits filed for by two of his children's mothers and had to pay debts that was still associated with his first record label Aftermath Entertainment. Nonetheless, with his $850M net worth, he is still one of the richest hip-hop artists in the world, standing at the second spot next to Jay-Z.
Family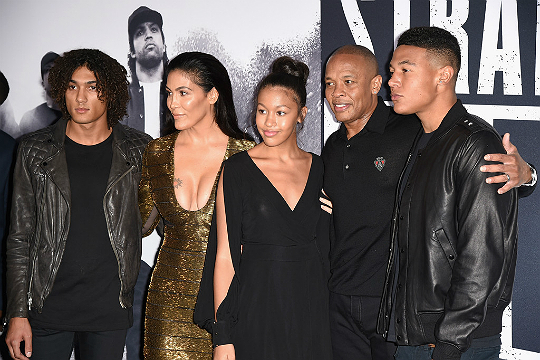 Dr. Dre or Andre Romelle Young is the only child of Theodore Young, who was a musician for the blues group The Romelles and Verna Young. He was born in February 18, 1965, in then a violence-sprawled Compton in California.
His parents separated when he was just three years old and divorced when he was seven. His mother remarried twice. He has three step-siblings from his mother's first remarriage and four on the second one, including fellow rapper Warren G. He was raised by his maternal grandparents after his parents' divorce.
Growing up, he moved from school to school because of bad grades. After being rejected for apprenticeship at an aviation company because of poor grades in high school, he decided to just focus on music and write songs.
He is married to Nicole Young in 1996 after her divorce with a former NBA player. They have two children, Truice and Truly. Along with his two children with Nicole are other four children from four former girlfriends.
He had his first son, Curtis Young when he was 16 but did not meet him until he was 20 and was already a fellow hip-hop rapper in the name of Hood Surgeon. His second eldest son died in 2008 due to drug overdose. He was 20 at that time.
Career
Dr. Dre started his career in the back room of a Los Angeles club where he used to work. He met DJ Yella at the club and along with other friends such as MC Ren, Easy-E and Ice Cube established the hip-hop group called N.W.A.
The group particularly mastered confrontational rapping with lyrics focusing on violence and crime being kids who grew up in such environments. He left N.W.A. and joined the Death Row Records right after. His career really took a surge after the release of his album The Chronic which was under Death Row.
In his career, he has sold 16M singles and 28M albums in total and three platinums for his most famous albums, Compton, The Chronic and 2001. He then built his own record label, Aftermath Entertainment, and signed and managed fellow notable hip-hop artists such as Eminem, Ice Cube, 50 Cent and Snoop Dog.
He ventured into business after selling his record label Aftermath Entertainment and founded Beats by Dr Dre, a headphone line. In 2014, he sold the line to Apple for $3B.
Although his career has been confronted with legal disputes and infringements in between, he currently has a solid net worth of $850M and is considered as the second richest hip-hop artist in the world.
Houses and cars of Dr Dre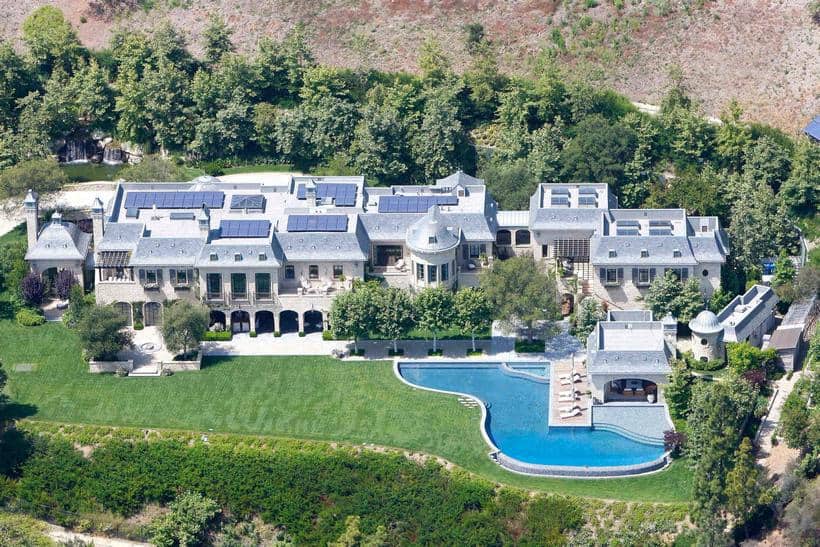 With his wealth and fame, it is no wonder that Dr Dre invested in homes and cars worthy of his stature. He owns various mansions.
The first one is located in the elite neighborhood in Brentwood, Los Angeles. He bought the mansion from football superstar Tom Brady and wife Gisele Bunchen for $40M. It stands on a 4-acre lot with a 10,000sq.ft. basement recording studio.
He also owns a mansion in the suburbs of Calabasas in California which he bought for $3.5M and an 8-bedroom, 12-bathroom home in Woodland Hills, California, a beachfront mansion in Malibu and a 5-acre mansion in Hidden Hills, California.
As for cars, he owns a Rolls-Royce Phantom, a Hummer H2, a Chrysler 300, a Bentley Continental and Bentley Coupe.
Success lessons from Dr. Dre
1. Make use of the flow.
Dr. Dre is very passionate about his craft and spends a huge amount of time, effort and money in perfecting his beats and rhymes. He is a firm believer that motivation and inspiration are not always there all the time. As such he said that, "when ideas are coming, do not stop until they do not stop flowing because that train does not come along all the time."
2. Chase your passion, not the money.
As a famous producer behind some of the most successful hip-hop albums in the industry, Dr Dre claims that the key to success is to build on passion and not on money. He said that money will come if you just make use of your passion wisely and when you do it with commitment.
5 Famous Dr. Dre Quotes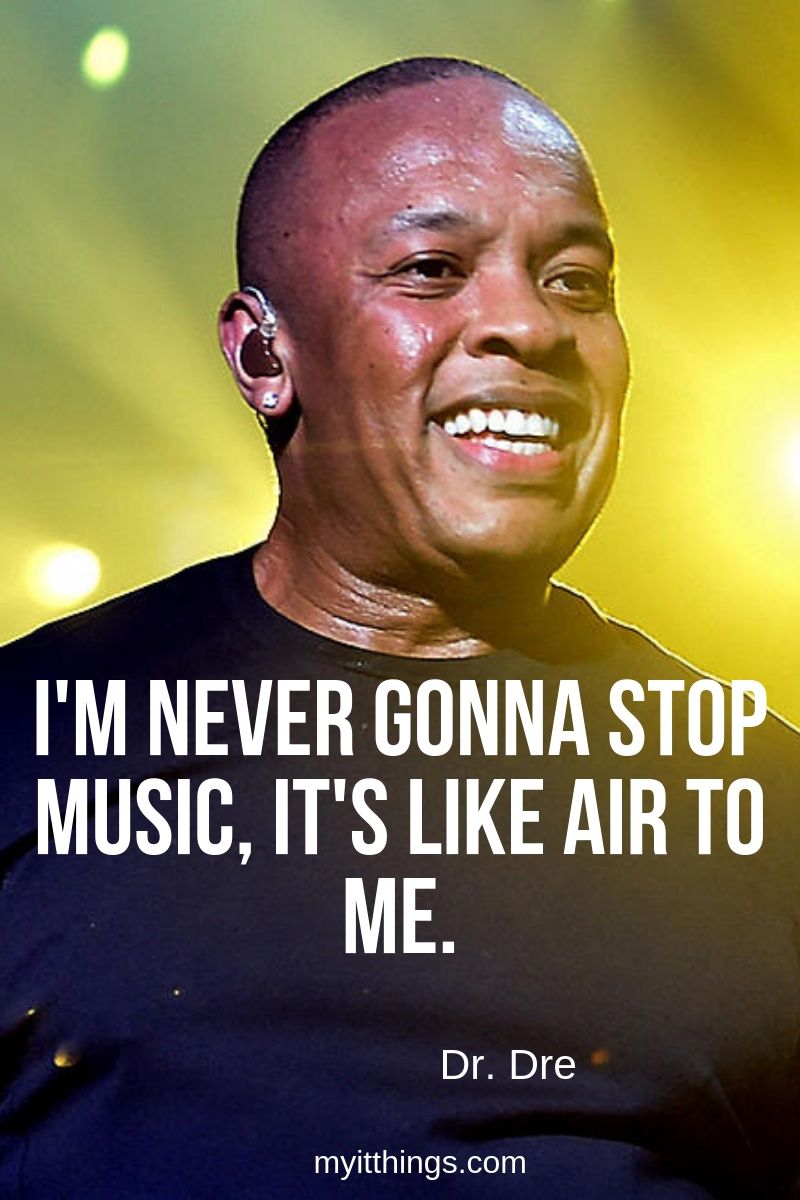 I'm never gonna stop music, it's like air to me.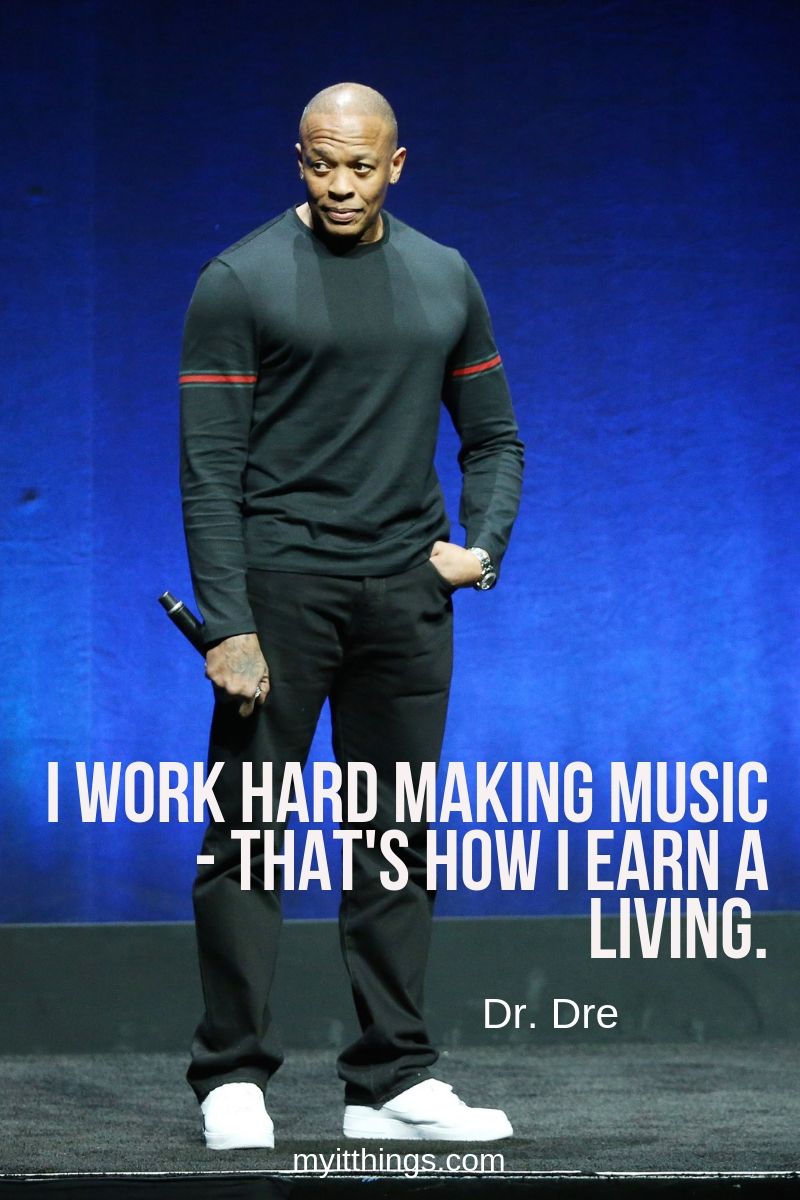 I work hard making music – that's how I earn a living.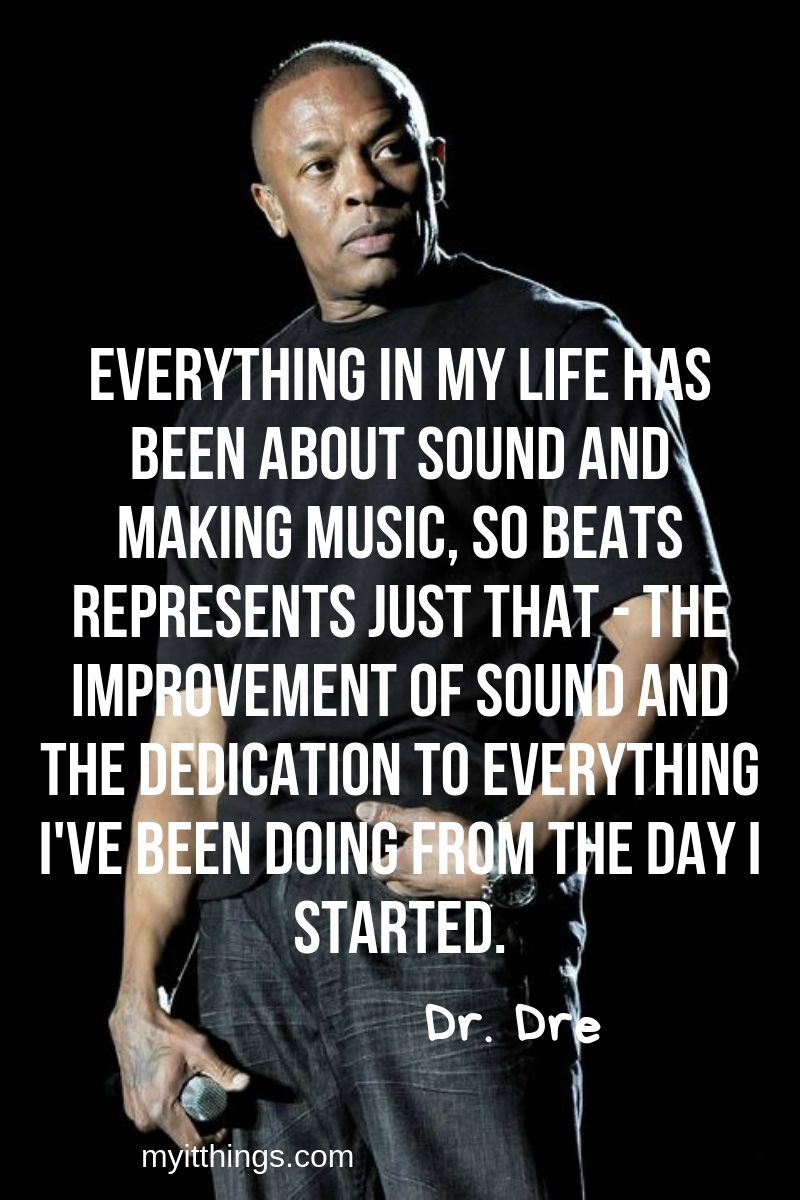 Everything in my life has been about sound and making music, so Beats represents just that – the improvement of sound and the dedication to everything I've been doing from the day I started.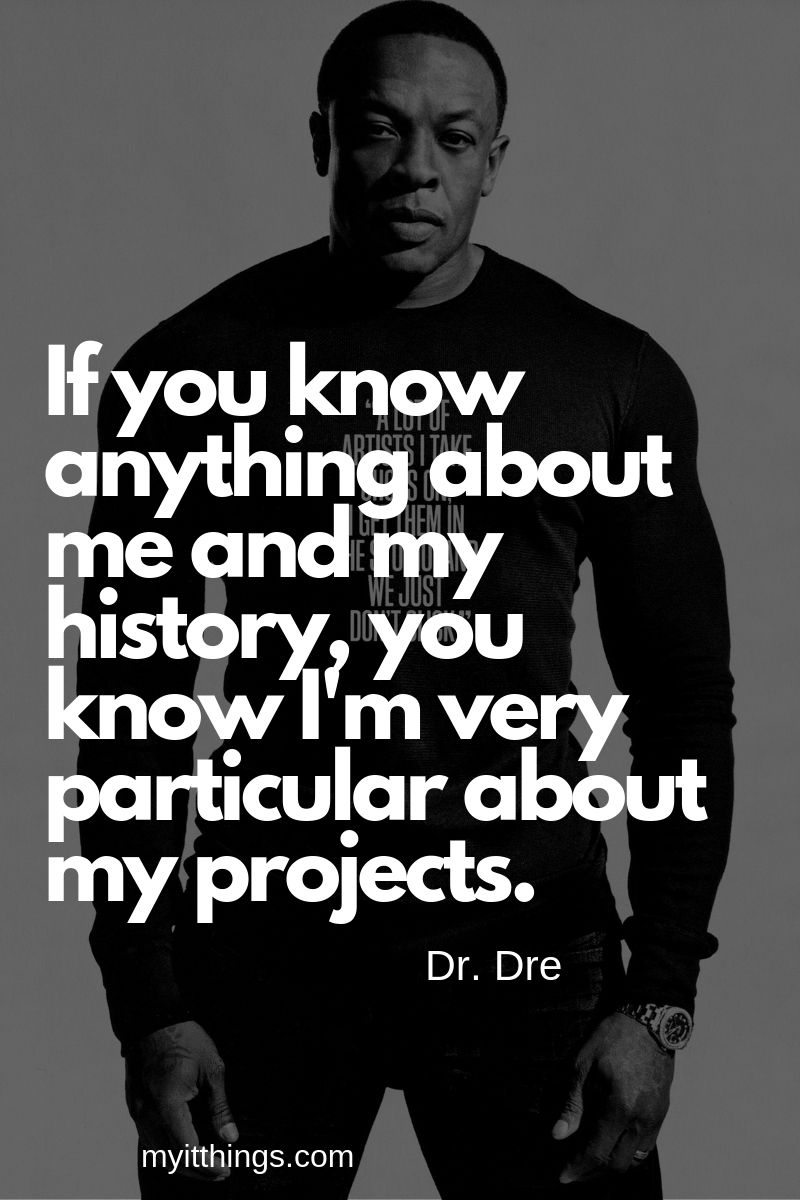 If you know anything about me and my history, you know I'm very particular about my projects.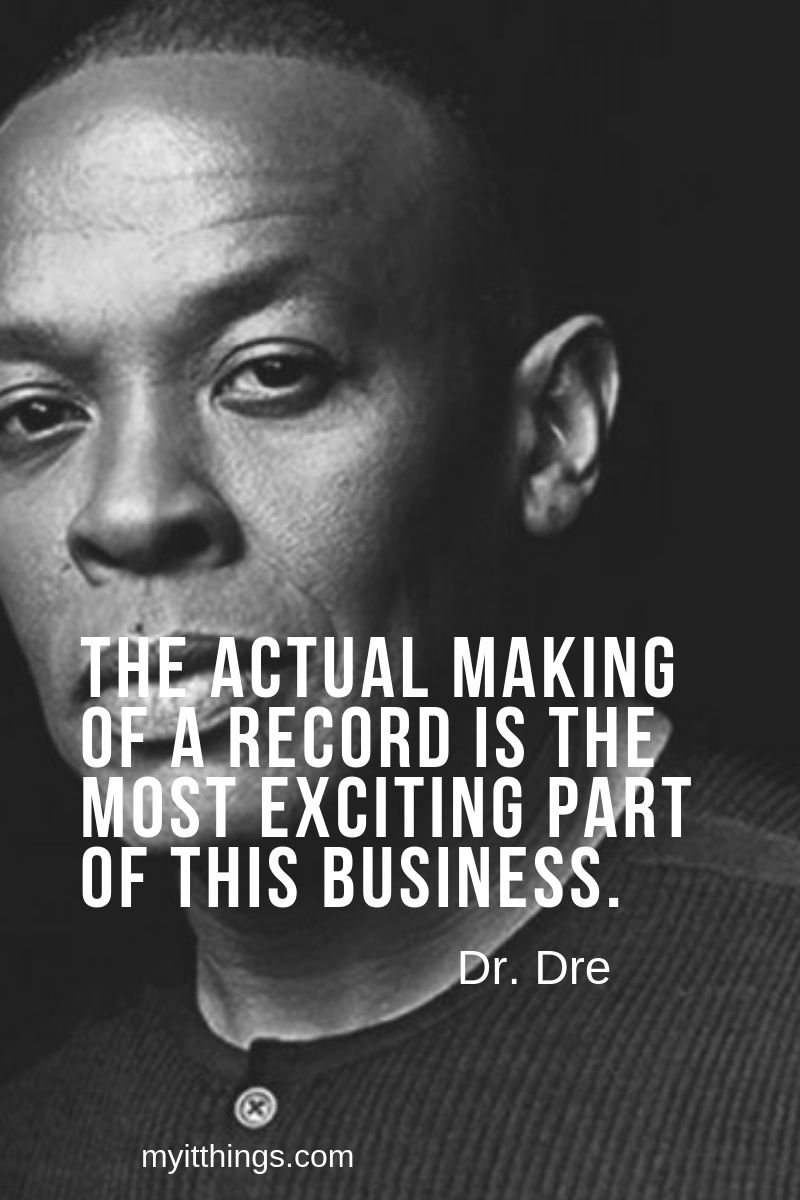 The actual making of a record is the most exciting part of this business.
Conclusion
Dr Dre's life and career are far from perfect as he was also involved in some fiasco with some artists he handled and with the mothers of some of his children. These did not stop him, however, in building a hip-hop entire that has made him into one of the richest hip-hop artists in the world. Along with having a keen eye on talent and producing beats, he is also an active philanthropist, putting up arts and business schools such as the University of Southern California.