Quick Facts of Robin Williams
Name
Robin McLaurin Williams
Net Worth
$100M
Date of Birth
July 21, 1951
Place of Birth
Chicago, Illinois
Residence
Paradise Cay, California
Nationality

American
Occupation
Actor/Comedian
Famous For
Films such as Mrs. Doubtfire
Relatives
Zac Williams (son), Zelda Rae William (daughter), Cody Williams (son)
Spouse(s)
Valerie Velardi (married: 1978; divorced: 1988)
Marsha Garces (married: 1989; divorced: 2010)
Susan Scheider (married: 2011)
Catchphrases
I don't want to sell stuff; it's the one thing I won't do!
Life needs a touch of madness.
Introduction
Shortly after being dubbed as the funniest person alive in 1997, Robin Williams shocked the world when he died in 2014 through suicide.
Amidst the tragic death of a very funny man, Robin Williams life and filmography are still revered by many generations up to this day. Known for his improvisational skills, he is remembered for his notable performances in films such as Good Will Hunting and Mrs. Doubtfire.
Robin Williams' Life
Williams was born at St. Lukes Hospital in Chicago in July 21, 1951. He attended public schools for his elementary and middle school education. His family moved to Detroit when he was 12 due to his father's work. There, he attended the Detroit Country Day School, a private school. When he was 16, his father took an early retirement and the family moved again to settle in Marin County in California.
His path towards acting and comedy started when he dropped out of political science to pursue an acting degree at the College of Marin in Kentfield, California. In 1973, Williams attended the prestigious Juilliard School under a full scholarship. He left Juilliard in 1976 and had his first acting break for feature films in 1980.
When he was a stand-up comedian, he was exposed to drugs and alcohol. In a 1999 interview, he said that he was using cocaine when he was on stand-up comedy but stopped immediately as it made him paranoid, rendering an intense, dark humor during his performances.
He shocked the world at the news of his death in August 11, 2014. Reports announced that he committed suicide in his Paradise Cay home in California. He was 63.
Family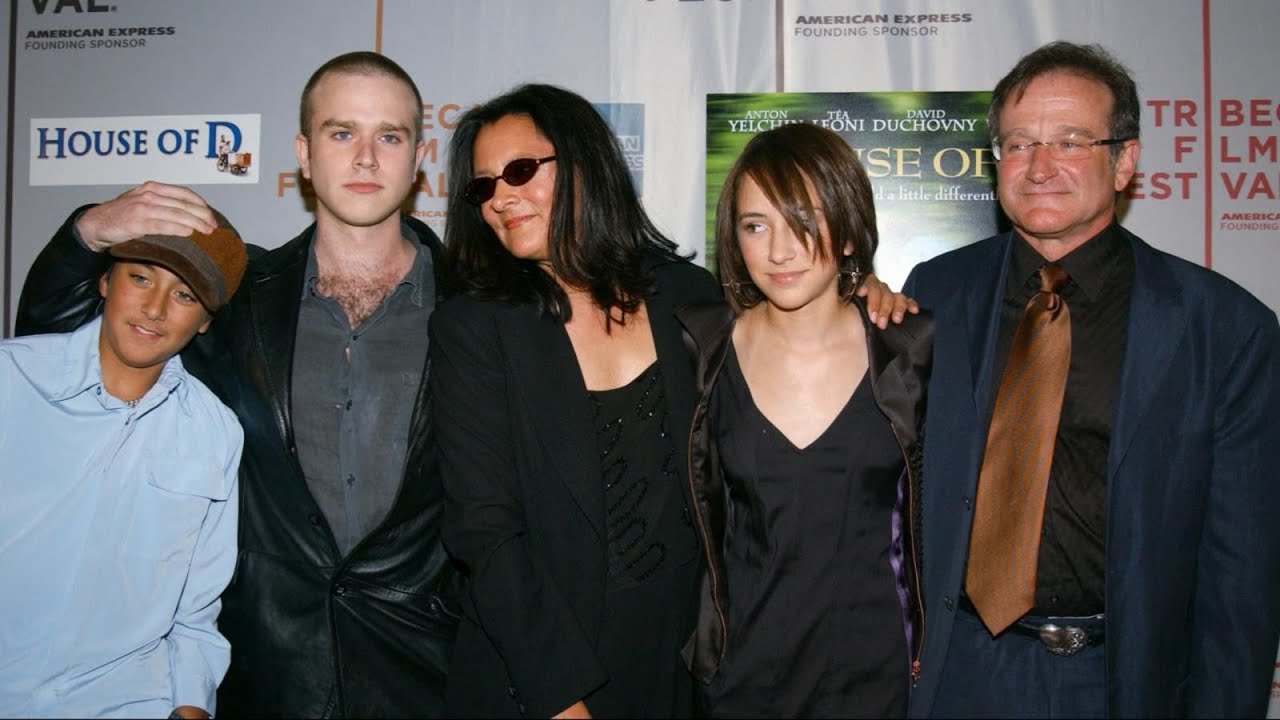 Robin Williams was born to Robert Fitzgerald Williams, a senior executive in the Lincoln-Mercury Motors Division of the Ford Company and Laurie McLaurin, a former model from Mississippi. He had two elder brothers from his parents' previous marriages; Robert from his father and McLaurin from his mother.
He married thrice. The first one was with Valerie Velardi in 1976 and got divorced in 1988. They have a son, Zachary Williams. His second marriage was in 1989 to no other than Zac's nanny, Marsha Garces who later on filed for divorce in 2010. He has two children with Garces, Zelda Rae, who is also an actress and Cody Alan. In October 2011, he married his third wife, Susan Scheider, a graphic designer.
Career
Williams began his career as a stand-up comedian in San Francisco and Los Angeles during the mid-1970s. His rise to fame commenced when he played the alien character of Mork in the late 70s sitcom Mork and Mindy. Through the many memorable character voices that he created, Williams established himself both in stand-up comedy and feature films.
His first feature film as lead actor was 1980 in Popeye. After that, he became a consistent figure in feature films as well as commercials. His films made $6B when combined. He was well known for his performances in Good Morning, Vietnam (1987), Dead Poets Society (1989), Mrs. Doubtfire (1993), Good Will Hunting (1997) and Patch Adams (1998). He is the voice behind the genie in Aladdin (1992), was casted in the Night at the Museum Trilogy (2006-2014) and his last film before he died was the Angriest Man in Brooklyn.
With his prolific filmography, Williams was nominated for the Academy Awards for four times and won once as Best Supporting Actor in 1998 for his performance in Good Will Hunting. Throughout his career, he received two Primetime Emmy Awards, five Grammys including his comedy album in 1979, two Screen Actors Guild Awards, and six Golden Globe Awards.
How did Robin Williams make money?
Robin Williams particularly capitalized on his acting through feature films, and standup comedy. In the duration of his career, it is projected that his movies have grossed more than $6B worldwide.
Aside from the millions worth of insurance and trust funds have been set up by him for his children, business sites also mention a film production company called the Blue Wolf Productions which he co-founded with his then wife, Marsha Garces, in 1991.
Net worth from 2010-2014
From 2010 to 2012, it is reported that Robin Williams had a net worth ranging from $130M to $150M. However, in 2013, Williams revealed that he was on the brink of bankruptcy following two expensive divorces amounting to more than $30M settlements. He then went to list his Napa Valley mansion for $35M to help him pay his debts.
There is much debate regarding the net worth of Robin Williams for 2014. At the time of his death, reports say that he was nearing bankruptcy and was reportedly worth $50M due to multiple divorce settlements. Some reputable business sites like Forbes however, report that the total value of the estates he left after his death ranges in between $50M to $100M.
How much does Robin Williams make in a day?
His first starring role in the film Popeye in 1980 gave him his first big earning amounting to $35,000 which in present day conversion would have been around $170,000. When his career catapulted into lucrative fame, Forbes report that from 1992-1995, he was making $5,000 a day. So far, this is the only record of what he makes in a day.
What does Net Worth Mean?
What is a Net Worth?
It is a quantitative concept which measures the value of an entity. It is applicable ranging from an individual to companies, organizations, sectors and a country as a whole. To put it simply, it is the difference between assets and liabilities. A positive net worth means assets are greater than liabilities, whereas negative net worth mean liabilities are greater than assets.
Formula:
Net Worth = Assets – Liabilities
A little more into Net Worth Concept:
Net worth conveys the financial health of any entity. Asset is anything that is owned and has a monetary value to it while liabilities is a commitment that deplete resources. Assets can be liquid or which can turn into liquid ( example: bank check ). They are non-liquid when they take time to turn into cash (like for example Home). Whereas liability is an obligation that has to be repaid ( example: home loan, car loan etc.,)
Any financial institution or 3rd party look at your assets and liabilities to understand the financial position. Positive net worth or increasing asset base indicates good financial health while negative net worth or increasing liabilities means a bad financial health condition.
It is always a good habit for any entity to maintain a reduce liabilities and increase or maintain a balanced asset base.
What does a Net Worth Mean to a person?
In simple terms, it means the value that is left after subtracting liabilities from assets. Few Examples of liabilities include car loans, student loans, home loans, credit card bills, and other mortgages etc., whereas an individual's assets are amount in the savings account, home, vehicle, bonds, stocks and other material that has value.
In other words, whatever is left after paying off all the personal debt from asset base is net worth. It is important to understand that value of net worth varies as per the market value of assets and current debt costs.
For example:
Consider a case of Ramu Johnson. His assets include a house valued at $350000, shares worth $150000 and a car worth $35000. His liabilities include a mortgage balance of
$150000 and an outstanding car loan $15000 to be paid.
Now Ramu Johnson's Net Worth = ($350000+$150000+$35000) – ($150000+$15000)
= ($535000 ) – ($165000)
= $370000
Assuming Ramu Johnson's financial position after five years as follows –
House value at $350000, Shares value at $180000, savings $ 40000 and car value $25000. While mortgage loan $120000, car loan $0 (paid off).
The Net worth after 5 years would = ($350000+$180000+$ 40000 + $25000 ) – ($120000)
= $595000 – $120000
= $475000
Here it is understood that, although the fact that the value of a house and car decrease, the net worth have increased to $475000. It is because a decline in house loan is less than the overall asset base and decrease in liabilities.
Note that, an individual's net worth can be negative if his asset base is less than liabilities.
What does net worth mean for celebrities?
Most often celebrities fall under High Net worth Individuals. And what does HNWI mean?
People with considerable net worth as called as HNWI.
Independent Charted Accounts, wealth managers and investment counsellors stay close to them making them as prime markets.
As per Securities and Exchange Commission( SEC), investors more than 1Million are considered as accredited investors to invite them to invest in unrequested securities.
Is 401k part of net worth?
As per the definition, 401K is also a part of net worth if it is calculated in terms of assets and liabilities. But, in this case, 401K have no specifics as in, therefore it cannot be measured.
What is the average American net worth?
Like any entities net worth a countries net worth can be calculated as below. It is a sum of net worth of all individuals (citizens), companies and organizations reside in America, plus countries net worth. In America, this measure is referred to as financial position.
As on quarter 1 2014, America's financial position =
Assets ( $269.6 trillion) – liabilities ($145.8 trillion ) = $123.8 trillion.
What is a good net worth by age?
| Age of Household | Median Net Worth |
| --- | --- |
| Under 35 years | $6,900 |
| 35 to 44 years | $45,740 |
| 45 to 54 years | $100,404 |
| 55 – 64 years | $164,498 |
| 65 – 69 years | $193,833 |
| 70 – 74 years | $225,390 |
| 65 – 75 Years | $202,950 |
| 75 + Years | $197,758 |
What is the net worth of the top 1%, 5%, 10%?
As in America, wealth distribution is as follows
Richest 1% of the population owned 35% of the country's total wealth
Richest 5% of the population owned 11% of the country's total wealth
Richest 10% of the population owned 12% of the country's total wealth
Houses and cars of Robin Williams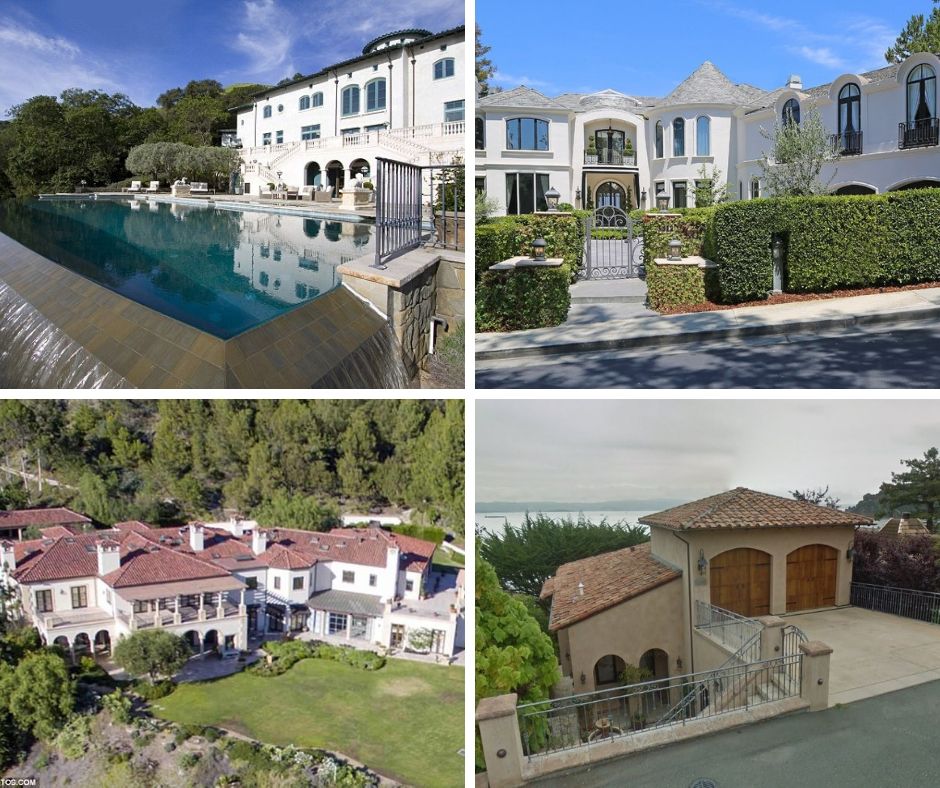 Robin Williams owned two mansions and one cottage. The first one which Williams called Villa of Smiles is located at Napa Valley. It stands in a 20,000 square feet in the middle of a 639 acre estate. The mansion has five bedrooms, 10 bathrooms, a home theater, an infinity pool, horse barn and has vineyards and orchards. In 2013, he listed the villa for $35M but was sold at almost half the price at $18.6M in 2016 to French winemakers.
The other mansion is his six-bedroom and eight-bathroom Tiburon residence. He bought it in 2008 for $4M. After his death, the Tiburon residence was left at the care of his wife and her two teenage sons from her previous marriage. In 2009 Williams bought a two bedroom and two bathroom Tudor cottage at the Bronson Canyon area in Hollywood for $875,000. This estate was sold quietly in 2014 for $869,000.
As for cars, he only owned two: a Land Rover he bought in 1996 and a 2011 Toyota Prius. In lieu of car collections, he had a bike and watch collection which were sold in an auction at Sotheby for more than $6M in 2016.
3 Success lessons from Robin Williams
1. Family is everything.
In a 2013 press interview for his film The Angriest Man in Brooklyn, alongside Anne Hathaway, he mentioned that family is everything. He recounted his mistakes in the past and said that his children have always been his saving grace because they always give him a sense of wonder, noting that they have developed into extraordinary human beings.
2. Give back and be kind.
The philanthropic activities of Williams were something that he enjoyed privately. He founded the Comic Relief USA alongside fellow comedians, Whoopi Goldberg and Billy Cristal and the Windfall Foundation along with his second wife. In one interview, he said, "Everyone is fighting a battle you know nothing about. Be kind. Always."
3. Remember to think about your future.
Greatly inspired by his role, Jack, in Dead Poets Society, he says in one interview, "if there is one lesson I carry in my heart everyday, that is to contemplate about the future and how to celebrate every day."
5 Famous Robin Williams Quotes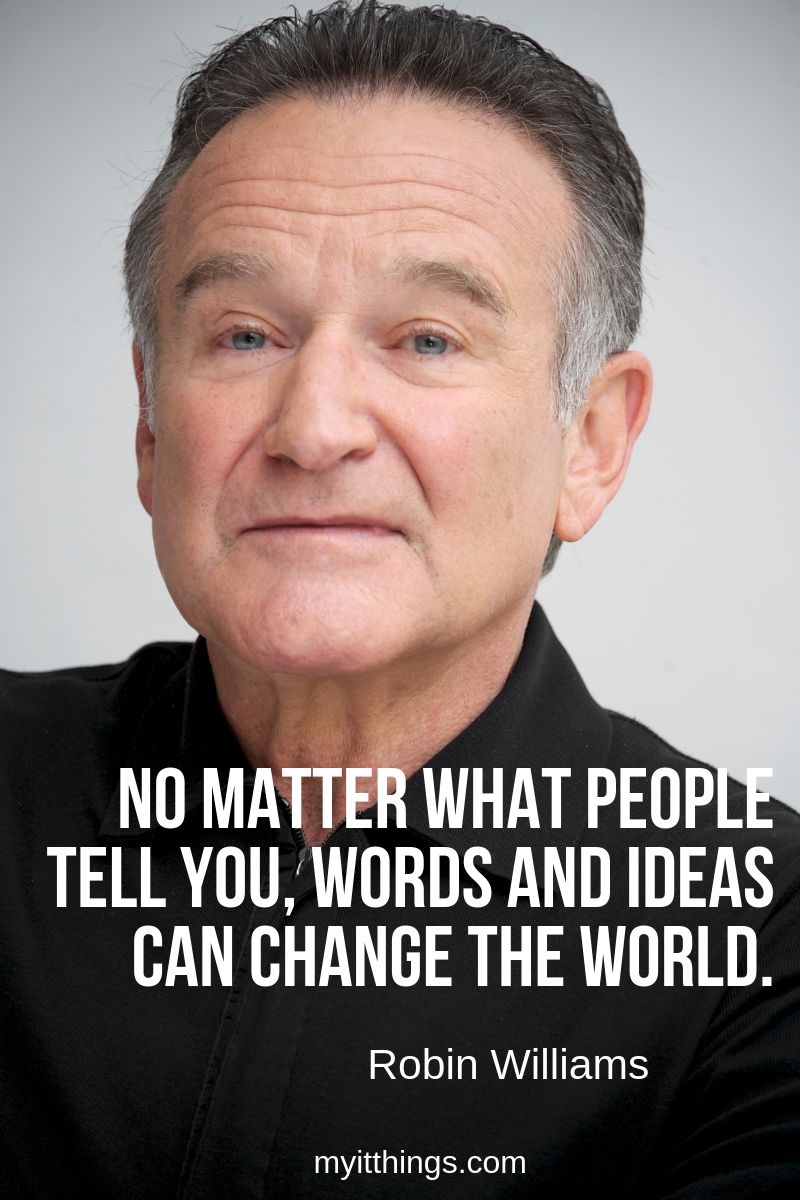 No matter what people tell you, words and ideas can change the world.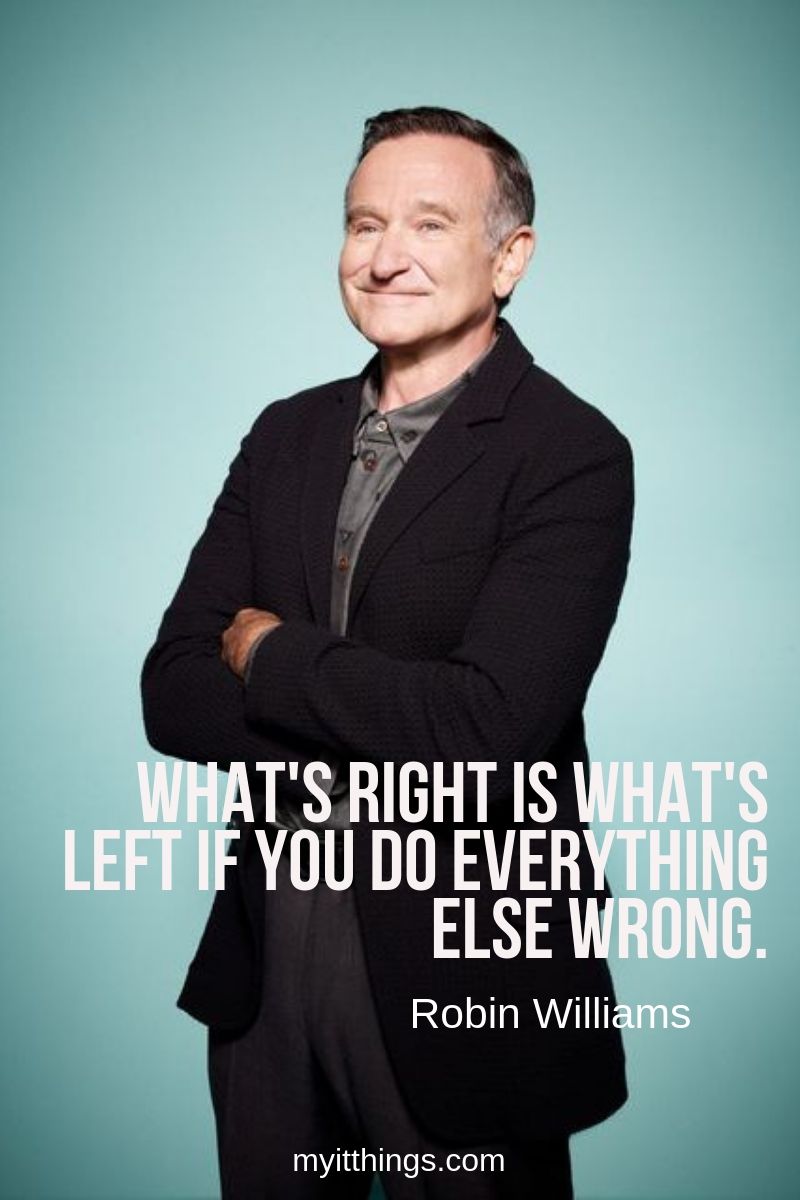 What's right is what's left if you do everything else wrong.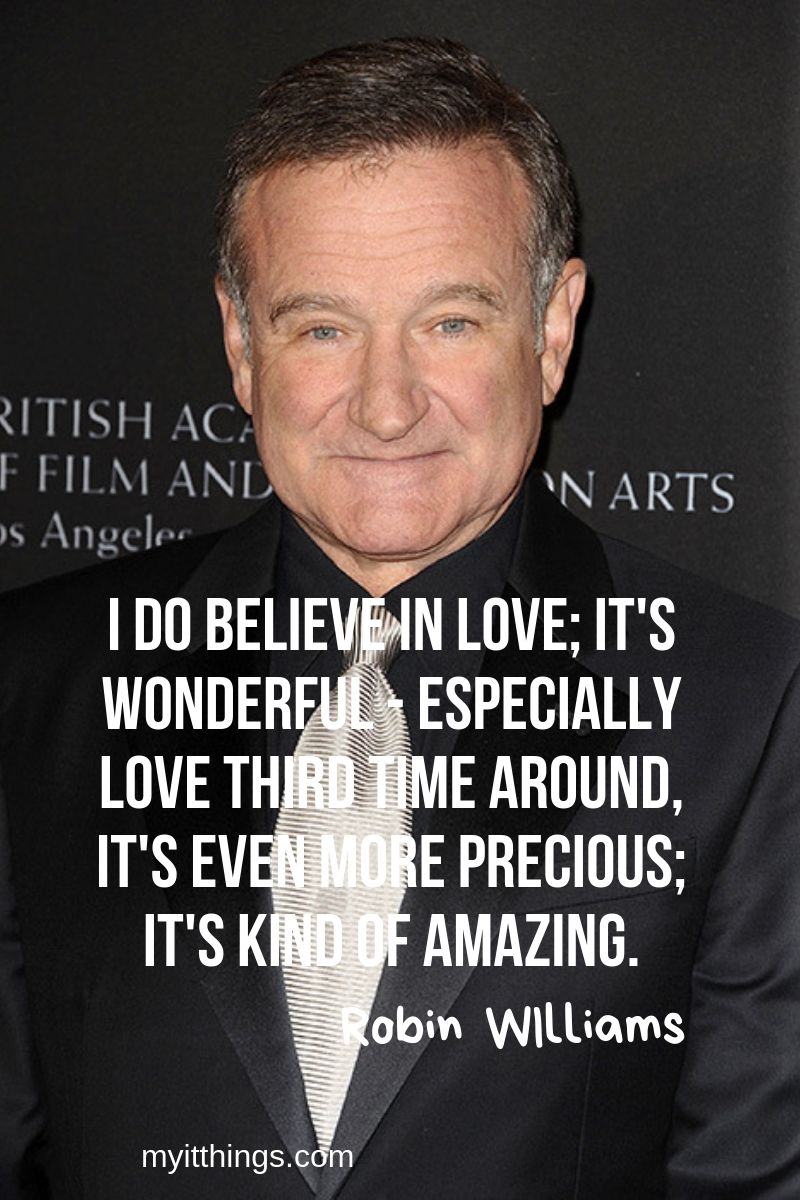 I do believe in love; it's wonderful – especially love third time around, it's even more precious; it's kind of amazing.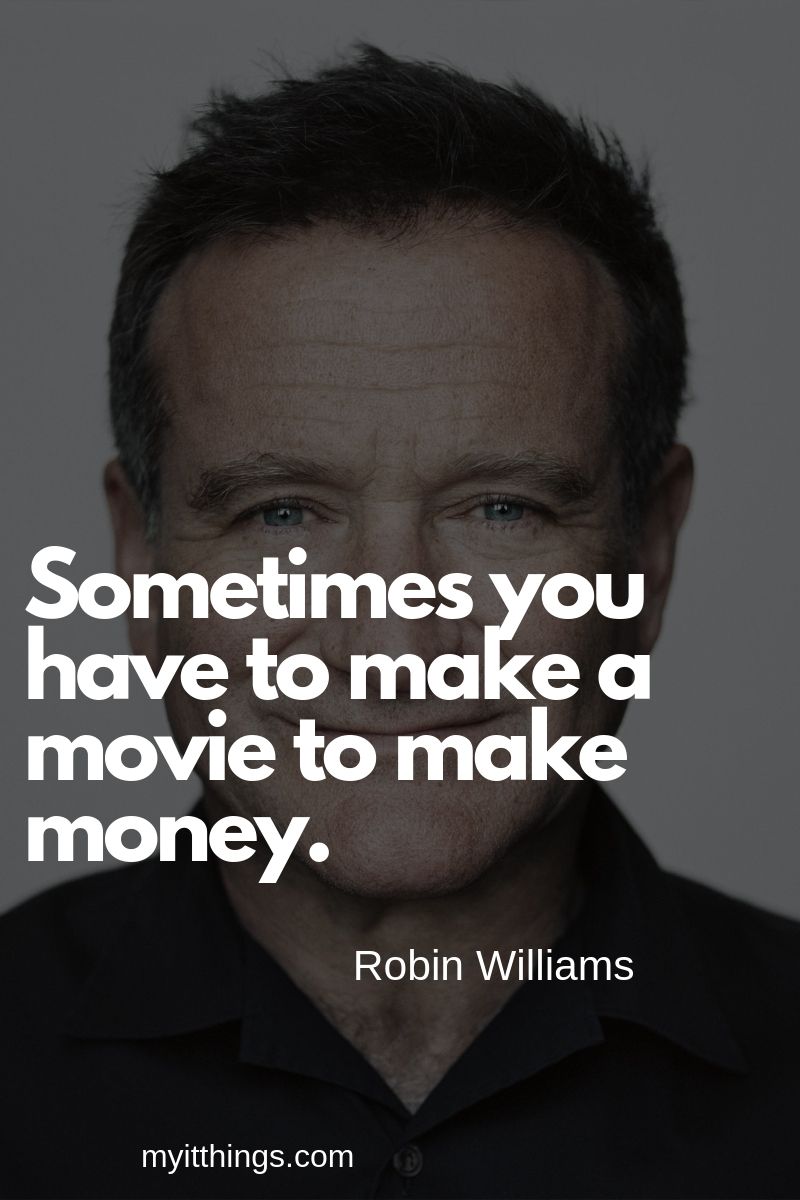 Sometimes you have to make a movie to make money.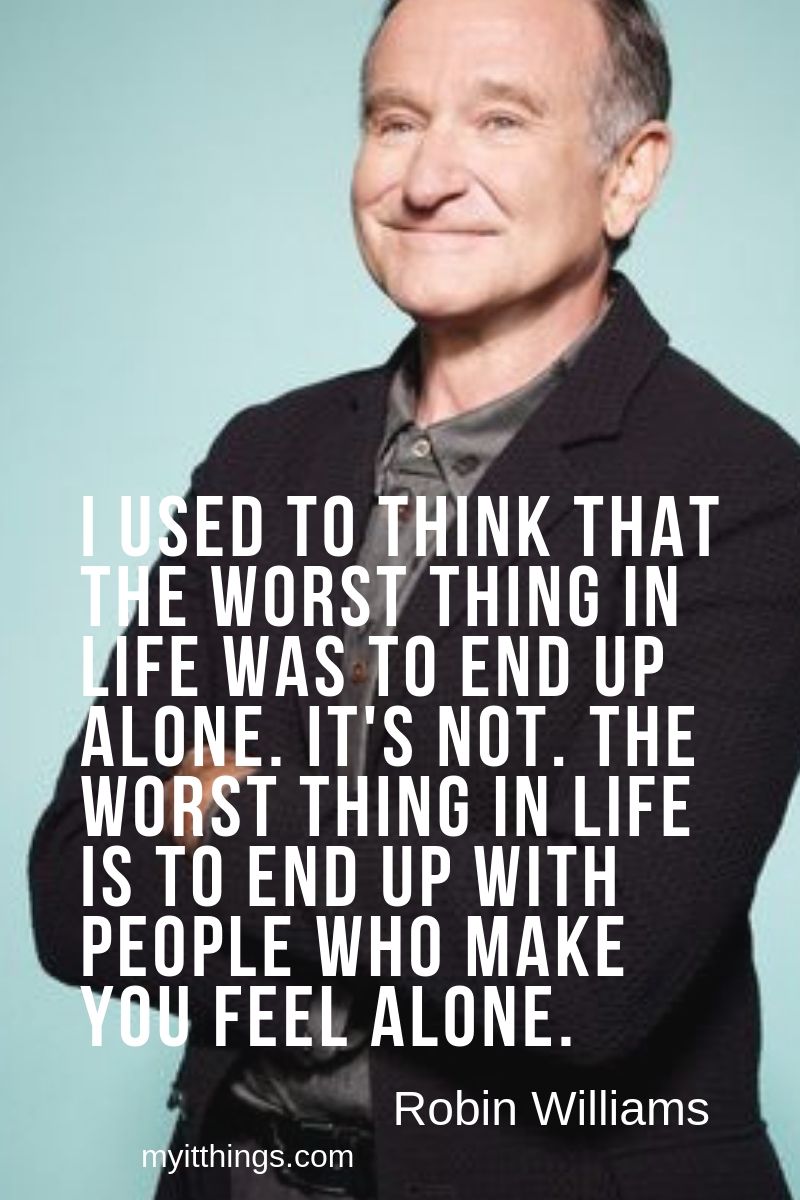 I used to think that the worst thing in life was to end up alone. It's not. The worst thing in life is to end up with people who make you feel alone.
Conclusion
More than his death, Robin Williams remains in the film and pop culture world as the funniest man who has ever lived along with his notable performances. Up to this day, he is still revered as an actor. Naming a San Francisco Tunnel and park after him is enough evidence of this reverence.
References: