Quick Facts of Steve Harvey
Name
Broderick Stephen "Steve" Harvey
Net Worth
$160 million
Date of Birth
January 17, 1957
Place of Birth
Welch, West Virginia
Nationality

American
Occupation
Comedian
Radio Host
Television Host
Producer
Radio Personality
Actor
Author
Famous For
Being the Host of Family Feud
The Miss Universe 2015 Controversy
Spouses
Marcia Harvey (1980-1994)
Mary Shackelford (1996-2005)
Marjorie Bridges (2007-Present)
Children
4 Biological Children and 3 Stepchildren (7 Children Overall)
Introduction
If you're a fan of standup comedy then perhaps you've heard of Steve Harvey. Then again, even though he started out as a standup comedian, he really blew up in the mainstream consciousness due to his stint as the comedic host of the game show "Family Feud" as well as the host with the infamous flub during the 2015 Miss Universe Pageant.
Steve Harvey's Life
Steve Harvey started his career as a standup comedian while also landing stints as a producer, writer, and film actor.
His birth date was on January 17, 1957. Originally coming from West Virginia, the Harvey Family moved to Cleveland, which is the state where he got his high school diploma. Steve didn't aspire to be a comedian. However, his fate brought him there and has since found success.
Family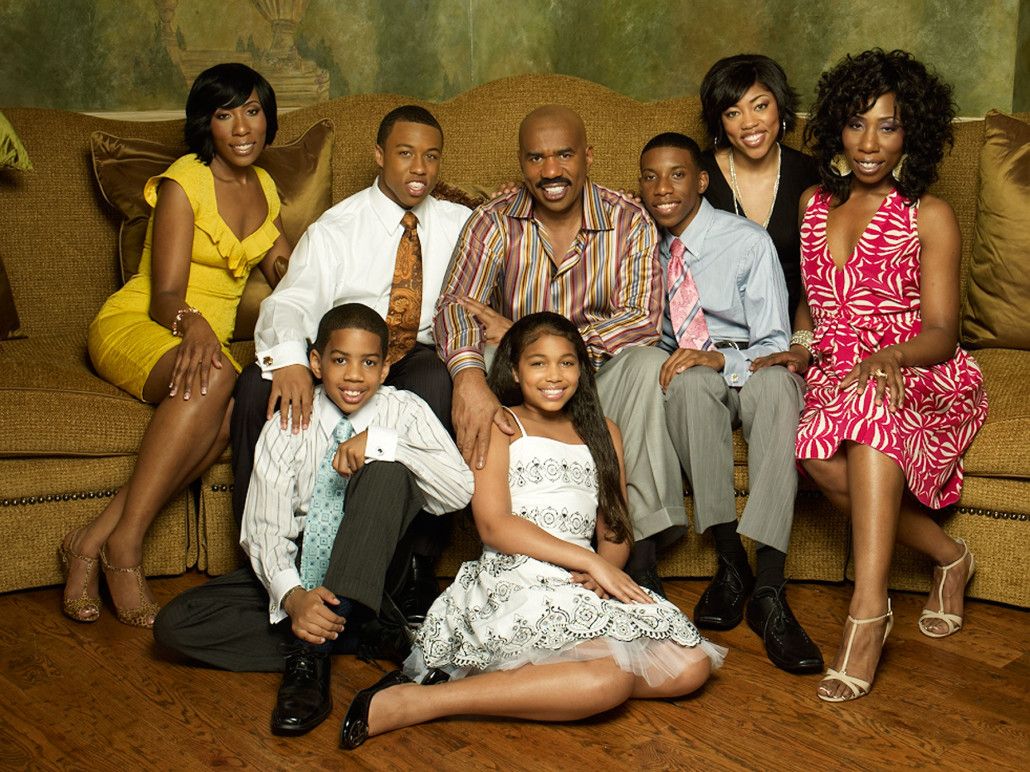 Steve was the youngest born out of a family of five children. He married three times—to Marcia Harvey (1980-1994), Mary Shackelford (1996-2005), and to Marjorie Bridges (2007-present) – and got 7 children between the 3 wives as a result (3 of whom were stepchildren). He is a Christian and a vegan who follows the diet for health reasons.
Career
Steve initially struggled to get by. He tried out various work lie postman, an insurance salesman, and even boxer. None of those panned out. He then tried his luck at standup. At first, Steven did minor standup comedy shows for about 4 years. When he became a finalist at the 2nd Annual Walker National Comedy Search in 1989, that's when he became a big hit.
He then got his big break at "Showtime at the Apollo" (1993-2000) where he became the host of the variety show. Afterwards, he landed "The Steve Harvey Show "(1996-2002) on the WB. From there, he became a household name due to his credits as a standup comedian, film actor, writer, and producer. Infamously, he's also known as the host who historically flubbed announcing the winner of the 2015 Miss Universe pageant.
How Does Steve Harvey Make Money?
Steve Harvey's initial source of income was by being part of the standup comedy circuit. As many other comedians before him, his fame in standup then led to hosting gigs starting with Showtime at the Apollo all the way to Family Feud, of which he is the current face of the show.
He also makes money from his dating website and self-help books. He also launched a dating website, wrote several self-help books, won Daytime Emmy Awards as a Family Feud host, and hosted other shows like Little Big Shots and Celebrity Family Feud. He also has several sponsorship deals.
Here's a list of Steve Harvey's money sources:
He's a standup comedian initially and he returns to standup from time to time.
He is also the radio show host of The Steve Harvey Morning Show at KJLH in Los Angeles.
He is an author of various books like:
Take the Leap of Faith to Achieve Your Life of Abundance
How to Find, Keep, Understand a Man
Straight Talk, No Chaser
Act Like a Success, Think Like a Success: Discovering Your Gift and the Way to Life's Riches Steve Harvey
Act Like a Lady, Think Like a Man
He is an actor in movies like:
The Original Kings of Comedy (2000)
The Fighting Temptations (2003)
Think Like a Man (2012)
He is the television host or guest host of:
Showtime at the Apollo
The Miss Universe Pageant
Steve Harvey's Funderdome
Essence Awards
Praise The Lord
Steve Harvey's Big Time Challenge
Steve (Talk Show)
Who Wants to Be a Millionaire
Little Big Shots
Little Big Shots: Forever Young
Family Feud
Celebrity Family Feud
Steve Harvey also has sponsors for his various shows like:
Cheap Tickets
Westgate Resorts
Hawks Cay Resort
DHerbs.com
The Florida Keys & Key West
Tree Classics
Hasbro
Mattel
Net Worth From 2010 – 2019
In 2010, Steve Harvey's net worth was $35 million.
From 2011 to 2012, Steve Harvey's net worth was $85 million.
From 2013 to 2016, Steve Harvey's net worth was $100 million.
In 2017, Steve Harvey's net worth was $120 million.
From 2018 to 2019, Steve Harvey's net worth is $160 million.
How Much Does Steve Harvey Make In A Day?
Steve Harvey's current salary is $45 million a year, which means he earns approximately $123,287 a day in light of the payments, sponsorships, royalties, and so forth he receives as a comedian, producer, author, and host.
What does Net Worth Mean?
What is a Net Worth?
It is a quantitative concept which measures the value of an entity. It is applicable ranging from an individual to companies, organizations, sectors and a country as a whole. To put it simply, it is the difference between assets and liabilities. A positive net worth means assets are greater than liabilities, whereas negative net worth mean liabilities are greater than assets.
Formula:
Net Worth = Assets – Liabilities
A little more into Net Worth Concept:
Net worth conveys the financial health of any entity. Asset is anything that is owned and has a monetary value to it while liabilities is a commitment that deplete resources. Assets can be liquid or which can turn into liquid ( example: bank check ). They are non-liquid when they take time to turn into cash (like for example Home). Whereas liability is an obligation that has to be repaid ( example: home loan, car loan etc.,)
Any financial institution or 3rd party look at your assets and liabilities to understand the financial position. Positive net worth or increasing asset base indicates good financial health while negative net worth or increasing liabilities means a bad financial health condition.
It is always a good habit for any entity to maintain a reduce liabilities and increase or maintain a balanced asset base.
What does a Net Worth Mean to a person?
In simple terms, it means the value that is left after subtracting liabilities from assets. Few Examples of liabilities include car loans, student loans, home loans, credit card bills, and other mortgages etc., whereas an individual's assets are amount in the savings account, home, vehicle, bonds, stocks and other material that has value.
In other words, whatever is left after paying off all the personal debt from asset base is net worth. It is important to understand that value of net worth varies as per the market value of assets and current debt costs.
For example:
Consider a case of Ramu Johnson. His assets include a house valued at $350000, shares worth $150000 and a car worth $35000. His liabilities include a mortgage balance of
$150000 and an outstanding car loan $15000 to be paid.
Now Ramu Johnson's Net Worth = ($350000+$150000+$35000) – ($150000+$15000)
= ($535000 ) – ($165000)
= $370000
Assuming Ramu Johnson's financial position after five years as follows –
House value at $350000, Shares value at $180000, savings $ 40000 and car value $25000. While mortgage loan $120000, car loan $0 (paid off).
The Net worth after 5 years would = ($350000+$180000+$ 40000 + $25000 ) – ($120000)
= $595000 – $120000
= $475000
Here it is understood that, although the fact that the value of a house and car decrease, the net worth have increased to $475000. It is because a decline in house loan is less than the overall asset base and decrease in liabilities.
Note that, an individual's net worth can be negative if his asset base is less than liabilities.
What does net worth mean for celebrities?
Most often celebrities fall under High Net worth Individuals. And what does HNWI mean?
People with considerable net worth as called as HNWI.
Independent Charted Accounts, wealth managers and investment counsellors stay close to them making them as prime markets.
As per Securities and Exchange Commission( SEC), investors more than 1Million are considered as accredited investors to invite them to invest in unrequested securities.
Is 401k part of net worth?
As per the definition, 401K is also a part of net worth if it is calculated in terms of assets and liabilities. But, in this case, 401K have no specifics as in, therefore it cannot be measured.
What is the average American net worth?
Like any entities net worth a countries net worth can be calculated as below. It is a sum of net worth of all individuals (citizens), companies and organizations reside in America, plus countries net worth. In America, this measure is referred to as financial position.
As on quarter 1 2014, America's financial position =
Assets ( $269.6 trillion) – liabilities ($145.8 trillion ) = $123.8 trillion.
What is a good net worth by age?
| Age of Household | Median Net Worth |
| --- | --- |
| Under 35 years | $6,900 |
| 35 to 44 years | $45,740 |
| 45 to 54 years | $100,404 |
| 55 – 64 years | $164,498 |
| 65 – 69 years | $193,833 |
| 70 – 74 years | $225,390 |
| 65 – 75 Years | $202,950 |
| 75 + Years | $197,758 |
What is the net worth of the top 1%, 5%, 10%?
As in America, wealth distribution is as follows
Richest 1% of the population owned 35% of the country's total wealth
Richest 5% of the population owned 11% of the country's total wealth
Richest 10% of the population owned 12% of the country's total wealth
Houses And Cars Of Steve Harvey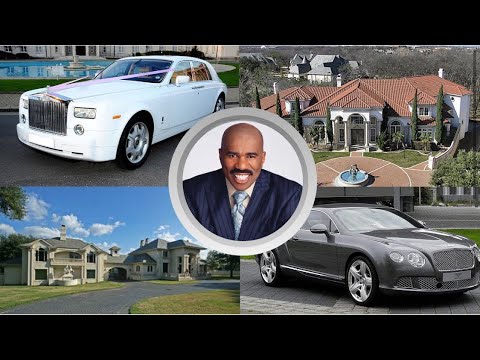 Steve has owned some pretty amazing real estate, such as a multi-million-dollar Chicago penthouse and a lavish Atlanta Mansion in Georgia. The comedian turned host owns property in Little Elm, Texas and the aforementioned home in Atlanta, Georgia. In regards to cars, he's an avid car guy who has a fleet of Bentleys and Rolls-Royces.
3 Success Lessons From Steve Harvey
1. Failure is the Key to Success
Comedians are the modern day bards and jesters. Steve struggled initially but comedy saved him from destitution and made him into a famous celebrity and host. He also became quite the Renaissance Man, taking more risks the more successful he became in order to reap more successes despite failures and controversies.
2. Learn from Your Mistakes
To wit, after becoming a successful standup comedian, he delved into radio by hosting a daily radio talk show. Then, on ABC, he became the host of Family Feud from 2010 onwards. He hosted several Miss Universe pageants despite his huge gaffe in the 2015 edition, where he mixed the 1st Runner Up with the actual Miss Universe.
3. Don't be Afraid to Take Risks
Every penny in his net worth is a penny he earned by being business savvy and taking calculated risks.
5 Famous Steve Harvey quotes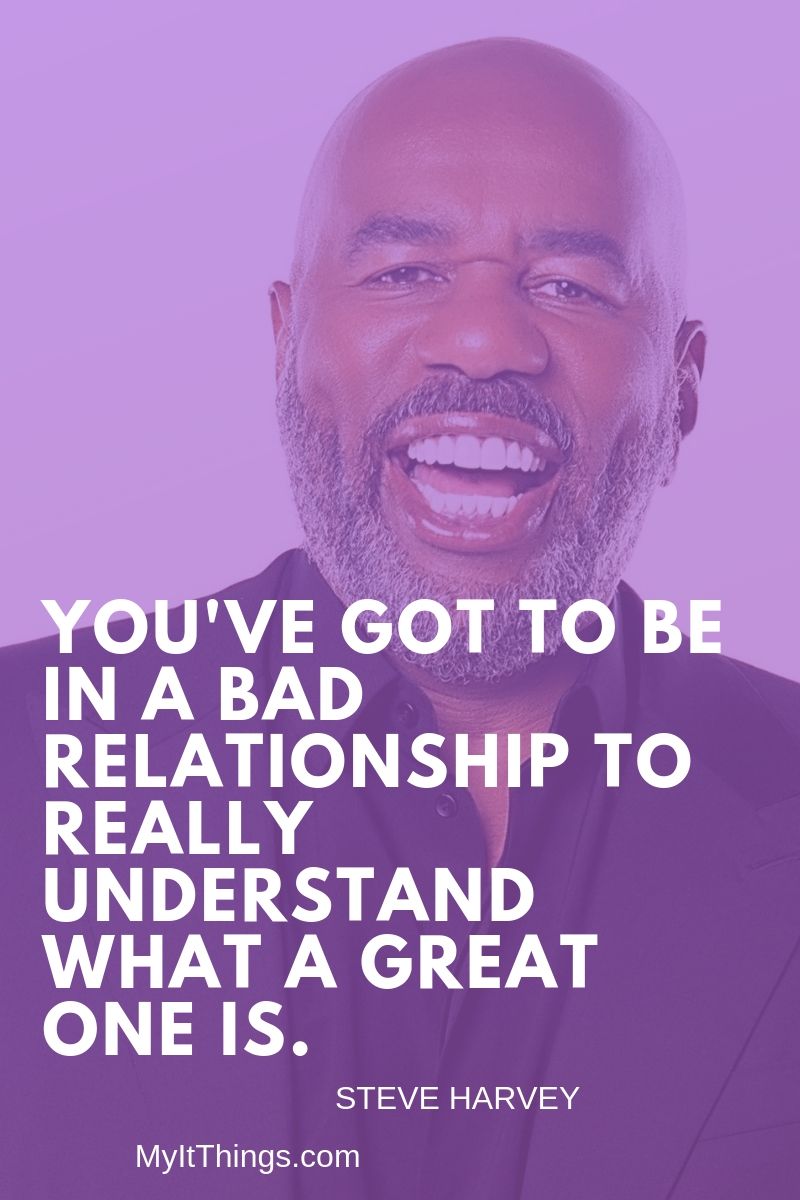 You've got to be in a bad relationship to really understand what a great one is.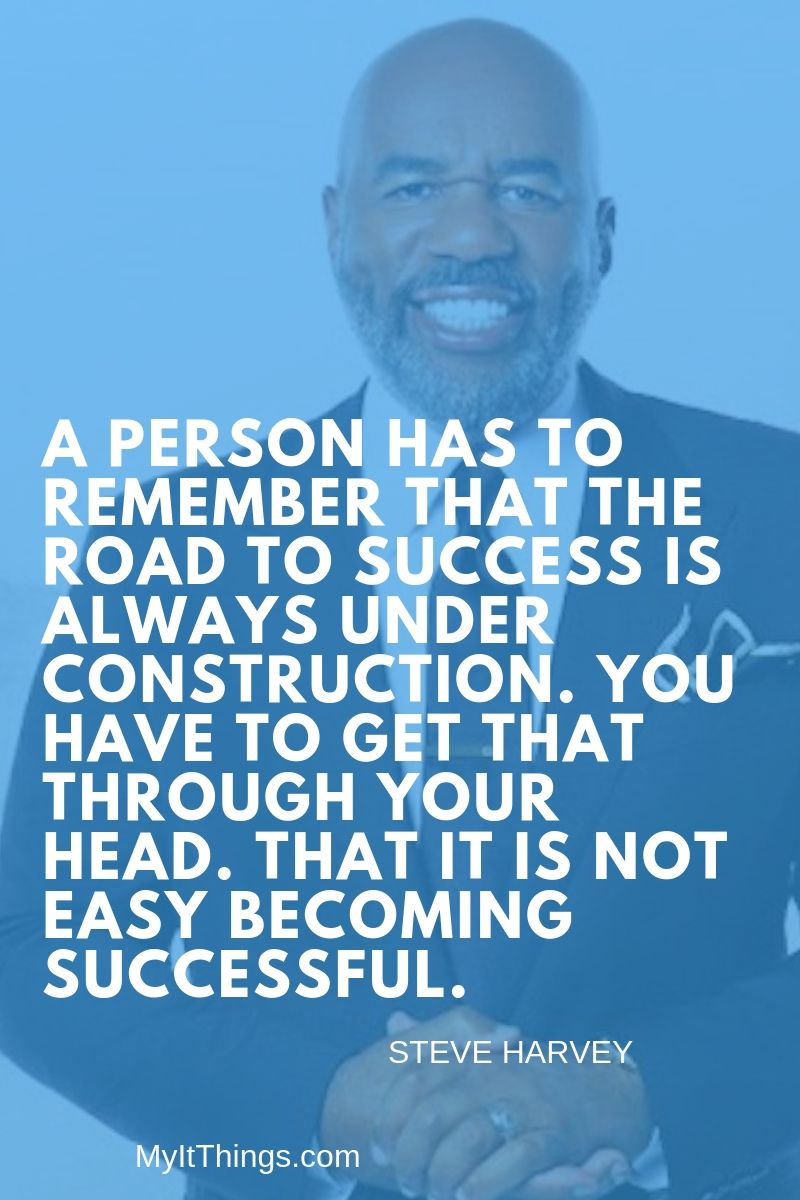 A person has to remember that the road to success is always under construction. You have to get that through your head. That it is not easy becoming successful.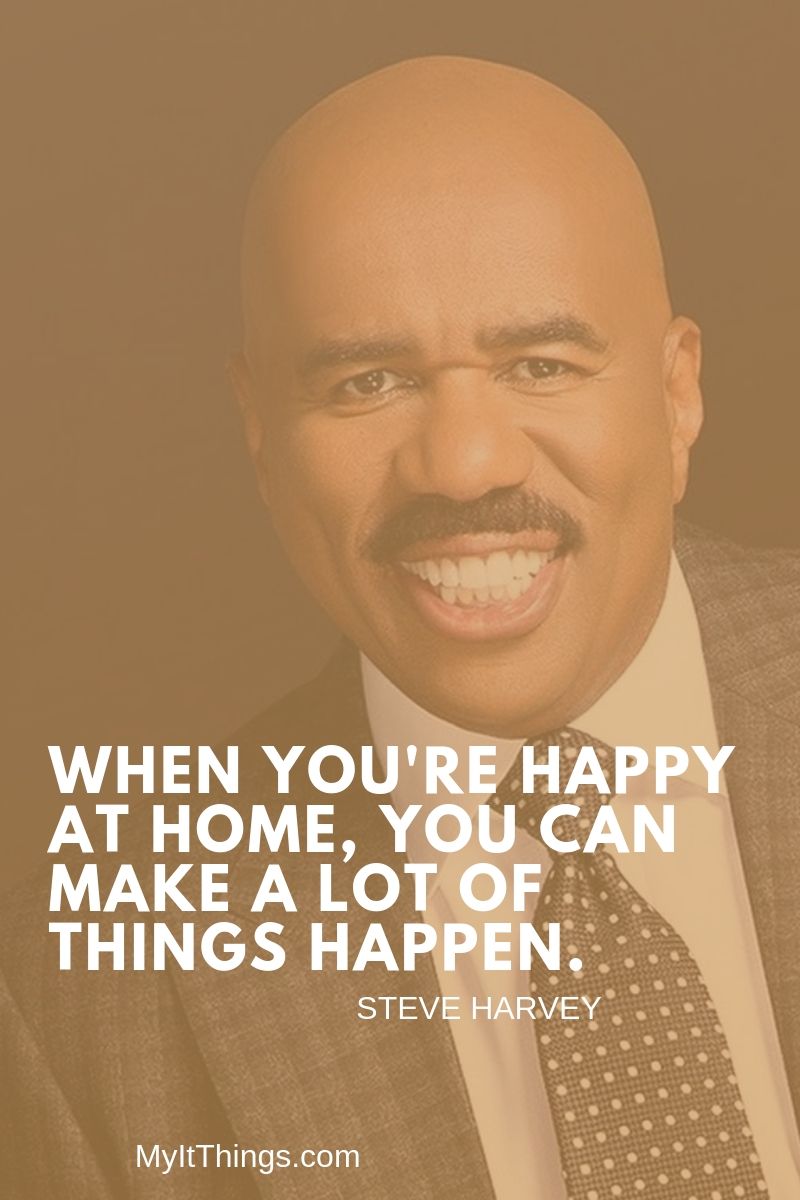 When you're happy at home, you can make a lot of things happen.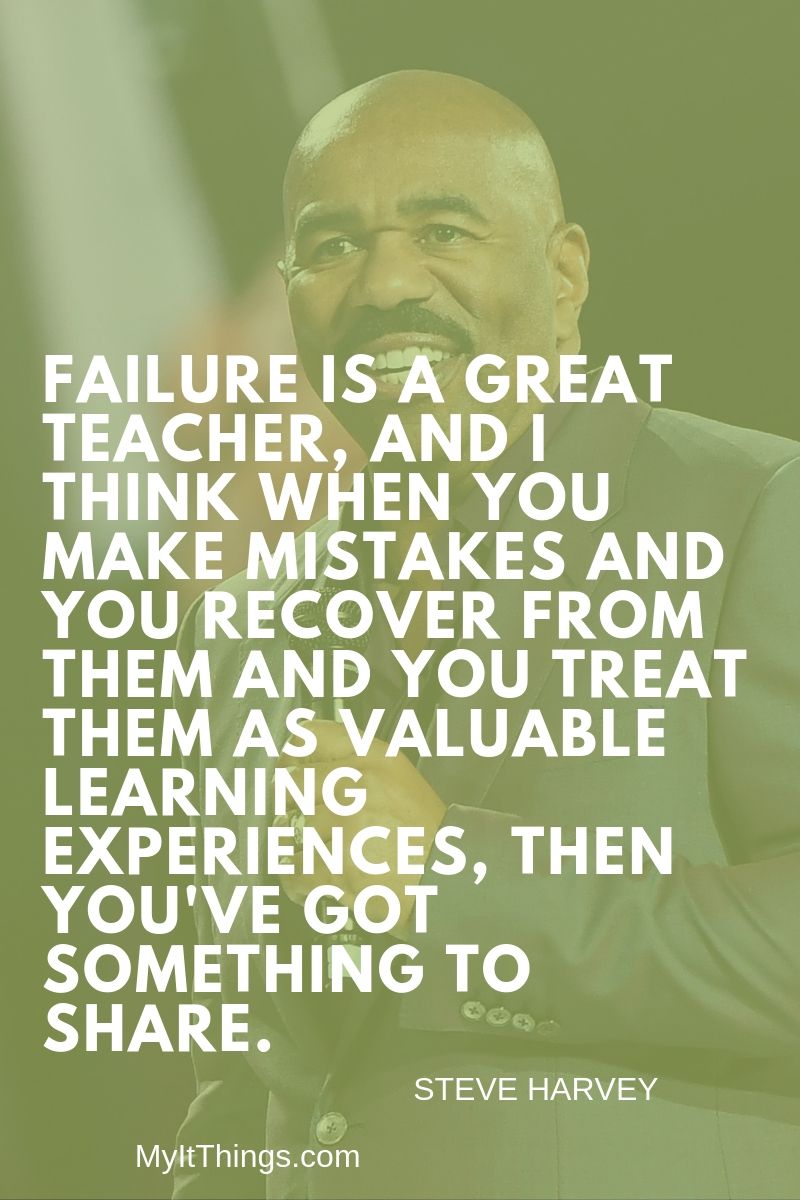 Failure is a great teacher, and I think when you make mistakes and you recover from them and you treat them as valuable learning experiences, then you've got something to share.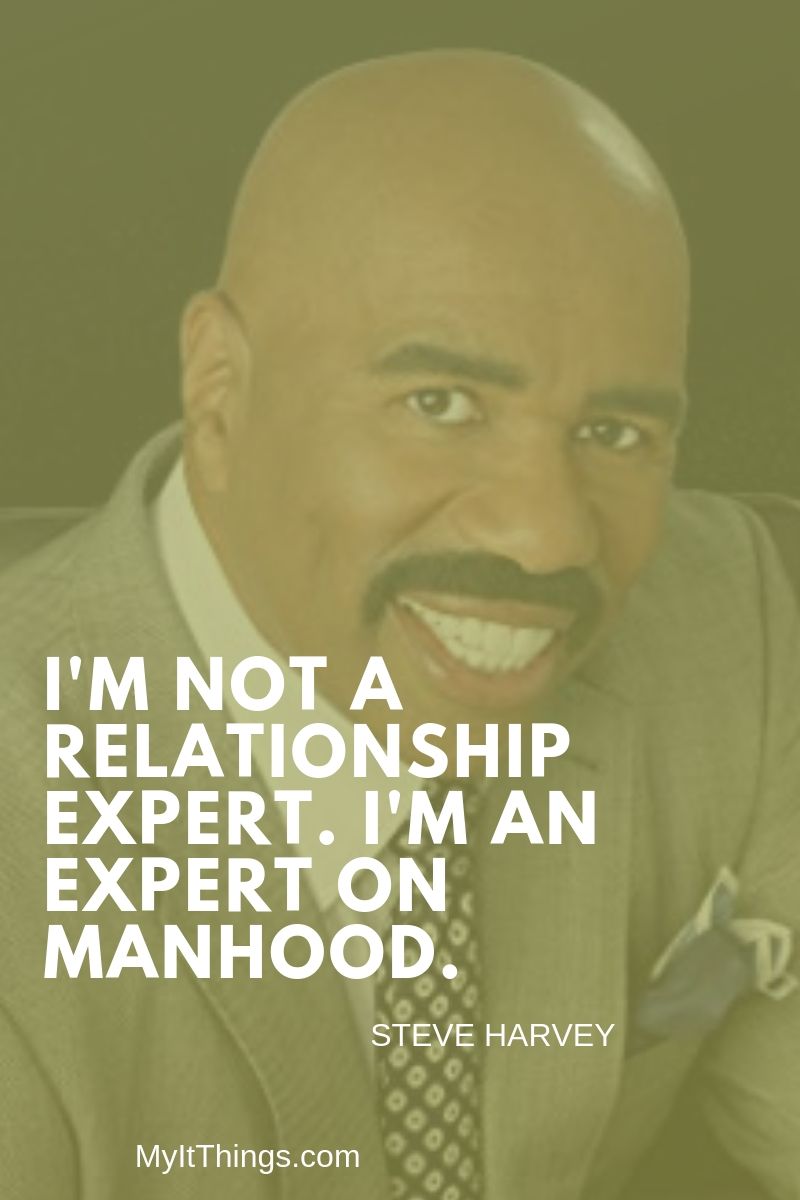 I'm not a relationship expert. I'm an expert on manhood.
References: