Quick Facts of Rick Ross
Name
William Leonard Roberts II
Alias
"Rick Ross"
"Teflon"
"Renzel"
"The Boss"
"Rozay"
Net Worth
$40 Million
Date of Birth
January 28, 1976
Place of Birth
Clarksdale, Mississippi
Residence
Carol City, Florida
Nationality

American
Occupation
Rapper
Songwriter
Entrepreneur
Record Executive
Famous For
His debut song, "Hustlin'"
His numerous successful rap albums
Genres
Hip Hop
Labels
Epic
Maybach Music
Atlantic
Def Jam
Suave House
Slip-n-Slide
Poe Boy
Associated Acts
Triple C's
DJ Khaled
French Montana
Future Gucci Mane
Jay-Z
John Legend
Lil Wayne
Meek Mill
Nas
Omarion
Puff Daddy
T-Pain
Wale
Introduction
Rick Ross is an American rap artist and songwriter turned hip-hop mogul and record executive who has made hit albums and songs like "Hustlin'" as well as associated with the best in the music business such as T-Pain, Nas, Meek Mill, and DJ Khaled. Everyone from P-Diddy to Jay-Z was looking to sign him up until he himself entered the business with his own label.
Rick Ross's Life
Rick Ross was born William Leonard Roberts II and was from Clarksdale, Mississippi. He was then raised in Carol City, Florida.
He graduated in Miami Carol City Senior High School and attended Albany State University on a football scholarship.
He then worked from December 1995 to June 1997 as a correctional officer.
Family
Rick Ross's parents are Sonny Ross and Tommie Roberts. He also has a sister named Tawanda Roberts. He even has 4 children, and they are Toie Roberts, William Roberts III, Berkeley Hermes Roberts, and Billion Leonard Roberts.
Career
He made his debut as "Teflon Da Don" in Suave House Records. He made his recording debut on "Ain't Shhh to Discuss" on Erick Sermon's Def Squad Presents Erick Onasis. In the 2000s, he changed his professional name to Rick Ross. He then signed with Slip-n-Slide Records, touring with Trick Daddy and making guest performances in other Slip-n-Slide albums.
He then released his debut single, "Hustlin'" in 2006 for his "Port of Miami" album to wide acclaim. It peaked at #54 in the Billboard Hot 100. Most importantly, he became the subject of a bidding war. He received offers by Irv Gotti's Murder Inc. and Diddy's Bad Boy Entertainment before he signed to Jay-Z's Def Jam Records.
His "Port of Miami" album debuted at the top spot of the U.S. Billboard 200 album chart, getting 187,000 units sold in the first week. He then released a second album, "Trilla" in 2008, once again debuting as #1 at the Billboard 200. In 2009, Rick founded the Maybach Music Group. This is where he released many other albums of his.
How Does Rick Ross Make Money?
Rick Ross is a record executive, entrepreneur, and rapper. He mostly made his fortune by being a recording artist then by becoming his own record producer as well, releasing the rest of his albums under his Maybach Music label.
He was even the first artist signed to Ciroc Entertainment, which is Diddy's management company. He also does endorsements and promotions to boot.
Here is a list of Rick Ross's money sources.
Rick is a highly successful hip-hop music artist, with albums spanning from 2006 to 2019. They include the following.
Port of Miami (2006)
Trilla (2008)
Deeper Than Rap (2009)
Custom Cars & Cycles (Collaborative Album with Triple C's; 2009)
Teflon Don (2010)
God Forgives, I Don't (2012)
Mastermind (2014)
Hood Billionaire (2014)
Black Market (2015)
Rather You Than Me (2017)
Port of Miami 2 (2019)
He has also gotten film and television roles, gigs, and appearances galore, which include the following.
"Days of Wrath" as G Dogg (2008)
"Jimmy Kimmel Live!" as Himself/Musical Guest (2008-2012)
"Late Show with David Letterman" as Himself/Musical Guest (2009)
"Late Night with Jimmy Fallon" as Himself/Musical Guest (2009-2010)
"Chelsea Lately" as Himself/Musical Guest (2010-2012)
"Freaknik: The Musical Television" as Big Uzi (Voice and Soundtrack; 2010)
"Magic City" as Butterball (Season 2; 2013)
"Martha & Snoop's Potluck Dinner Party" as Himself (Season 1; 2016)
"Signed Television" as Himself (Season 1; 2017)
Rick got signed for millions of dollars by labels such as Epic, Atlantic, Def Jam, Suave House, Slip-n-Slide, and Poe Boy. In 2009, he founded Maybach Music and released the rest of his studio albums there.
Furthermore, Rick has done brand endorsements for mCig Inc. and its Mastermind mCig Device, Diddy's Ciroc Vodka, and TV commercials for Nike and Reebok.
As of 2017, Rick has also entered the restaurant business by owning several Wingstop locations. Wingstop is a fast food chain that specializes in chicken wings.
Rick Ross's Net Worth From 2010 – 2019
In 2012, Rick Ross's net worth was $25 million.
In 2013, Rick Ross's net worth was $28 million.
From 2014 to 2018, Rick Ross's net worth was $35 million.
In 2019, Rick Ross's net worth is $40 million.
There wasn't an archive for Rick Ross's net worth from 2010 to 2011, but it is known that he made $5 million and $6 million respectively during those years.
How Much Does Rick Ross Make In A Day?
Rick Ross has made $78 million in career earnings from 2007 to 2018. From 2010 to 2018, Rick Ross was earning an average of $8.4 million a year or $23,014 a day. 2016 is his highest earning year, netting him $10 million or $27,397 a day. 2007 is his lowest earning year, netting him $2 million or $5,479 a day.
What does Net Worth Mean?
What is a Net Worth?
It is a quantitative concept which measures the value of an entity. It is applicable ranging from an individual to companies, organizations, sectors and a country as a whole. To put it simply, it is the difference between assets and liabilities. A positive net worth means assets are greater than liabilities, whereas negative net worth mean liabilities are greater than assets.
Formula:
Net Worth = Assets – Liabilities
A little more into Net Worth Concept:
Net worth conveys the financial health of any entity. Asset is anything that is owned and has a monetary value to it while liabilities is a commitment that deplete resources. Assets can be liquid or which can turn into liquid ( example: bank check ). They are non-liquid when they take time to turn into cash (like for example Home). Whereas liability is an obligation that has to be repaid ( example: home loan, car loan etc.,)
Any financial institution or 3rd party look at your assets and liabilities to understand the financial position. Positive net worth or increasing asset base indicates good financial health while negative net worth or increasing liabilities means a bad financial health condition.
It is always a good habit for any entity to maintain a reduce liabilities and increase or maintain a balanced asset base.
What does a Net Worth Mean to a person?
In simple terms, it means the value that is left after subtracting liabilities from assets. Few Examples of liabilities include car loans, student loans, home loans, credit card bills, and other mortgages etc., whereas an individual's assets are amount in the savings account, home, vehicle, bonds, stocks and other material that has value.
In other words, whatever is left after paying off all the personal debt from asset base is net worth. It is important to understand that value of net worth varies as per the market value of assets and current debt costs.
For example:
Consider a case of Ramu Johnson. His assets include a house valued at $350000, shares worth $150000 and a car worth $35000. His liabilities include a mortgage balance of
$150000 and an outstanding car loan $15000 to be paid.
Now Ramu Johnson's Net Worth = ($350000+$150000+$35000) – ($150000+$15000)
= ($535000 ) – ($165000)
= $370000
Assuming Ramu Johnson's financial position after five years as follows –
House value at $350000, Shares value at $180000, savings $ 40000 and car value $25000. While mortgage loan $120000, car loan $0 (paid off).
The Net worth after 5 years would = ($350000+$180000+$ 40000 + $25000 ) – ($120000)
= $595000 – $120000
= $475000
Here it is understood that, although the fact that the value of a house and car decrease, the net worth have increased to $475000. It is because a decline in house loan is less than the overall asset base and decrease in liabilities.
Note that, an individual's net worth can be negative if his asset base is less than liabilities.
What does net worth mean for celebrities?
Most often celebrities fall under High Net worth Individuals. And what does HNWI mean?
People with considerable net worth as called as HNWI.
Independent Charted Accounts, wealth managers and investment counsellors stay close to them making them as prime markets.
As per Securities and Exchange Commission( SEC), investors more than 1Million are considered as accredited investors to invite them to invest in unrequested securities.
Is 401k part of net worth?
As per the definition, 401K is also a part of net worth if it is calculated in terms of assets and liabilities. But, in this case, 401K have no specifics as in, therefore it cannot be measured.
What is the average American net worth?
Like any entities net worth a countries net worth can be calculated as below. It is a sum of net worth of all individuals (citizens), companies and organizations reside in America, plus countries net worth. In America, this measure is referred to as financial position.
As on quarter 1 2014, America's financial position =
Assets ( $269.6 trillion) – liabilities ($145.8 trillion ) = $123.8 trillion.
What is a good net worth by age?
| Age of Household | Median Net Worth |
| --- | --- |
| Under 35 years | $6,900 |
| 35 to 44 years | $45,740 |
| 45 to 54 years | $100,404 |
| 55 – 64 years | $164,498 |
| 65 – 69 years | $193,833 |
| 70 – 74 years | $225,390 |
| 65 – 75 Years | $202,950 |
| 75 + Years | $197,758 |
What is the net worth of the top 1%, 5%, 10%?
As in America, wealth distribution is as follows
Richest 1% of the population owned 35% of the country's total wealth
Richest 5% of the population owned 11% of the country's total wealth
Richest 10% of the population owned 12% of the country's total wealth
Rick Ross Lifestyle (Houses and cars)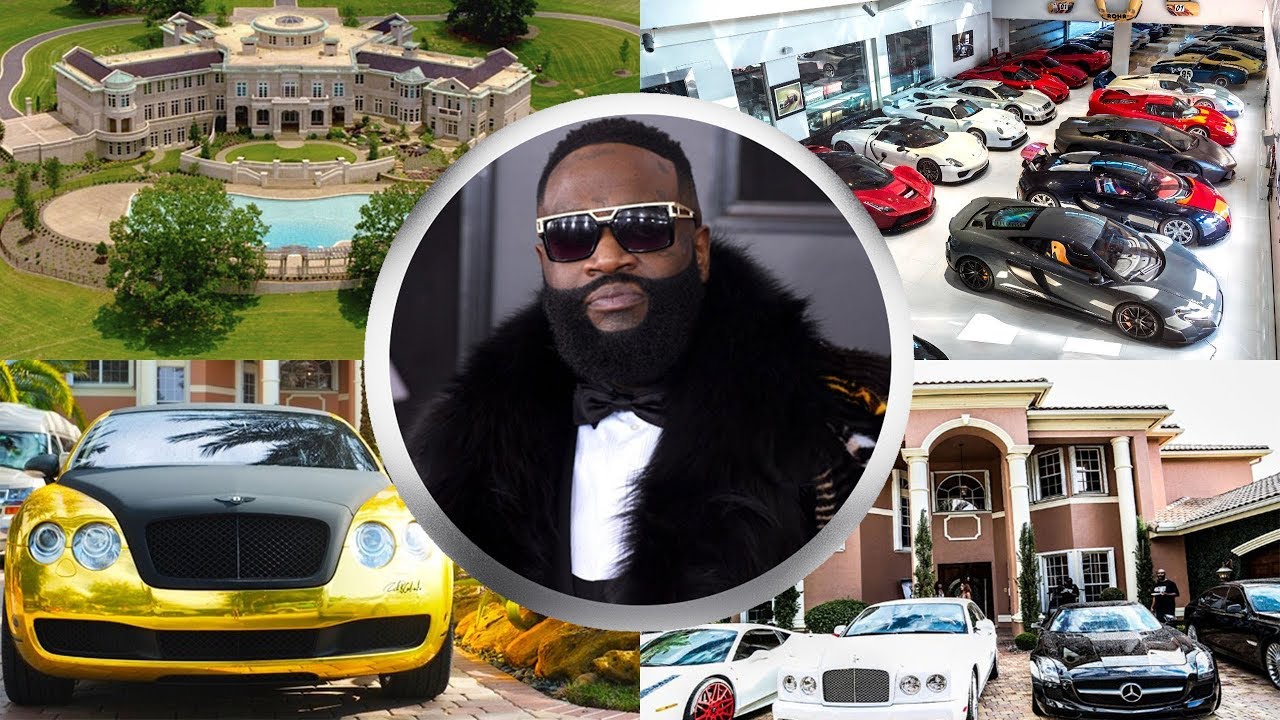 Rick Ross owns Evander Holyfield's former mansion, which he bought for $5.8 million. The Atlanta estate features 109 rooms, including 21 bathrooms and 12 bedrooms. Rick also owns 8 cars, which includes Maybach 57s, Mercedes-Benz CLS, Bentley Continental Supersports, a silver-and-white Hummer H2, BMW 760Li, Cadillac Escalade, Rolls Royce Phantom, and Fisker Karma.
He also owns a $35,000 Aprilia Motorbike (Rick Ross Edition). He is even an avid video game collector and has every game released from Coleco to Xbox.
Success Lessons From Rick Ross
1. Embrace controversy.
Rick Ross is a true "Teflon Don", with no controversy, health problems, or assassination attempts ever sticking to him or affecting his bottom line. Rather than lose money, controversy has actually helped raise his profile and make him become either more famous or more feared. Reputation and credibility is everything in the rap game, after all.
2. Never stop improving.
He has feuded with 50 Cent and faced allegations that he lacked "gangsta" credentials or is a faker with an inauthentic "tough guy" persona. With that said, even if he didn't really have "gangsta" origins, he nevertheless transformed himself into one through the years through the continuing success of his albums and the rise of his net worth.
He's like meek chemistry teacher Walter White transforming into drug lord Heisenberg the more money and fame he got through the years. If he wasn't "gangsta" before, he's "gangsta" now.
5 Famous Rick Ross Quotes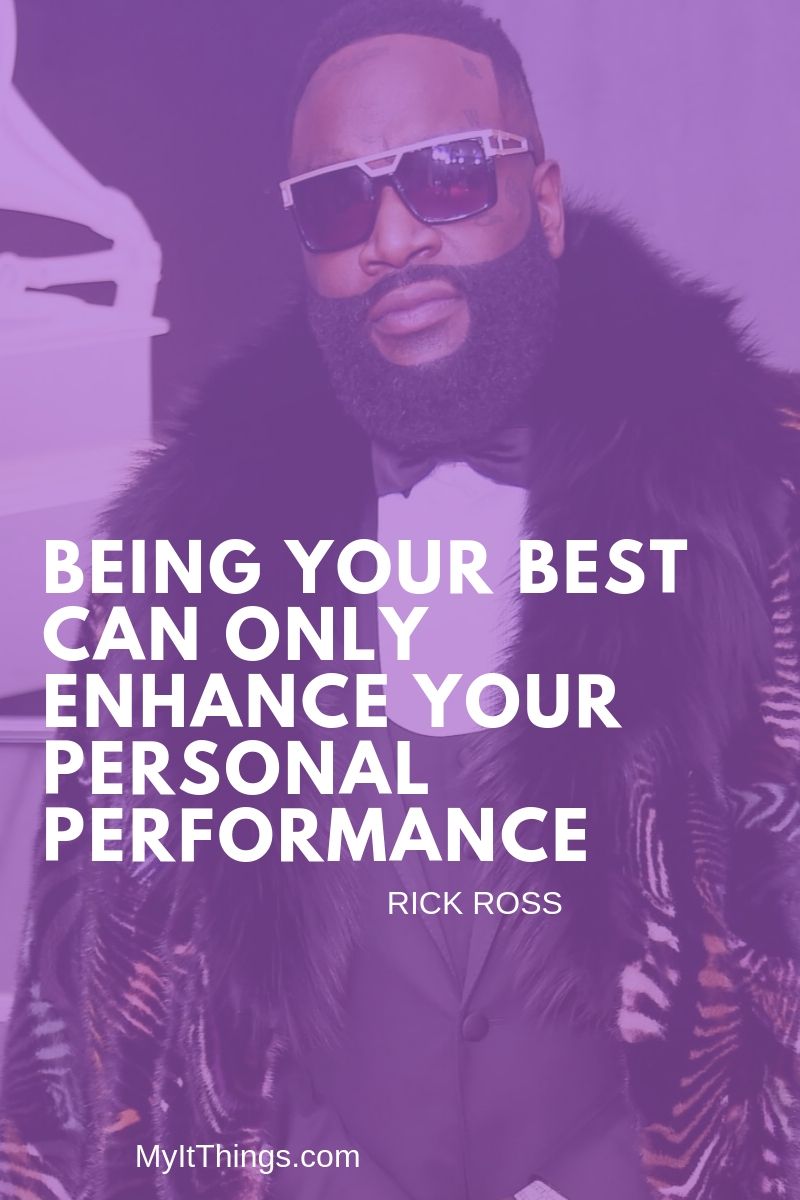 Being your best can only enhance your personal performance. ~Rick Ross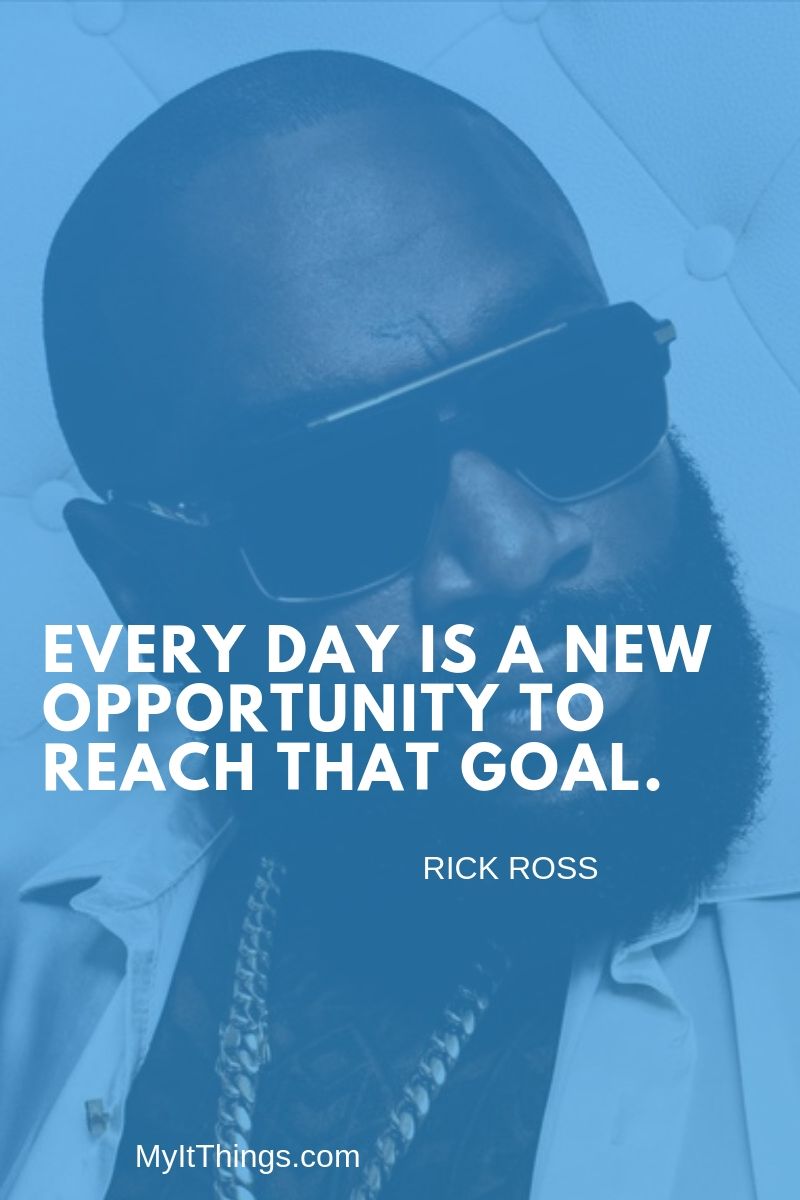 Every day is a new opportunity to reach that goal. ~Rick Ross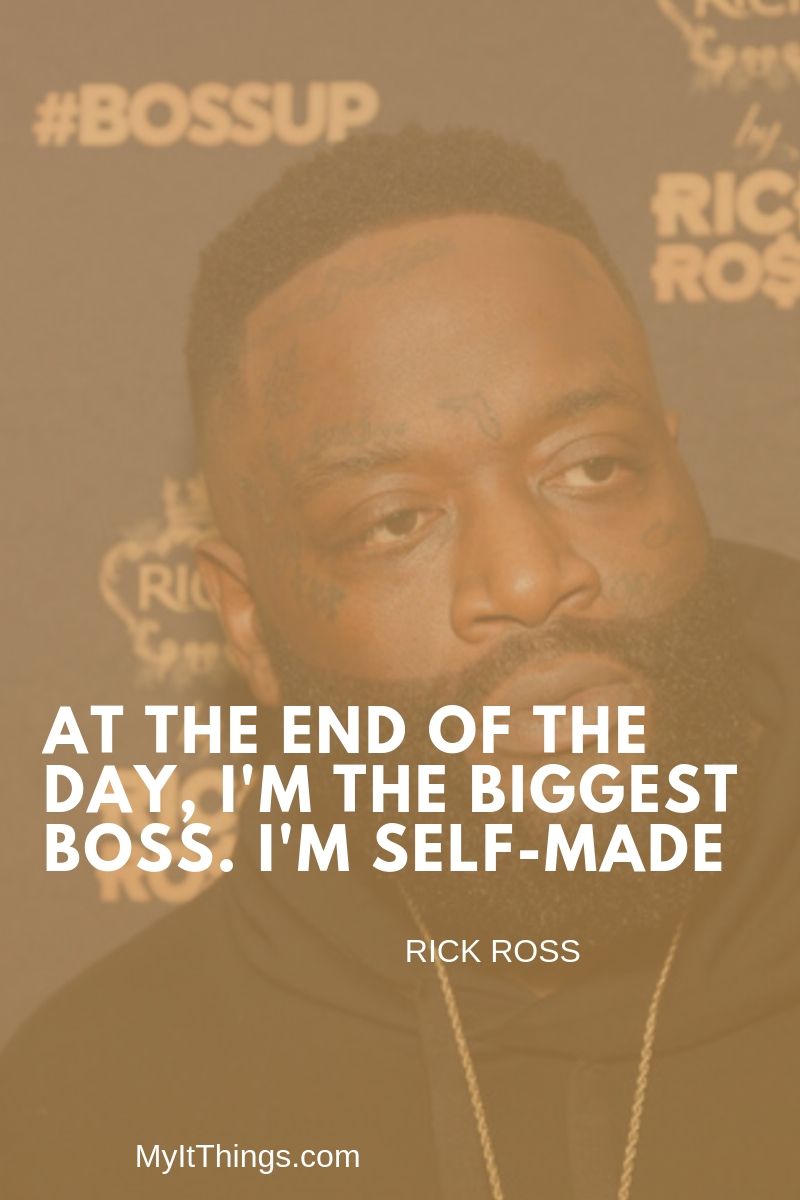 At the end of the day, I'm the biggest boss. I'm self-made. ~Rick Ross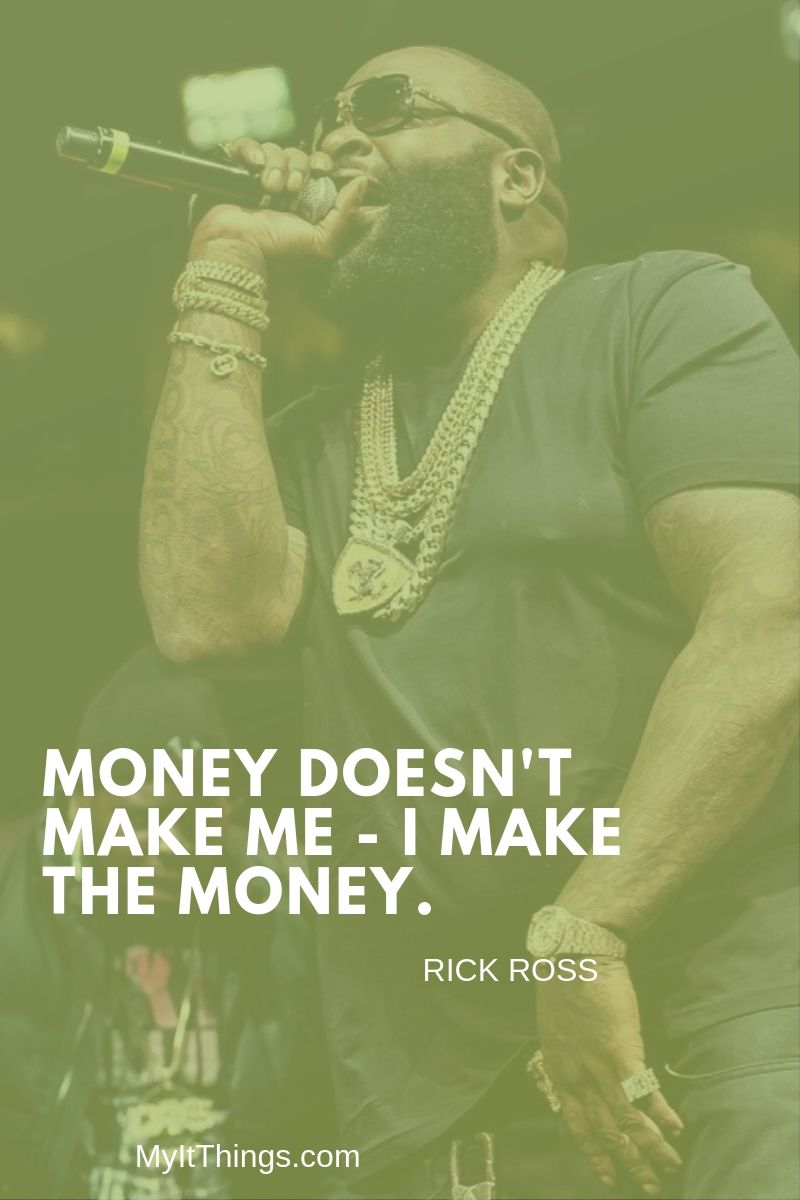 Money doesn't make me – I make the money. ~Rick Ross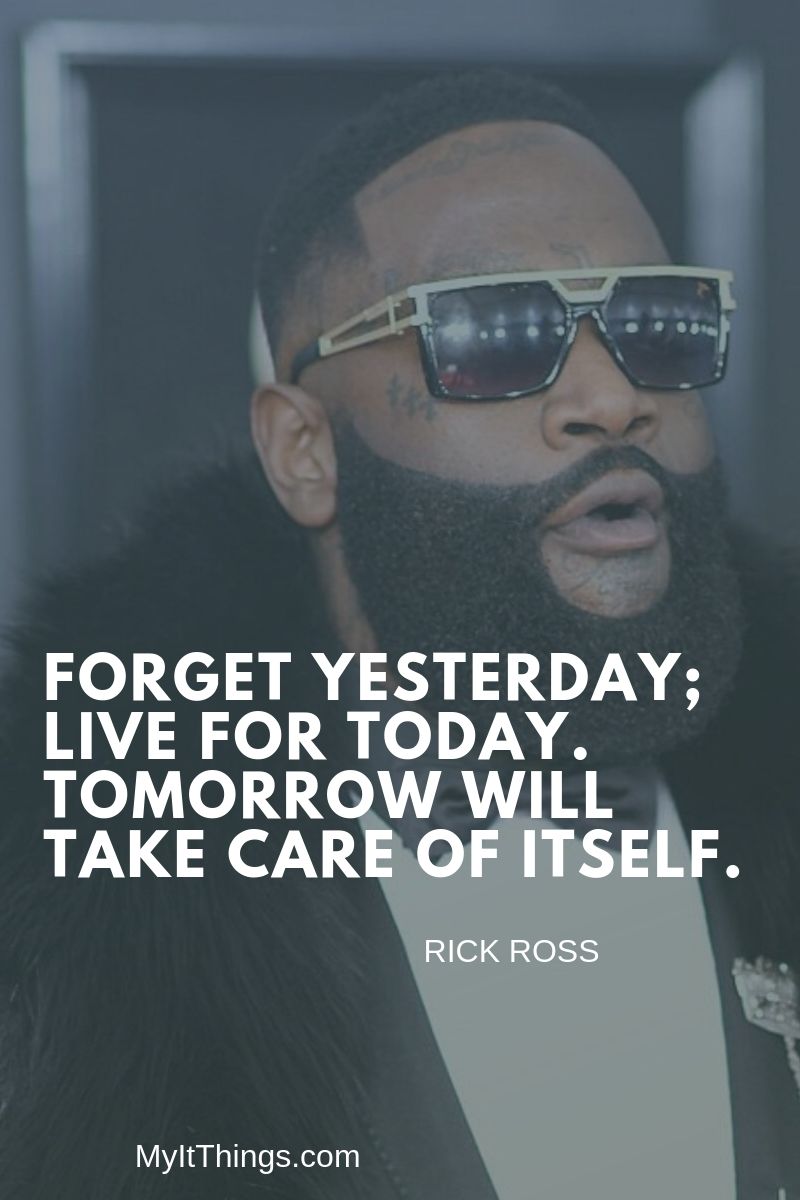 Forget yesterday; live for today. Tomorrow will take care of itself. ~Rick Ross
References:
https://en.wikipedia.org/wiki/Rick_Ross
https://en.wikipedia.org/wiki/Hustlin%27
https://www.youtube.com/watch?v=wOvJtCZRVvo