Who is Ryan Fitzpatrick?
Ryan Fitzpatrick is an American football quarterback who currently plays for the Tampa Bay Buccaneers of the National Football League.
Which teams has he played before?
Ryan played high school football from Gilbert Highland School and then college football from College. In 2005, he was drafted by the St. Louis Rams in the seventh round of the 2005 NFL Draft. He has played with teams like St Louis Rams (2005-2006), Cincinnati Bengals (2007-2008), Buffalo Bills (2009-2012), Tennessee Titans (2013), Houston Texans (2014), and New York Jets (2015-2016).
He signed with Tampa Bay Buccaneers in 2017 on a one year deal. On March 9, 2018, he signed a one-year contract extension with the Buccaneers.
Career Highlights:
In 2004, he was named the Ivy League player of the year as he collected 1,986 yards with 13 touchdowns and 6 interceptions. He also led his Harvard College to 10-0 record helping them to win the Ivy League Championship.
He ranks second on Harvard's career list for pass completions touchdowns, yards passing and pass completion percentage.
In 2008 NFL, he ranked third in rushing yards among quarterbacks, finishing behind Tyler Thigpen and David Garrard.
---
Also Read: Patrick Mahomes Height, Age, Salary, Net Worth & Stats
---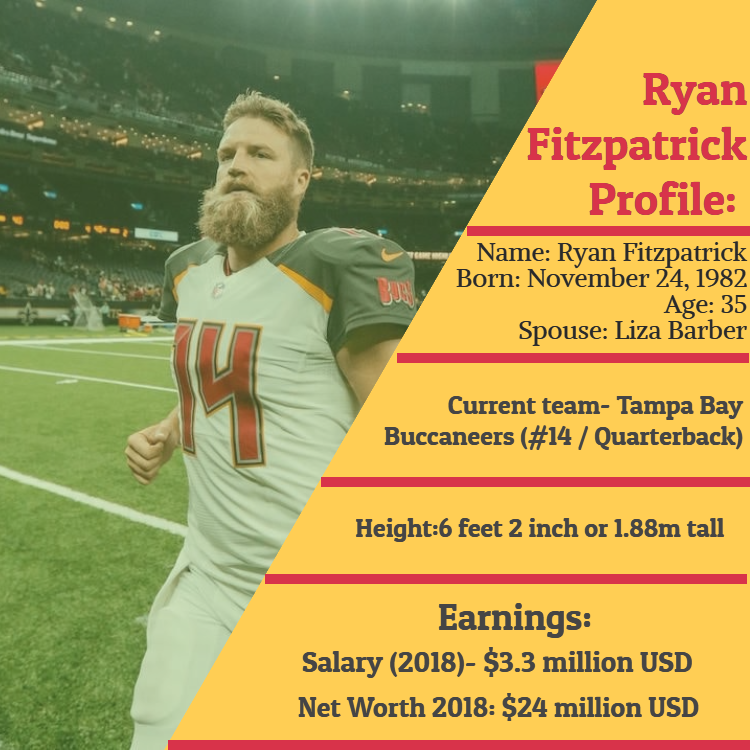 Ryan Fitzpatrick Height
The Buccaneers quarterback stands 6 feet 2 inch or 1.88m tall. He weighs 101 kg or 223 pounds.
His height compared to other players:
| | |
| --- | --- |
| Eric Decker (1.91m) | Fitzpatrick is 0.03 m short that Eric Decker |
| Josh McCown (1.93m) | Fitzpatrick is 0.05 m shorter than Josh McCown |
| Brock Osweiler (2.01m) | Fitzpatrick is 0.13 m shorter than Brock Osweiler |
| Jameis Winston (1.93m) | Fitzpatrick is 0.05 m shorter than Jameis Winston |
| Lavonte David (1.85m) | Fitzpatrick is 0.03 m taller than Lavonte David |
Ryan Fitzpatrick Earnings and Net Worth
Fitzpatrick has career earnings of total $58.04 million over fourteen seasons. On 2018, he signed one year, $3.3 million contract with Tampa Bay Buccaneers including $1.3 million signing bonus. He will earn a base salary of $2,000,000 and a roster bonus of $1,300000.
According to Richest, Ryan Fitzpatrick is currently worth over $24 million
Fitzpatrick Total cash for last five years
| | | |
| --- | --- | --- |
| Year | Team | Earnings (Total) |
| 2014 | Houston Texas | $4,000,000 |
| 2015 | New York Jets | $3,310,848 |
| 2016 | New York Jets | $12,000,000 |
| 2017 | Tampa Bay Buccaneers | $3,675,000 |
| 2018 | Tampa Bay Buccaneers | $3,300,000 |
Ryan Fitzpatrick Quotes
"It's not really a surprise. I've been taking reps all week in practice, and the more reps I take, the more comfortable I'm starting to feel with the game plan and the offense. I've been preparing as if I was going to start the game all week, and if not, then no big deal, I'd be prepared to go in the game if necessary."- Fitzpatrick
"Going in and not being the starter, you kind of get thrown into the situation so you don't have too much time to think about it, … Once I got that first ball out of my hands, I was fine."-Fitzpatrick