Who is DeMarcus Ware?
DeMarcus Ware is a retired American football outside linebacker and defensive end who played nine seasons with the Dallas Cowboys and then three years with Denver Broncos of the National Football League.
He is now one of the contestants to take part in television dancing show "Dancing with the stars".
Which teams has he played before?
DeMarcus played his high school football from Auburn High School where he played as both linebacker and wide receiver. He played his college football from Troy University where he was two-time All-Sun Belt Conference selection for the Troy Trojans football team.
In 2005, he was drafted by Dallas Cowboys in the 11th overall pick in the first round of NFL Draft. He played nine seasons with Dallas Cowboys (2005-2013) and then played three seasons with Denver Broncos (2014-2016).
Career Highlights:
Ware won Super Bowl 50 over the Carolina Panthers playing with Denver Broncos.
At the end of 2012 season, Ware recorded 10+ sacks in seven straight seasons. Only two other players in NFL history have more consecutive seasons with 10+ sacks.
He is 9 times Pro Bowl champion, 4-time First-team All-Pro, NFL 2000s All-Decade Team, 2 times All-Sun Belt and Sun Belt Defensive Player of the year.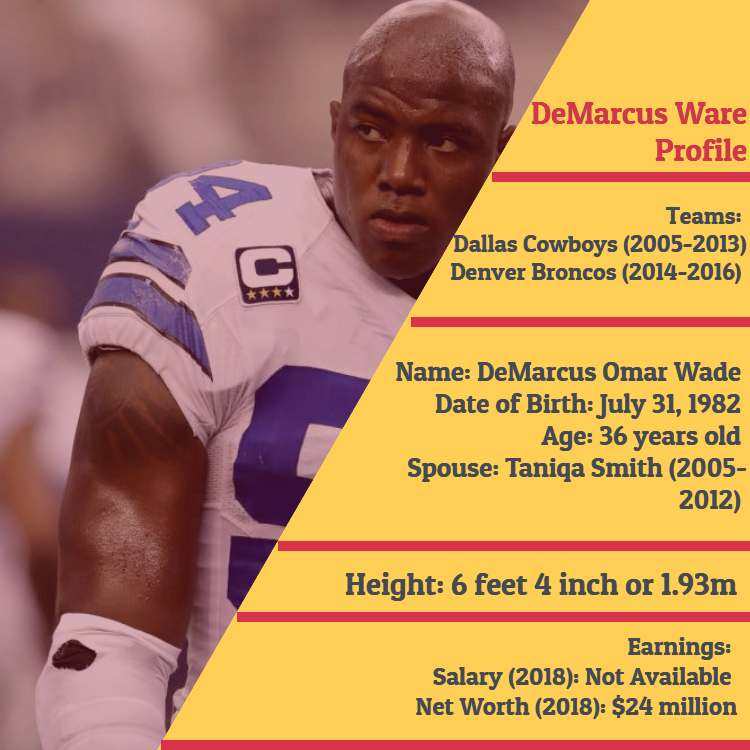 DeMarcus Ware Height
DeMarcus stands 6 feet 4 inches or 1.93 m tall. He weighs around 117 kg or 158 pounds.
DeMarcs Ware height compared to other players
| | |
| --- | --- |
| Von Miller height (1.91m) | DeMarcus is 0.02 m taller than Von Miller |
| T.J. Ward height (1.78 m) | DeMarcus is 0.15 m taller than T.J. Ward |
| Jason Witten height (1.98 m) | DeMarcus is 0.05 m shorter than Jason Witten |
| Peyton Manning height (1.96 m) | DeMarcus is 0.03 m shorter than Peyton Manning |
| Aqib Talib height (1.85 m) | DeMarcus is 0.08 m taller than Aqib Talib |
DeMarcus Ware Net Worth and Salary
In 2014, DeMarcus signed a three year, $30 million contract with $20 million guaranteed money with Denver Broncos.  His annual average salary was $10 million.
DeMarcus' last five year earnings during his time at NFL.
| | | |
| --- | --- | --- |
| Year | Team | Total Cash |
| 2012 | Dallas Cowboys | $5,000,000 |
| 2013 | Dallas Cowboys | $6,500,000 |
| 2014 | Denver Broncos | $13,000,000 |
| 2015 | Denver Broncos | $7,000,000 |
| 2016 | Denver Broncos | $6,343,750 |
DeMarcus Ware Net Worth 2018 (as per Celebrity Net Worth): $24 million
DeMarcus Ware Quotes
"Power is nothing without a rock solid core. Pilates is the key to activating it…guys don't be fooled just 'cause women do it. It's no joke. Try it and you'll find out real quick." – DeMarcus Ware
"I think it doesn't matter what type of helmet you wear. If you don't know the hit is coming your body is not going to tense up and get ready for impact." – DeMarcus Ware
"Sometimes in the heat of the battle you just got to calm down and use what you do in practice to avoid the penalties." – DeMarcus Ware
"I have an opportunity to look kids in the face and let them know it's not about where you come from; it's how you use what you have to get to where you need to be." – DeMarcus Ware