Lamar Jackson is an NFL player who has the role of quarterback for the Baltimore Ravens. He signed a four-year deal worth $9.5 million in 2019, which included a $4.97 million signing bonus and an average salary of $2.38 million per year.
His net worth is estimated to be around $5 million. Although he had taken the rather unusual step of promoting his own Era 8 Apparel instead of signing a major endorsement deal, Jackson has recently signed a deal with Oakley Inc. The figures involved in his first endorsement deal haven't yet been revealed.
The Start of His Football Story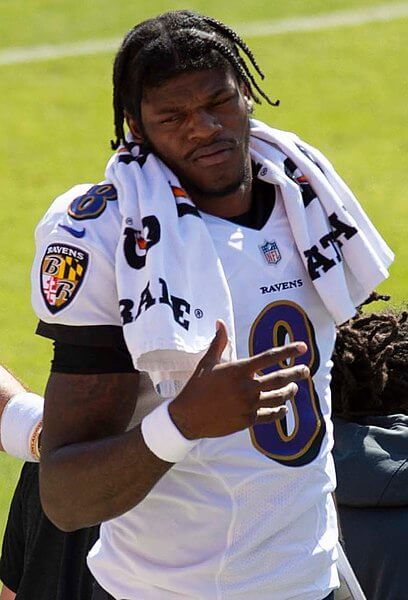 Lamar Jackson was born on January 7, 1997 in Pompano Beach, Florida. His family lived in difficult financial circumstances, with his father dying when he was just eight years old. The Pompano Beach Cowboys were his first football team and he already stood out for his throwing ability at a young age.
He played varsity football at Boynton Beach before moving on to the University of Louisville. Among the highlights of this time, he was the MVP in the 2015 Music City Bowl after setting a rushing record with 226 yards and a couple of touchdowns to his name.
After a hugely successful college career with numerous awards, Jackson entered the 2018 NFL Draft. With some doubts over whether he would be a hit as a quarterback, he resisted the chance to change position and insisted that he would continue as a quarterback in the NFL.
The Ravens selected him as the 32nd pick overall in the first round and he started his career in Baltimore as a backup until starting quarterback Joe Flacco suffered an injury and he had to step in for his first game, against the Buffalo Bills.
His NFL Career
Jackson's NFL career got off to a storming start, as he helped his team to the AFC North title and then became the youngest quarterback to ever start a playoff game. Despite them losing the wild card round to the Los Angeles Chargers, the Ravens decided to change their entire offensive plan to suit his skills going forward.
In 2019, he had an outstanding season, winning the NFL Most Valuable Player award as a unanimous selection. Jackson became the fourth African-American quarterback to get the MVP award.
Among the most impressive statistics for this season, the young player set a record for the most yards rushed by a quarterback, and also made a league-leading total of 36 touchdown passes.
2019 had started in spectacular fashion, as he became the youngest quarterback to get a perfect passer rating in a 59-10 victory over the Miami Dolphins. Jackson then set a variety of franchise and league records as he blasted his way through the games.
For instance, he became the first NFL player to pass for over 200 yards and also rush for 150 yards or more in the same regular season game. Jackson then became only the second player to get a perfect passer rating twice in the same season and then landed the record of the first quarterback to throw at least four touchdowns in several different games the same season.
A Look Ahead
Lamar Jackson is still in the early stage of his NFL career, but the signs are that he could go on to become one of the most successful and celebrated players in history. If you look at NFL future bets, then guessing that he could be the MVP in an upcoming Super Bowl could turn out to be a smart move.
His work ethic and drive seem set to ensure that he goes on to have a tremendous career and become very rich at the same time.
If you like football and scouting for new talents, don't forget to click here and check the current College Football Odds: https://extra.betamerica.com/college-football/odds/