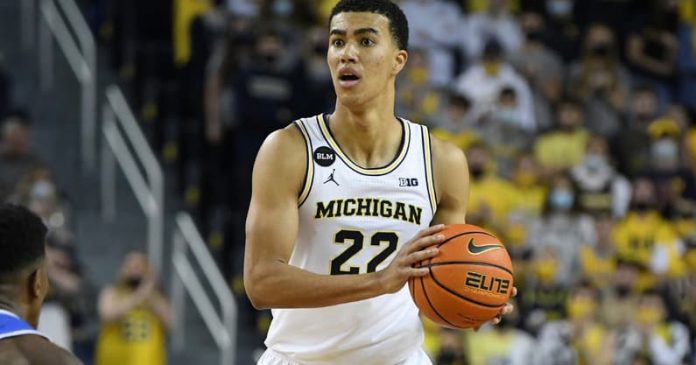 The NFL Super Bowl is now done and dusted, which means the attention of sports fans will soon switch to the NBA.
The draft might be a few months off still but that just means we've got more time to cast an eye over the best college basketball players to watch before the next draft comes around.
Here we provide you with our current top five, but if you want to know more about college basketball read more here.
Draft prospect number 5. Caleb Houstan
Team: Michigan Wolverines
Stats: 10.2 PPG, 4.1 rebounds, 1.4 assists, FG conversion 40.5%
Kicking off our look at the best college basketball players to watch before the next draft is Caleb Houstan. He is a six-foot, eight-inch shooting guard with an impeccable shooting touch. He also seems to elevate his overall game in big-time situations; that should stand him in good stead for the NBA.
For example, he played for Canada in the 2021 FIBA U19 World Cup and averaged 17 points, 5.7 rebounds and 2.4 assists per game. The only reason he is ranked lower on this list is that he ultimately went to the Michigan Wolverines and declined offers from Duke, Arkansas and Alabama. Houstan is one of the best shooters in the nation that isn't in the NBA.
Draft prospect number 4. Jaden Ivey
Team: Purdue Boilermakers
Stats: 17.4 PPG, 5.0 rebounds, 3.1 assists, FG conversion 47.7%
Jaden Ivey had surprised a lot of people when he decided to return to college and continue playing for Purdue. In his freshman season, he averaged 11.1 points, 3.3 rebounds and 1.9 assists per game. He was on the Big Ten All-Freshman Team that season. In his last six games during that run, he averaged 18.2 points, proving that his scoring abilities were starting to go to another level.
On top of all that, Ivey had played for Team USA back in FIBA U19 in Latvia. During that tournament, Ivey was the second-leading scorer with 12.3 points per contest, helping win a gold medal. His shooting ability and athleticism make him a very viable offensive weapon for teams in need of scoring power.
Draft prospect number 3. Jalen Duren
Team: Memphis Tigers
Stats: 11.3 PPG, 7.9 rebounds, 1.2 assists, FG conversion 63.8%
Taking the bronze medal position here is Memphis center, Jalen Duren. He has shown unbelievable potential. Duren is not only putting up good numbers but he has been a joy to watch lately too because he has NBA-ready talent already.
His last high school season saw him average 15.5 points, 10.6 rebounds and 2.4 blocks per game, leading his team to a 20-1 overall record. He absolutely dominates the paint offensively and can even hold up a team up defensively, which is a skill that has seen him likened to Utah Jazz man Rudy Gobert. Everybody expects very great things from him.
Draft prospect number 2. Paolo Banchero
Team: Duke Blue Devils
Stats: 17.0 PPG, 8.7 rebounds, 2.6 assists, FG conversion 47.9%
Next up is Paolo Banchero. The Blue Devils man actually had a brief time where he was ranked as the number one upcoming prospect before some concerns regarding his hydration came into play. There were stories that he needed to drink tons of water each game in order to play because of how quickly he felt dehydrated; it raised wider health concerns.
Despite that, he is expected to be a top-three pick in the upcoming draft. He displays a ridiculous amount of ball-handling and playmaking for a six-foot, ten inches forward. During his high school days, he averaged 22.6 points, 11.0 rebounds, 3.7 assists and 1.6 blocks per game; he hasn't dropped too far from that with the step up to college!
And the number one NBA draft prospect is…
Number 1. Chet Holmgren
Team: Gonzaga Bulldogs
Stats: 14.5 PPG, 9.3 rebounds, 2.0 assists, FG conversion 63.7%
When talking about the best college basketball players to watch before the next NBA draft Chet Holmgren not only has the highest ceiling of everyone but he is arguably the most accomplished player in college basketball at the moment as well.
He won multiple state titles with Minnehaha Academy in Minnesota during his high school years and even got the Naismith Prep Player of the Year, the Gatorade National Player of the Year and the Morgan Wootten National Player of the Year.
On top of that, he was named to the McDonald's All-American team. The seven-footer will understand what the transition to the NBA is like as well because he is close friends with Jalen Suggs, the newly drafted guard on the Orlando Magic. Holmgren is a five-star prospect right now and currently ranked number one nationally by ESPN. He is definitely the man to watch right now.
Now, you know our view of the best college basketball players to watch ahead of the upcoming draft. Why not let us know your top five predictions?