Who is Zion Williamson?
Zion Williamson is an American basketball player for the Duke Blue Devils representing Duke University of the Atlantic Coast Conference. He is considered one of the top prospects for the 2019 NBA draft.
Who are Zion Williamson's Parents?
Zion was born on July 7, 2000, in North Carolina to Lateef Williamson and Sharonda Sampson. His father Lateef was a defensive lineman who earned All-American honors at Mayo High School. His mother Sharonda was a sprinter at Livingstone and later became a middle school health and physical education teacher.
When Zion was five years old, his parents got divorced and his mother Sharonda married former Clemson basketball player Lee Anderson. He also has one brother named Noah Williamson who is 13 years junior.
Zion Williamson Career:
Zion had an interest in basketball from a young age. He played in youth leagues for the Sumter Falcons on the Amateur Athletic Union facing nine-year-old opponents when he was only 5 years old. He then developed his basketball skills working with his stepfather Lee Anderson, a former Clemson basketball player.
Williamson went to Johnakin Middle School and then Spartanburg Day School in South Carolina. As a freshman at Spartanburg Day School, he averaged 24.4 points, 9.4 rebounds, 2.8 assists, 3.3 steals, and 3.0 blocks, earning All-State and All-Region honors.
In his second season, he averaged 28.3 points, 10.4 rebounds and 2.5 assists per game. He also helped his team to win its first South Carolina Independent School Association title. As a senior, he averaged 36.4 points and 11.4 rebounds winning his third state title.
Zion received several offers to play for colleges including Wofford, Clemson, LSU but he decided to play basketball for Duke University.  At Duke, he played alongside R. J. Barrett and Cameron Reddish, the best recruits making the college to sign the top-3 recruits in a class.
Williamson made his debut for Duke on August 18, 2015, in a win against Ryerson University. He recorded 29 points and 13 rebounds. Due to his tall stature and skills, he has been widely praised by several former players. Kevin Durant described him as a 'once in a generation type athlete'. Due to his physical prowess, he is also compared with NBA players like Julius Randle and LeBron James.
In 2019 NCAA Tournament, he recorded 32 points, 11 rebounds, and 4 assists in a tight 77-76 second-round victory over UCF. Williamson joined the likes of Kevin Durant and Anthony Davis as the only freshman to collect 500 points, 50 steals, and 50 blocks in a season.
On April 15, 2019, Zion declared himself eligible for the 2019 NBA Draft.
Zion Williamson Height and Weight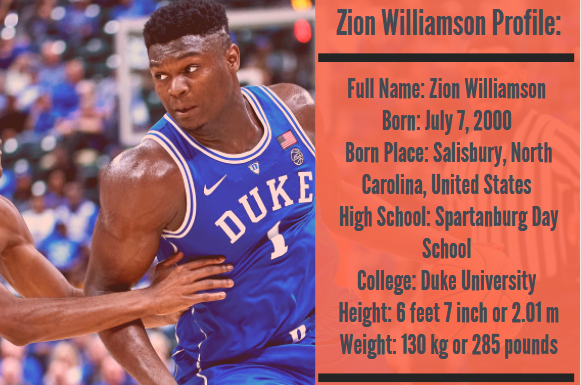 At the age of 18, Zion stands to be 6 feet 7 inch or 2.01 m tall. He was 5 feet 9 inch tall in his eight grade but grew 6 inches taller in between eighth and ninth grade. By his sophomore year, he stood 6 feet 6 inch or 1.98m tall. Meanwhile, his weight is massive considering he is only 18 years of age. He weighs massive 130 kg or 285 pounds.
Zion Williamson height compared to other players of his age:
| | |
| --- | --- |
| R.J. Barrett height (2.01 m) | Williamson and R.J. Barrett are of the same height. |
| Cameron Reddish height (2.03 m) | Reddish is one inch taller than Williamson. |
| Lonzo Ball height (1.98 m) | Lonzo Ball is one inch shorter than Williamson. |
| Shareef O'Neal height (2.06 m) | Williamson is two inches shorter than Shareef O'Neal. |
Zion Williamson Net Worth & Salary
He is currently playing with the Duke Blue Devils of the Atlantic Coast Conference. We have no precise information about his salary but according to reports, the D-league player earns around $50,000 a year