Tottenham Hotspur is one of the biggest clubs in England. They are not a superpower when compared to the likes of Manchester United, Manchester City, Real Madrid, Barcelona, and Bayern Munich but slowly by slowly they are on the verge of reaching as one of the biggest clubs in the World.
Their recent success is mainly due to the manager Mauricio Pochettino. He has been able to hold the world class players like Harry Kane and Christian Eriksen despite interest from other clubs like Real Madrid, Barcelona and Manchester United. On the other side, Daniel Levy is also responsible for their recent success. Recently, he offered Pochettino to a new five-year contract worth up to £8.5 million a year and many players like Hugo Lloris, Jan Vertonghen, Dele Alli and Christian Eriksen are also expected to follow his lead.
Tottenham Hotspur Players Salaries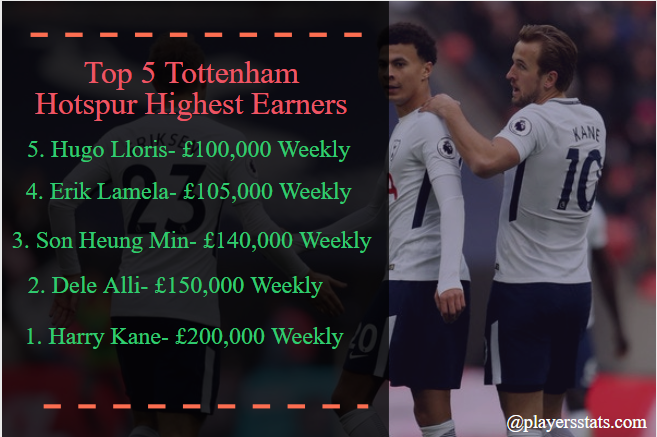 Harry Kane is at the top of the list earning more £200,000 per week. He signed a six-year deal on June 2018, earning £200,000 a week including bonuses which almost doubles his previous weekly salary. His weekly salary ranks him at No. 10 on the Premier League's top 10 earners. Alexis Sanchez of Manchester United is currently at the top of the list earning £500,000 a week.
Meanwhile, Dele Alli has also committed to the club until 2024. It is reported that he signed a six-year contract with Spurs that will keep him till 2014. He currently earns £150,000 per week.
Tottenham Hotspur Players Salaries in Detail
| | | |
| --- | --- | --- |
| Players | Annual Salary | Weekly Salary |
| Harry Kane | £10,400,000 | £200,000 |
| Dele Alli | £7,200,000 | £150,000 |
| Son Heung Min | £7,280,000 | £140,000 |
| Erik Lamela | £5,460,000 | £105,000 |
| Hugo Lloris | £5,200,000 | £100,000 |
| Jan Vertonghen | £5,200,000 | £100,000 |
| Toby Alderweireld | £4,160,000 | £80,000 |
| Serge Aurier | £4,160,000 | £80,000 |
| Moussa Sissoko | £4,160,000 | £80,000 |
| Christian Eriksen | £3,900,000 | £75,000 |
| Fernando Llorente | £3,900,000 | £75,000 |
| Lucas Moura | £3,900,000 | £75,000 |
| Michel Vorm | £3,224,000 | £62,000 |
| Ben Davies | £3,120,000 | £60,000 |
| Eric Dier | £3,120,000 | £60,000 |
| Danny Rose | £3,120,000 | £60,000 |
| Davidson Sanchez | £3,120,000 | £60,000 |
| Mousa Dembele | £2,860,000 | £55,000 |
| Kieren Trippier | £2,080,000 | £40,000 |
| Georges-Kevin N'Koudou | £1,820,000 | £35,000 |
| Vincent Janssen | £1,768,000 | £34,000 |
| Joshua Onomah | £1,560,000 | £30,000 |
| Victor Wanyama | £1,352,000 | £26,000 |
| Harry Winks | £1,300,000 | £25,000 |
| Cameron Carter-Vickers | £1,040,000 | £20,000 |
| Paulo Gazzaniga | £1,040,000 | £20,000 |
| Kyle Walker-Peters | £1,040,000 | £20,000 |
| Juan Foyth | £936,000 | £18,000 |