Who is Magnus Carlsen?
Magnus Carlsen is a Norwegian chess master who is the current World Chess Champion. He is one of the best chess players, the world has ever seen.
Magnus Carlsen Early Life
Magnus was born on November 30, 1990, in Norway. His father Sigrun Øen was a chemical engineer while his father Henrik Albert Carlsen was an IT consultant. Carlsen was a genius from an early age; when he was two years old, he could solve 50 piece jigsaw puzzles. At the age of four, he enjoyed assembling Lego sets with instructions intended for children aged 10-14.
His father taught him to play chess at the age of five but he showed little interest in the game at that time. He said that one of the things that motivated him to take chess seriously was the desire to beat his elder sister at the game.
Carlsen developed his chess skills by playing by himself for hours moving the pieces around searching for the combinations and replaying games and positions shown to him by his father. He was coached at the Norwegian College of Elite Sport by the Simen Agdestein who was country's best player that time. From 2000 to 2002, Carlsen played more than 300 tournament games, several blitz tournaments and also participated in minor events. After completing his school, he took a year off to participate in an International chess tournament and during that time he placed joint-third in the European under 14 Championship and ninth in the World Under-14 Championship.
Professional Chess Career
Carlson was a chess genius from an early age. He tied for the first place in the World U12 Chess Championship in 2002. He finished first in the Group C of the Corus Chess tournament and a few months later, he earned the grandmaster title. He won the Norwegian Chess Championship at the age of 15 and at 17, he finished joint first in the top group of Corus.
He surpassed a rating of 2800 in 2009 and reached number one in the FIDE World Rankings in 2010, becoming the youngest person ever to achieve that number. In 2013, he became World Champion by defeating Viswanathan Anand. He again won against Anand the following year, retaining his title. The same year he also won World Blitz Championship. Two years later he defended his title against Sergey Karjakin. In 2014, he achieved an all-time high record rating of 2882. As of October 2018, he is ranked number one in the FIDE rapid and blitz rating with Elo ratings of 2880 and 2939 respectively.
His achievements are uncountable. He won the Chess Oscars for 2009, 2010, 2011, 2012 and 2013. The Norwegian tabloid Verdens Gang named him 'Sportsman of the Year' in 2009 and in 2013. In 2013, TIME Magazine named him as on the list of '100 most influential people in the world'.
What Makes Magnus Carlsen so good at Chess?
Well, his desire for winning all the matches is insatiable. He is incredibly talented. He has an aggressive style of playing i.e. to attack the opposition from the start. He plays with a combined force of his skill and drives his opponents into errors. He plays calmly, without fear where few chess players are able to master that skill. This makes him the monster and dominating.
He is at the top of the game for more than 9 years. While many players come and go but he has been there and will be there for many years to come.
Magnus Carlsen Net Worth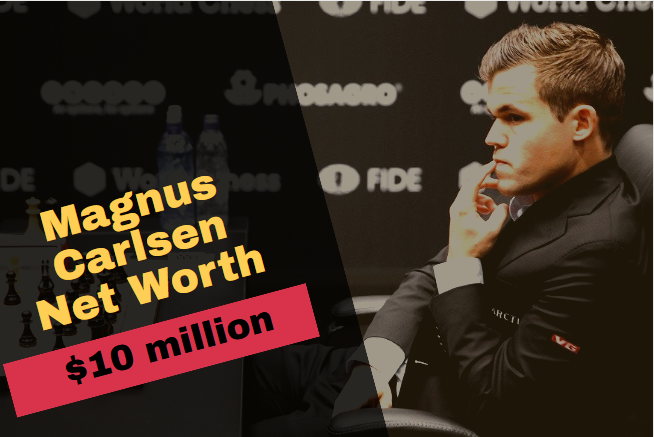 As of 2018, Magnus Carlsen net worth is estimated to be $10 million. Chess players usually rack up $1 million winning the tournament. So, it is fair to say that a good portion of it is gathered by prize money from tournaments.
Magnus also makes a significant amount of money through sponsorships, commercials, modeling and participating in the events. He has modeled for G-Star Raw's Fall/Winter 2010 advertising campaign with actress Liv Tyler. In 2004, he got his first sponsor: Microsoft. He also has his own company 'Play-Magnus AS'. He aimed of using this as a platform to use chess as a tool to make the world a smarter place.
He has also written several books including 'Learn Chess With Magnus', 'The Prince of Chess, a film about Magnus Carlsen,' and 'Smart Moves Magnus Carlsen: The World's Best Chess Player'. So we can also say that some of the money is also generated from book sells.
Magnus Carlsen Memorable Quotes
"Some people think that if their opponent plays a beautiful game, it's OK to lose. I don't. You have to be merciless."- Carlsen
"Not winning a tournament is not an option for me, unless it's no longer theoretically possible – then of course winning becomes impossible. But up to that point, not winning is just not an option."- Carlsen
"I am not some sort of freak. I might be very good at chess but I'm just a normal person."-Carlsen
"I spend hours playing chess because I find it so much fun. The day it stops being fun is the day I give up."-Carlsen
"One of the things that first attracted me to chess is that it brings you into contact with intelligent, civilized people – men of the stature of Garry Kasparov, the former world champion, who was my part-time coach."- Carlsen