Who is Michael Oher?
Michael Oher is a professional American football player who is currently a free agent. Oher was drafted by the Baltimore Ravens in the first round of the 2009 NFL Draft.
Michael Oher Early Life & College Career
Michael was born on May 28, 1986, in Memphis, Tennessee as one of the 12 children of Denise Oher and Michael Jerome Williams. He had a difficult time growing up as his mother was an alcoholic and cocaine addict while his father used to spend time frequently in prison.
Oher attended Briarcrest Christian School where he played football under the guidance of Hugh Freeze. He was named Division II Lineman of the year in 2003 and First Team Tennessee All-State. He was a five-star recruit and No. 5 offensive lineman prospect in the country according to Scout.com.
Although he was not good at study, he did receive a scholarship from several colleges like Tennessee, Louisiana State, Alabama, Auburn, and South Carolina. Eventually, he decided to play for Ed Orgeron at the University of Mississippi. His decision to play for the Ole Miss Rebels football team was full of controversy as his GPA was too low to meet the requirement for a Division I scholarship at that time. However, Oher corrected that difficulty by taking the online classes through Brigham Young University.
He started as a guard during his first season with Ole Miss Rebels. In 2006, he was named to various pre-season All-Conference and All-American teams. He was also named a second team Southeastern Conference offensive lineman after his sophomore season and a first-team SEC offensive lineman after his junior season.
During his time at college, he racked up several awards like 2005 First Team Freshman All-American, 2005 First Team SEC All-Freshman, 2007 First Team All-SEC, 2008 First Team All-American, 2008 Shug Jordan Award as the Southeast Offensive Lineman of the Year, 2008 SEC Jacobs Blocking Trophy and several more.
Michael Oher's Professional Career:
At that time, Michael was considered to be one of the hottest prospects for the NFL Draft. In 2009, he was selected by the Baltimore Ravens in the first round of the NFL Draft. He signed a $13.8 million contract with the Baltimore Ravens. He started 2009 season mostly as a left tackle after Jared Gaither got injured for several months. On February 3, 2013, Oher won his first Super Bowl ring after his team Ravens defeated the San Francisco 49ers 34-31 in the final.
Oher then moved to Tennessee Titans, where he signed a four-year, $20 million contract. On March 6, 2015, Oher signed a two-year, $7 million contract with Carolina Panthers. He was a part of the Panthers team that played in Super Bowl 50 in 2016 but the Panthers lost to Denver Broncos by a score of 24-10. On June 20, 2017, Oher was released by the Panthers after a failed physical test.
Oher was also the subject of Michael Lewis's 2006 book "The Blind Side: Evolution of a Game". The book was also adapted for a film where actor Quinton Aaron played as Michael Oher. The movie was nominated for Academy Awards for Best Picture.
Is Michael Oher Married?
Michael falls in the category of athletes who like to keep his relationship private. He has never been romantically linked to anybody or rumored to be connected with somebody else. There is no information about his girlfriend and he has no son or child of his own yet.
---
Also Read:
Patrick Mahomes Height, Age, Salary, Net Worth & Stats
DeMarcus Ware Height, Age, Salary, Net Worth & Stats
---
Michael Oher Net Worth and Career Earnings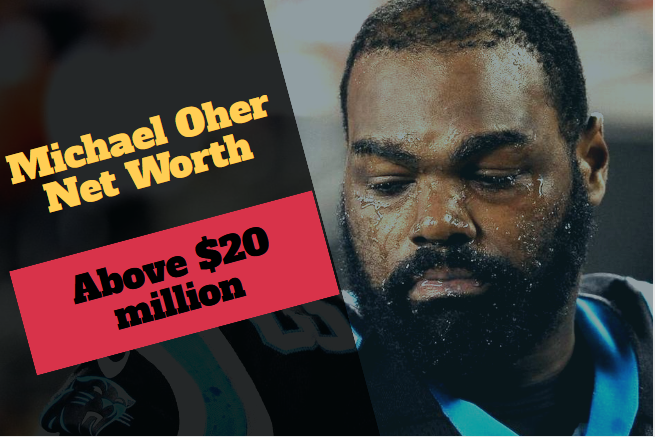 | | | |
| --- | --- | --- |
| Year | Salary (only) | Total Earnings |
| 2009 | $310,000 | $1,252,000 |
| 2010 | $395,000 | $6,963,000 |
| 2011 | $630,000 | $630,000 |
| 2012 | $865,000 | $865,000 |
| 2013 | $3,785,000 | $3,785,000 |
| 2014 | $2,000,000 | $6,000,000 |
| 2015 | $1,340,000 | $1,340,000 |
| 2016 | $1,100,000 | $3,671,875 |
| 2017 | | $7,750,000 |
Michael has earned a total of $34,506,875 playing for the Baltimore Ravens, Tennessee Titans, and Carolina Panthers. Celebrity Net Worth estimates his net worth to be $15 million while richest puts his net worth to be $20 million. Considering, he earned more than $34 million during his time at NFL only, we are pretty sure that Michael Oher net worth as of 2018 is more than $20 million.
Michael Oher Memorable Quotes
"If you know where your next meal is coming from, you are not poor."-Michael Oher
"Children who have been taken to live in the foster system are twice as likely to suffer from post-traumatic stress disorder than are American military members returning from war zones."- Michael Oher
"Anything is possible. My background is a bad background, but a lot of people said I couldn't do it. You can do anything if you put your mind to it."- Michael Oher
"There's a big difference between where I came from and the NFL. Things like this don't happen to people from there often. It just took a lot of hard work and dedication, staying on the right path, believing in myself, and having an inner drive."- Michael Oher