Speculation about Patrick Mahomes' contract is rife. Every single media outlet, from TV and radio to social media and print, is dropping its two cents on the matter, floating haughty figures (circa $40 million per annum) and the number of years his new contract could entail. There's no end to the heady cacophonous natter. Spreading like a bushfire across the NFL-dry landscape of the spring months, one can't look anywhere but to be overcome with the many exhausting discussions involving Mahomes' imminent new deal.
What are your expectations for a Patrick Mahomes contract extension?

The crew weighs in ⬇️ pic.twitter.com/afbrBTxRXq

— GMFB (@gmfb) March 3, 2020
What Mahomes' new deal will entail is without a doubt one of the hottest topics of the offseason, not just because there's a shortage of actual NFL action to talk about but because the wide consensus amongst leading NFL analysts is that Mahomes is potentially set to sign the NFL's first $200 million contract, propelling Mahomes' net worth sky-high.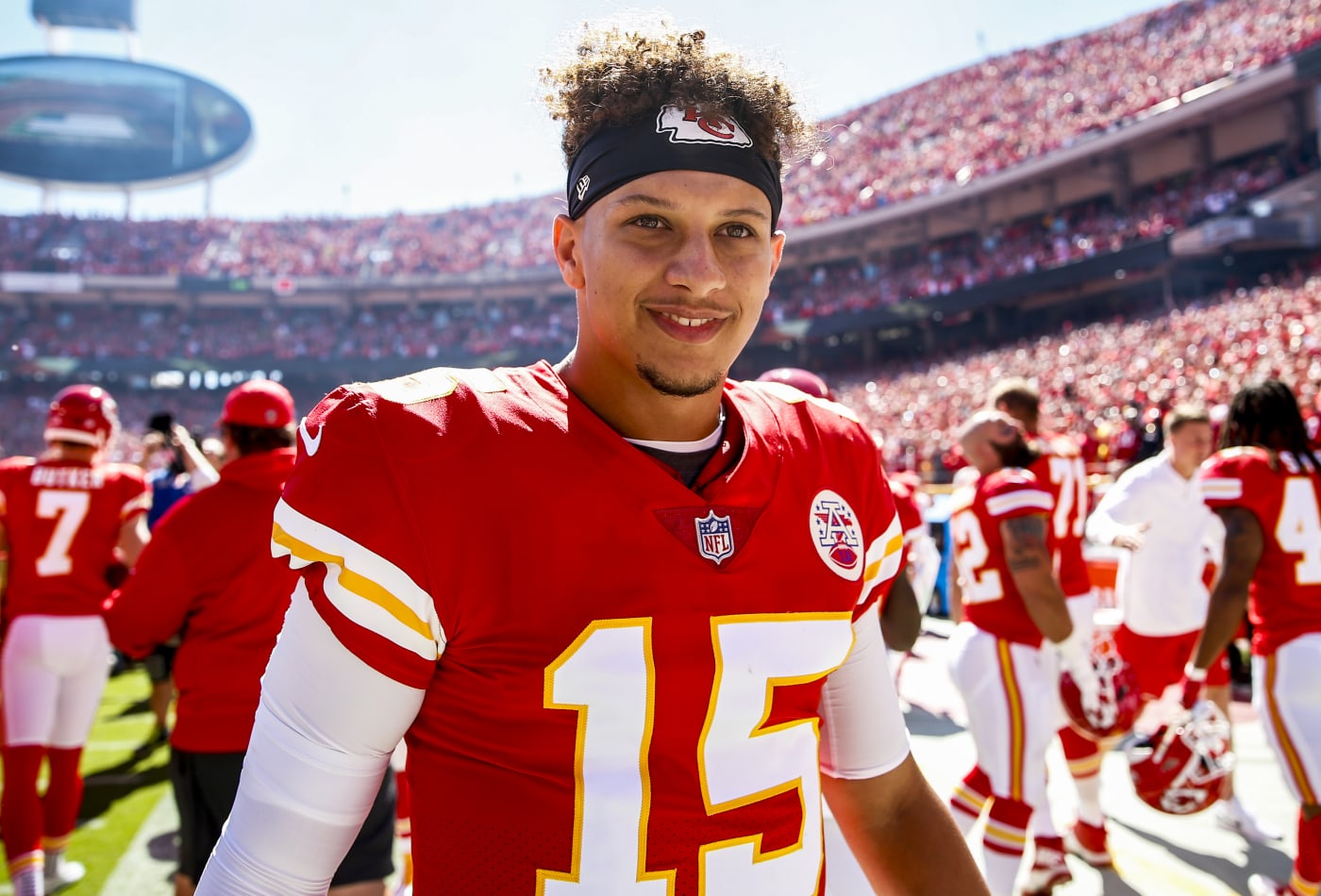 To stratospheric levels previously unseen in the league. Adjectives, such as mega, blockbuster, chartbuster, epic.., and so on, are giddily brandished about with abandon in reference to the size of the Chiefs' expected offer. Against NFL peers, in turn, Mahomes' reworked contract is predicted to "dwarf" (one of many adjectives used in reverse context) their then-record-breaking contracts.
The chorus to Beyond Hollywood's song, 'What's the colour of money', springs to mind:
What's the colour of money
what's the colour of money?
Don't tell me that you think it's green
me I know it's red!
Seahawks quarterback Russell Wilson, who signed a four-year, $140 million contract last off-season, which included a $65 million signing bonus and an average annual value of $35 million, was the last quarterback – never mind NFL player – to crack the ceiling, surpassing then a pair of quarterbacks at the top of the list: Ben Roethlisberger ($34 million per annum) and Aaron Rodgers ($33.5 million per annum).
Who can forget this cringe-worthy twitter gem…?
SEATTLE. Let's get it. @Seahawks #GoHawks pic.twitter.com/xeWnEnUzmR

— Russell Wilson (@DangeRussWilson) April 16, 2019
Mahomes, who was drafted in 2017 by the Kansas City Chiefs and spent his first year as a backup to Alex Smith, has two years left on his rookie deal, including a fifth-year option. In 2018, his first year as the starter, he smashed a slew of NFL records when he tossed for 50 TDs and 5.097 yards, a feat that earned him the regular season MVP award.
In only his second year he took the Chiefs to the Promised Land: Super Bowl LIV glory. Mahomes went 26 of 42 for 286 yards and 2TDs in a 31-20 victory over the Niners, a performance that also earned the 24-year-old quarterback the Super Bowl MVP award.
So far, Mahomes' part in all this, is nothing short of exemplary. He's the consummate professional, fielding questions about his contract with the kind of diplomacy born of a politician, answering questions generously all the while giving absolutely nothing of substance away.
In a recent interview with SiriusXM NFL Radio, he skirted the contract issue by saying, "I think the best thing about the team and this organization is they handle things the right way and they do things the right way." Continuing his twinkled-toe dance to say that he's content to go about his business the same way he's done since joining the franchise, promising to "go out there and love the game, treat people the right way and all that stuff will take care of itself.'
If that's not class, what is. The 24-year-old kid is inevitably going to become the highest-paid NFL player in the history of the game, yet he appears grounded. His maturity, poise, and humility is something to behold, to tip one's hat to.
He certainly has a bright future ahead, one that should transcend football when his career is well and truly done. Whether he goes the Tony Romo route (which incidentally also saw the former Dallas quarterback break the salary benchmark for NFL media analysts) or, heck, even Politics, the options are endless. But that's another debate. Let's not digress here.
Mahomes' mega-deal is not a matter of if but when. He's going to get paid, and not for what he accomplished in a short space of time but for his future stock value as well. By all accounts, he's likely to bestow Kansas City with more Super Bowl glory in the years to come. And that's something worth paying for in the broad spectrum of NFL business.
Whatever his contract may be, however grand it is, when he does ink the record-breaking contract, let's all just hope (fingers and toes fervently crossed nationwide) that we aren't treated to another cringe-worthy Twitter announcement. Don't think we can cope with another pillow-talk announcement.