Max Holloway is a well-known American mixed martial artist who competes in the Featherweight division of the Ultimate Fighting Championship (UFC). Holloway is one of the top figures not only in his division but the UFC as a whole having been the undisputed UFC Featherweight Champion. Max Holloway net worth as of 2019 is estimated to be $2 million.
Early Life
Holloway was born on December 4, 1991. He comes from a Native Hawaiian background which is the main reason why his Hawaiian heritage is carried on by carrying its flag in the octagon and even in his outfits and kits. He studied at Waianae High School where he first started to learn the art of kickboxing. Later on, Holloway focused his attention on the learning of Muay Thai as well.
By the time he was 19 years old, Holloway had already developed a name locally for his style of fighting and staying undisputed.
Career
View this post on Instagram
2012 was a big year for Holloway as his dream had started being a part of the UFC. His debut match came on February 4, 2012, against Dustin Poirier where he was the youngest fighter in the UFC at the time, which was an accomplishment in itself though he came up in the losing side this time. Holloway progressed steadily in the UFC and would face Conor McGregor in 2013, who would, later on, become the face of the UFC for many years. The fight was highly applauded by critics with Holloway losing the competition via unanimous decision but gained a lot of respect in the MMA community.
Yet, over the years, Holloway, for a change, would become known for his wins. Holloway faced Charles Oliveira on August 23, 2015, via a great TKO. This win would signify that he had become the youngest fighter in UFC history to get 10 wins. Another notable moment in his career was in 2017 when he faced then featherweight champion Jose Aldo for a title unification. He would beat Aldo via a TKO and surprisingly defeat Aldo who was not used to being defeated at all, let alone a TKO. That same year, he also signed a new multi-fight deal with UFC.
Holloway also has many records to his name. He has broken the record for most significant strikes in one fight with 290, broke the record for landing 134 of those significant strikes in a round, and set the record for most victories in UFC featherweight history with fifteen. Coming to 2019, he is set to fight against Dustin Poirier in a much-anticipated bout on April 13, 2019, at UFC 236.
Max Holloway Net Worth
Max Holloway net worth is estimated to be $2 million. This rise has been seen since his new deal in 2017 with the UFC. He has also been associated with Hyundai and Reebok and is the face of a protein drink named after him called Allmax. He is also a brand ambassador for Farmer's Market Hawaii.
Is Max Holloway Married?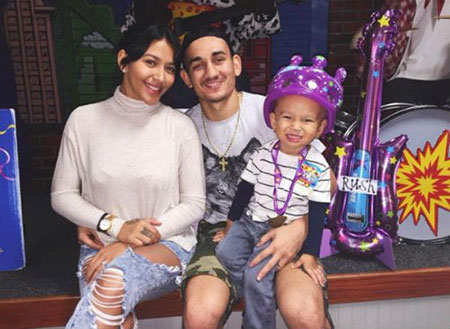 Holloway has a son named Rush Holloway with his then-girlfriend Kaimana Pa'aluhi. Sadly, they parted their ways and Holloway is reported to be dating Moani Hara.