Jessica Olsson is the lovely wife of NBA superstar Dirk Nowitzki. Jessica married Dirk on July 20, 2012, and they are living happily together since along with their three children.
Jessica was born in Sweden and is currently on her thirties. She belongs to mixed race as her father is originally from Sweden while her mother is from Kenya. Apart from supporting her husband while he is on the Basketball court, she is involved in working at Dallas Art Gallery and is also the associate director of the Goss-Michael Foundation.
Jessica's two brothers Martin Olsson and Marcus Olsson are professional football players who play club football on England and also represents sometimes their Swedish National team. It is fair to say where Jessica got affection towards sports.
Dirk Nowitzki and Jessica Olsson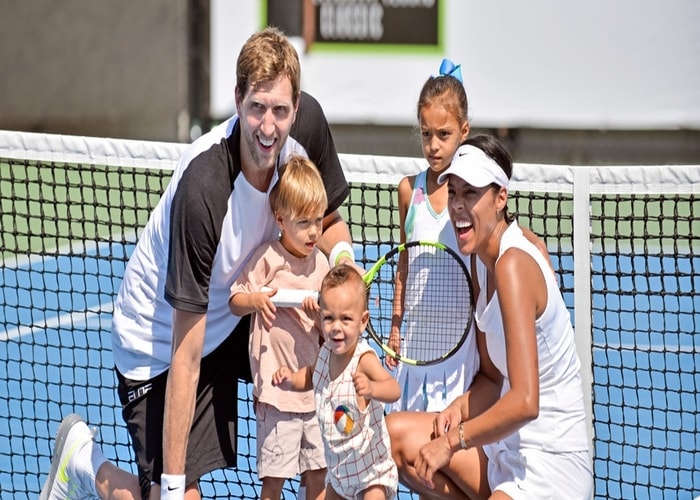 Dirk and Jessica first met in 2010 at a charity event organized for the Sports for Education and Economic Development. She caught the attention of basketball star Dirk Nowitzki. At that time, she worked at the Dallas art gallery.
After that, they began dating each other. The couple was seen in a first public appearance on the red carpet at The ESPYS award on July 13, 2011. After dating for a couple of years, they decided to marry and eventually got married on July 20, 2012, at Nowitzki's home in Dallas. They celebrated each other's backgrounds and had wedding ceremonies in both Germany and Kenya also.
The lovely couple now has three kids together; one girl and two boys. They welcomed their first child, a girl named Malaika in July 2013. Their second child, a boy named Max was born on March 24, 2015, while their final and youngest son Morris was born on November 11, 2016.
Regarding her size, Jessica Olsson is almost 2 feet less than her husband his. She stands to be 5 feet 1 inch while her husband Dirk Nowitzki is a 7-foot tall giant.