Elle Bielfeldt is the lovely wife of professional NBA superstar Meyers Leonard. The couple tied a knot in August 2015 at the Oregon Golf Club.
Before we move on to his wife, let's know who Meyers Leonard actually is?
Meyers Leonard is a professional basketball player who currently plays for the Portland Trail Blazers of the NBA. He was born on February 27, 1992, in Woodbridge, Virginia to James and Tracie Leonard.
He went to Robinson High School where he participated in basketball matches for a high school team. He led his school to the IHSA Class 2A State Championship. Leonard then started his college basketball journey at the University of Illinois.
Meyers was drafted with the 11th overall pick in the 2012 NBA draft. On July 13, 2012, he signed a rookie contract with Trail Blazers and on October 31, 2012, he played his debut game against Los Angeles Clippers. On 2016, he re-signed a four-year contract with Trail Blazers worth $41 million.
Meyers Leonard wife Elle Bielfeldt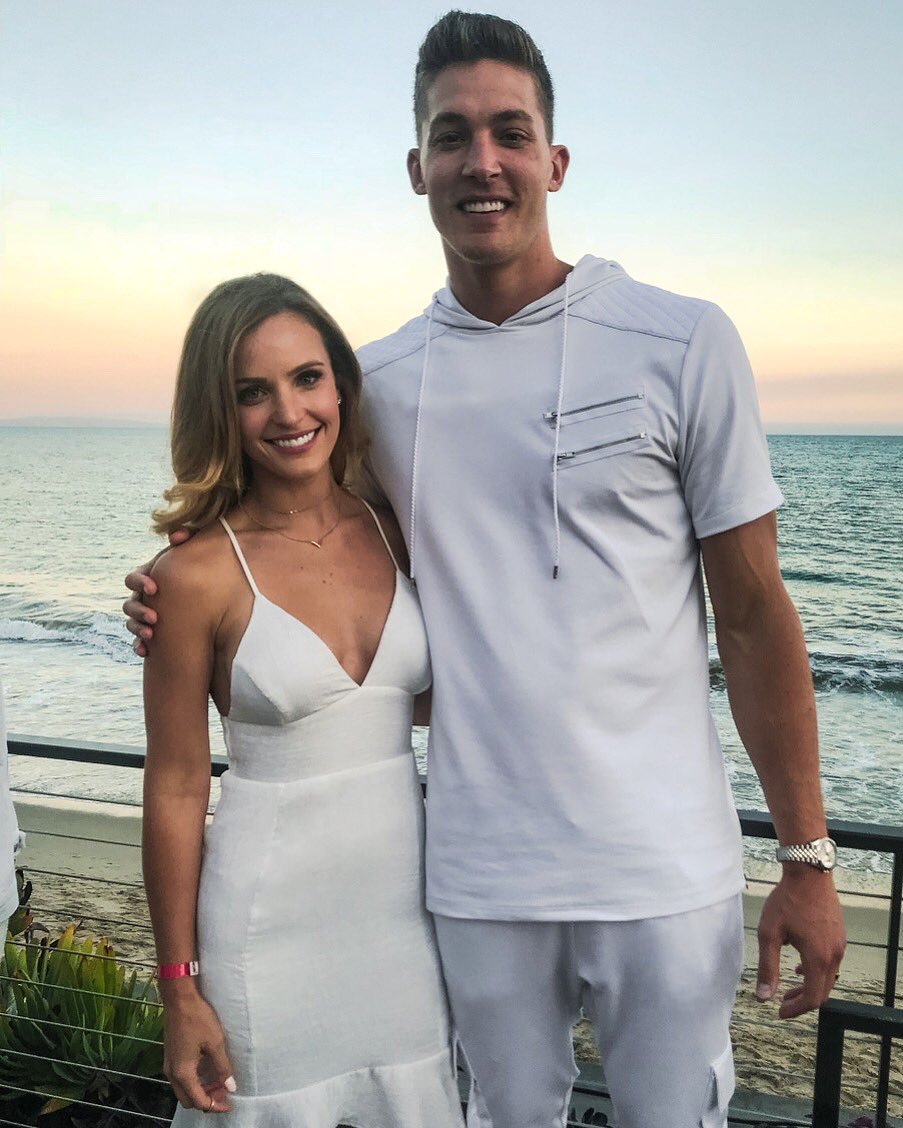 Meyers is a married person. He married his longtime girlfriend Elle Bielfeldt in 2015. Not very much is known about her personal life but what we know is that she was a basketball player in her Peoria Notre Dame high school. She also racked over 1000 points during her career.
Elle was born in 1992 which makes her 27 years old now. She is one of four children born to Julie and David Bielfeldt. She also has two sisters named Lydia and Matti and a younger brother named Max.
Her sister Matti played volleyball at the University of Illinois while Max played basketball at the University of Indiana. Meanwhile, her second younger sister Lydia is a cheerleader at Notre Dame High School.
Elle graduated with a bachelor's degree in advertising in 2014 from the University of Illinois. It was there where she met her future husband Meyers Leonard.
Meyers and Elle dated for three years and finally got engaged in 2014. Three years later, they tied the knot on August 2, 2015, at the Oregon Golf Club.
Elle is now the founder and CEO of the nutrition bars and snacks called 'Level Foods' which she founded in 2017. She is also the business manager of her husband Meyers Leonard Brand.