Tommy Caldwell is an American rock climber who has specialized in sport climbing, hard traditional climbing, big-wall speed climbing, and big-wall free climbing.
Early Life and Family
Caldwell was born on August 11, 1978, in Estes Park, Colorado. His father Mike Caldwell is a former teacher, professional bodybuilder, and rock climber. Tommy was introduced to rock climbing at a young age by his father. His mother Terry Caldwell was also a mountain guide.
Tommy's interest for the park and rock climbing flourished after his family including his father and sister went frequently on trips to Yosemite National Park.
Career
View this post on Instagram
Caldwell made the first ascents of some of the United States hardest mountains including "Kryptonite" and "Flex Luthor" at the Fortress of Solitude, Colorado. He completed the ascent of Dihedral Wall in May 2004 and a year later, he and Beth Rodden made the third and fourth free ascents of "The Nose".
On October 16, 2005, he free-climbed "The Nose" in less than 12 hours followed by 11 hours a few days later. He climbed "Freerider" in 12 hours. On El Capitan, Summit in California, Caldwell has also free-climbed routes like "Lurking Fear", "Muir Wall", "West Buttress", "Salathe", "Zodiac", and "Magic Mushroom". In January 2015, Caldwell and his friend Kevin Jorgeson completed the climb of "Dawn Wall" of El Capitan in Yosemite National Park.
He has also appeared in documentaries. "The Dawn Wall" documentary shows Caldwell and Jorgeson climb on the Dawn Wall while he has also appeared "Free Solo" which is about Alex Honnold's free solo ascent up El Capitan. In that documentary, he is seen working with Honnold to prepare for the climb.
On November 29, 2001, Caldwell accidentally lost a finger which could have ended his career. While using a table saw during a renovation of his home, he slipped and chopped off the index finger on his left hand. After that incident, the doctor told him that he would never again be strong enough to grip a rock. Caldwell instead decided to remove it completely.
In 2000, Caldwell and fellow climbers Beth Rodden, John Dickey, and Jason Smith were held hostage by rebels in Kyrgyzstan for around six days. He pushed a lone captor Ravshan Sharipov off a cliff and managed to escape to the government soldiers.
Tommy Caldwell Height and Weight
The rock climber stands to be 5 feet 11 inches or 180 cm tall. Meanwhile, he weighs 75 kg or 165 pounds.
Who is Tommy Caldwell Wife?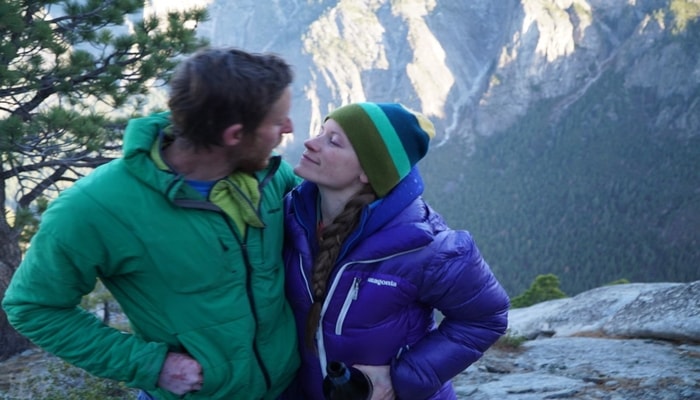 Tommy is married twice. In 2003, Caldwell married Beth Rodden but after seven years remaining together they divorced in 2010.
In 2010, he then met photographer Rebecca Pietsch. They married two years later in 2012. Together they have a son named Fitz and a daughter named Ingrid Wilde. His family lives in Estes Park, California.
Tommy Caldwell Net Worth
As of 2019, Tommy Caldwell net worth is estimated to be $1.5 million.