Richard Francis Strawbridge known to many as Dick Strawbridge is an English engineer, former army officer, and television star. He has made his name appearing in many shows including Escape to the Chateau and Planet Mechanics. Dick Strawbridge net worth at the moment is estimated to be $3 million.
Mr. Strawbridge was born on September 3, 1959, as the third of seven children of Jennifer and George Strawbridge. He was born in Burma but was raised and educated in Northern Ireland. He went to Ballyclare High School from 1971 to 1976 before joining Welbeck College.
After graduating from college in 1979, Strawbridge enrolled as a member of the British Army. A year later, he joined the Royal Corps of Signals and promoted to Lieutenant in 1981. In 1985, he became Captain and a Major six years later. In 2001, he decided to retire as a Lieutenant Colonel.
Television Career
After leaving a Military career, Strawbridge appeared as an engineering and environmental expert on several television programs including the Scrapheap Challenge. In his first show, he was part of the Team of Brother in Arms and won. He later became a presenter in a show where he replaced fellow colleague Robert Llewellyn.
Mr. Strawbridge has appeared in over 30 programs of Scrapheap Challenge and Junkyard Wards. After that, he appeared on a television show 'It's Not Easy Being Green' which aired on BBC. It was a massive hit upon the audiences as it portrayed them trying to utilize renewable energy by the usage of environmental resources to its full capacity.
In addition to that, Dick has also appeared as a one-off presenter on the BBC2 series 'Coast', 'The Hungry Sailors and Saturday Farm', 'Ready Steady Cook', 'Celebrity Masterchef', 'Children In Need' and 'Trainspotting Live'.
Dick Strawbridge and his wife Angel Adoree can be seen now on television program 'Escape to the Chateau'. This program shows Mr. Dick and his partner Angel, through their purchase in 2015 and subsequent renovation of Chateau de la Motte-Husson in France.
Dick Strawbridge Wife- Angel Adoree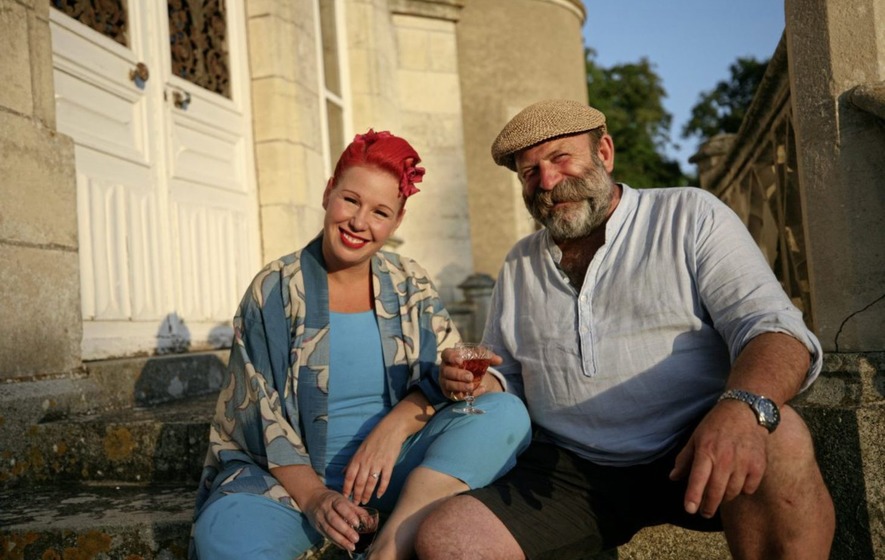 Actually, Dick is married twice. He was formerly married to Brigit Strawbridge. They have two children together named James and Charlotte. The couple got separated in 2010 citing differences.
In 2015, Dick Strawbridge married Angel Adoree along with whom, he has two children named Arthur and Dorothy.
Dick Strawbridge Net Worth
Dick Strawbridge's net worth at the moment is estimated to be around $3 million. Most of his wealth originates from his appearance on television shows he has presented.